Introduction
Michelangelo was famed for his knowledge of the human anatomy, as well as his ability to recreate it within the artistic disciplines of painting, drawing and sculpture. His nude drawings were particularly impressive, but in the case of his Angel sculpture, most of the figure is clothed. Despite this, we still see a suggestion of his deep understanding of muscle mass, as well as how the body responds to the application of weight.
The sculptor would typically handle themes that had already appeared elsewhere within the Italian Renaissance, and whilst those alternative pieces would have influenced his decision making, Michelangelo would always attempt to add his own technical innovations on top. He was also a follower of classical art, from many centuries before the Renaissance and would draw influence from that as well.
"...I saw the angel in the marble and carved until I set him free..."
Angels have been used many times by related artists, but would typically appear as supporting characters within a larger composition. Within this small sculpture, Michelangelo allows an angel to dominate by itself, although the sculpture itself did form part of a wider arrangement. He would have considered the angel by itself, as well as the collective whole when planning this particular piece.
Table of Contents
Description
The angel within this sculpture bends down on one knee, whilst holding a large candlestick on his opposing knee. The figure is youthful in appearance, with short curly hair and angelic facial features. His wings are large, and hang confidently from the back, leaving no room for confusion around his identity.
The candlestick stand reaches up to just above the head of the angel, with a small, decorative base mounted underneath. The item was produced entirely from marble and Michelangelo would have taken considerable care in selecting an appropriate block of rock from which to carve this delightful piece.
Those fortunate enough to see the item in person will marvel at the complex drapery implemented by Michelangelo within this angel sculpture. His robe folds over many times around his left leg, whilst lifted up to reveal his right foot. This precision took years of practice, both as a sculptor, but also as an observant draughtsman, who carefully studied the human body, as well as its interaction with clothing.
The angel boasts a strong, athletic physique, with a suggestion of biceps showing through from beneath his robe. The wings are strong and impressive in appearance, with feathers carefully constructed individually to ensure the accuracy of this piece, even when viewed from behind. Michelangelo would often criticise the medium of painting because of its lack of this third dimension which proved such a key aspect to his success as a sculptor.
Michelangelo's Role in the Ark of Saint Dominic
Michelangelo was called upon to finish of a shrine for Saint Dominic, after the project had been left unfinished. It is was, and still is, located in Dominic's Chapel in the Basilica of San Domenico in Bologna, Italy. The original work by Niccolo dell'Arca had halted after his untimely death in 1494, with an angel sculpture, plus figures pf St Petronius and St Proculus still left to be completed.
Swift action was taken on this significant project, leading to Michelangelo being commissioned for the remaining pieces soon after his death. Having struggled to complete many of his projects across his career, both before and after this series of sculptures, it may have helped Michelangelo to be able to focus on just a few small sculptures, with a style and layout already established.
We know from records that remain from the time that Michelangelo was paid twelve ducats for his angel sculpture, and eighteen ducats for St Petronius. Presumably he would have received eighteen ducats for the remaining figure too, as it is of comparable size, and would have been completed at around the same time. (Some records conflict with this, though, suggesting that St Proculus may already have been half finished, and therefore Michelangelo's role was simply to finish it off).
Artistic Interpretations of Angels within the Renaissance
Angels have flourished within western art for centuries, mainly due to their connection to religious themes. The Renaissance continued the use of angels within Byzantine art, re-imagining the famous cherubs who adorn countless scenes from Italian art in this period. Michelangelo himself may have been an extraordinary innovator, but he was also continuing on from what had gone before in many ways.
In terms of his work within the Ark of Saint Dominic, the use of angels had already been decided and much of the overall project had already been completed. This left Michelangelo with little scope to innovate, but it did make it easier for him to actually complete these items, unlike some other works in his career. It must also be remembered that the artist was only in his late teens/ early twenties at the point of this series of sculptures, and so was still building his reputation.
The appearance of angels has continued up to the present day, and was particularly common within the Realism and Academic art movements in France across the 19th century. William-Adolphe Bouguereau provides a good example of that, as does Alexandre Cabanel's Fallen Angel painting. By now, almost every different guise imaginable of this theme has appeared at one point or another.
Two of the artists who most commonly used angels within their work were Fra Angelico and Sandro Botticelli, though not in the sculptured forms of Michelangelo. The Florentine master did, however, merge the qualities and strengths of drawing, painting and sculpture, and so any insights that he took from other artists could potentially be carried over into the other artistic disciplines in which he was involved.
Variations have appeared across the different art movements in how angels have been depicted. Multi-coloured wings is one example of this, and also the sizes of the wings have given different balances to each portrait. Michelangelo's version here looks physically strong, with powerful wings and a toned physique. His thighs, hidden underneath a robe, also look thick. This is precisely how Michelangelo tended to portray men within his paintings, as youthful, strong and desirable.
For completeness, we include some of the other Renaissance angels that appeared just before or during the time of Michelangelo. He may well have come across some of these during his own artistic research. They provide the briefest of surveys of the many different examples found of angels throughout that period alone, though we have also featured some artworks from other periods too.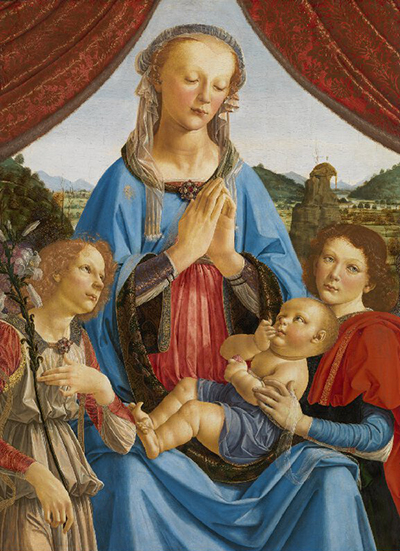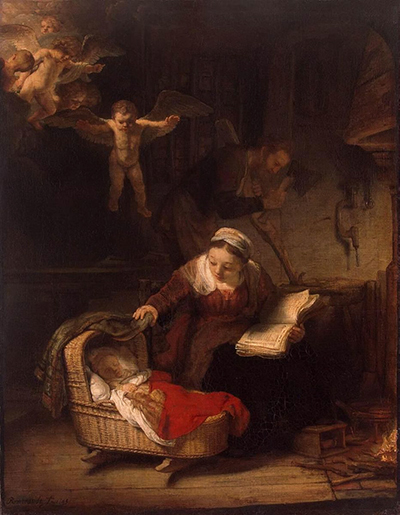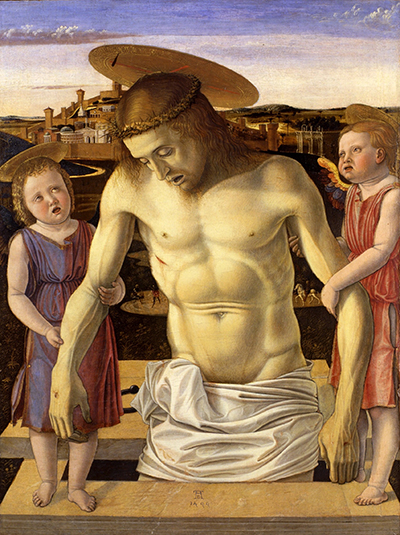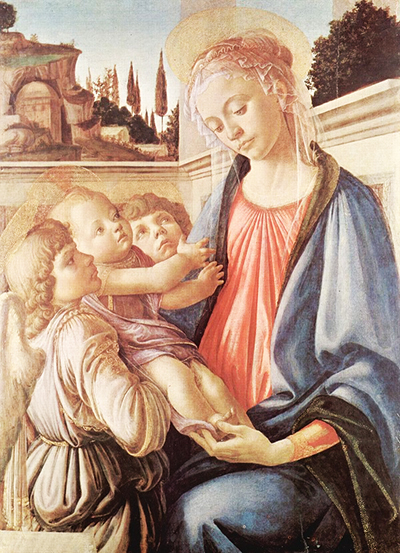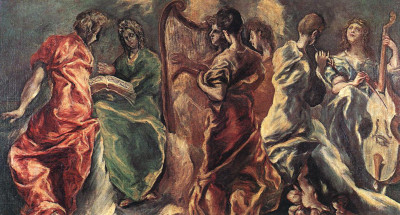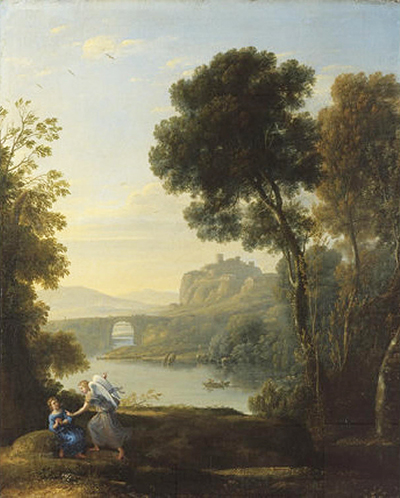 Size, Medium and Date of Michelangelo's Angel
Michelangelo's Angel was produced in 1494-1495. The sculpture is made entirely from marble, and the piece measures 51.5 cm in height, including the base. The artwork is also sometimes known as Kneeling Angel or Angel with Candlestick.
Timeline
In order to better understand the role of Angel within Michelangelo's oeuvre, we can place it within a timeline of his work towards the end of the 15th century. This brings about obvious comparisons with a number of other sculptures, where certain aspects carry over from one piece to the next. Michelangelo was always evolving as an artist, and despite his considerable arrogance, he did understand that practice and experimentation were essential stages in the process of improvement.
1492 - Battle of the Centaurs
1493 - Crucifix
1494-1495 - St Petronius
1494-1495 - St Proclus
1494-1495 - Angel from The Ark of St Dominic
1496-1497 - Bacchus
1498-1499 - Pietà
1501-1504 - David
1501-1505 - Madonna of Bruges
Large Image of Michelangelo's Angel
We have provided a close up of the sculpture in a larger photograph below. The image is used under the Creative Commons Attribution 3.0 Unported license and has been resized. The original contributer was Sailko, via Wikimedia. For those unable to see this sculpture in person, the larger image below may help you to appreciate more of the stunning detail added by Michelangelo all those years ago.
Angel, 1494-1495 by Michelangelo, Saint Dominic's ark (Bologna); Sailko, CC BY 3.0, via Wikimedia Commons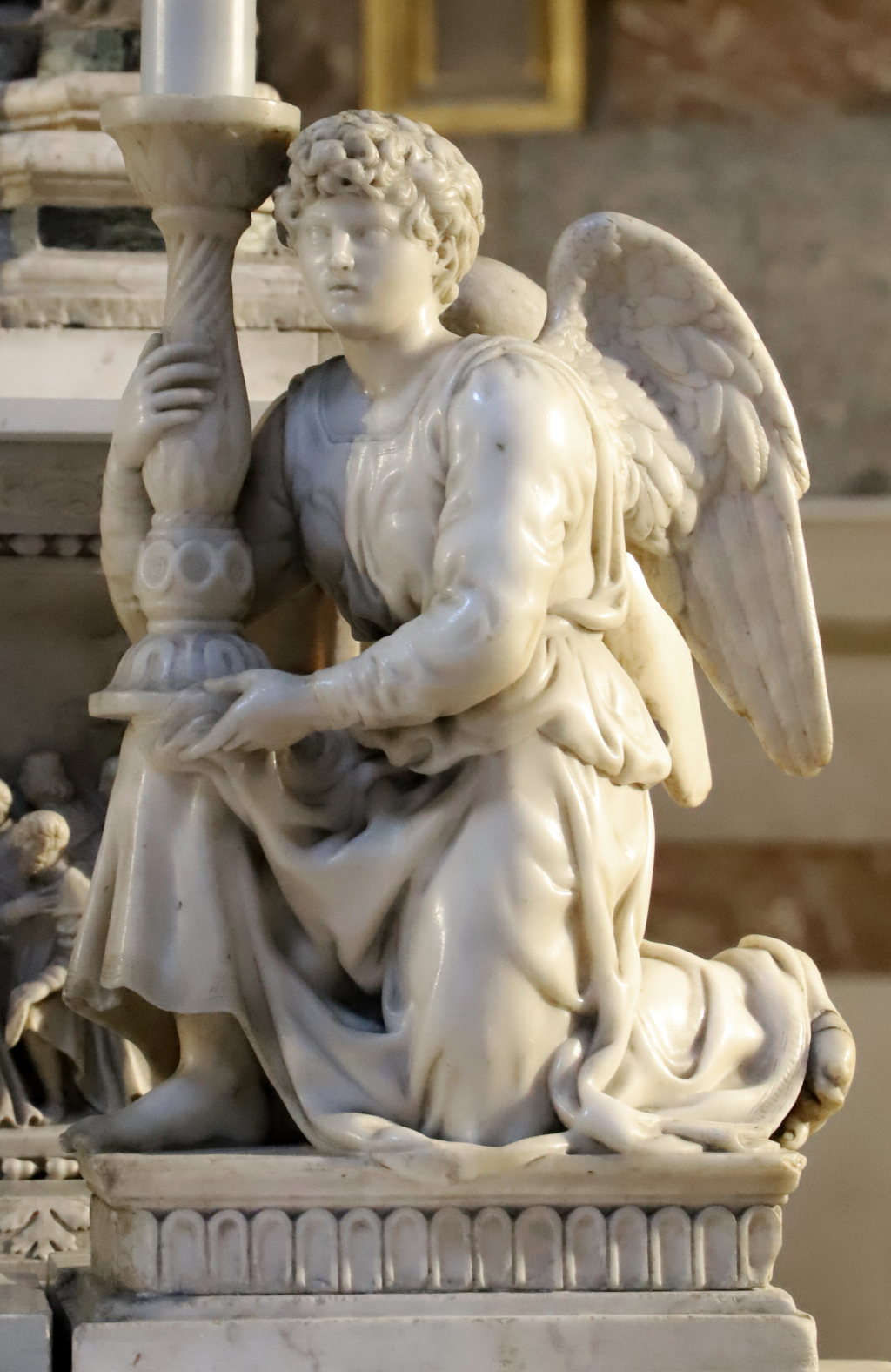 Bibliography