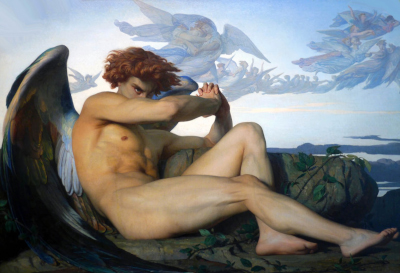 Buy Art Prints Now
from Amazon
* As an Amazon Associate, and partner with Google Adsense and Ezoic, I earn from qualifying purchases.
Alexandre Cabanel's Fallen Angel (l'ange dechu), from 1847, has gained something of a cult status in recent years. It remains the French Academic artist's most famous painting of all.
Introduction
The artist produced near life-size images of mythological characters in a classically-trained manner which fluctuated in popularity within French 19th century art circles. Cabanel was famed for the precision of his portraits, and no better example of that exists than in his Fallen Angel painting.
Cabanel was a prize-winning artist who covered themes of historical, classical and religious subjects within his work. Alexandre was born in the French city of Montpellier, where Fallen Angel (l'ange dechu) resides today, but headed to Paris in order to obtain the finest art education possible. This allowed him to follow in the Academic artistic style, and produce huge canvases that wooed art collectors and a number of high profile patrons.
Cabanel found much inspiration from the topic of Lucifer, perhaps partly inspired by the 1667 poem by John as well as traditional Christian teaching. The quote below underlines the thought that he put into preparing this piece, and his depth as an artist was sometimes forgotten because of his insistence on sticking to traditional, academic methods that some considered olf fashioned and without personality.
"...I depict two natures, two races, one inexorably doomed, predestined to evil and misfortune, finally to fall ; while the other chaste and pure rises radiantly towards God glorifying him. However, the main motif of my painting is the evil genius, Satan!..."

Alexandre Cabanel, discussing the painting with his friend, Alfred Bruyas1
Upon unveiling this extraordinary artwork, Cabanel realised that he had pushed the boundaries of the Academic art movement. The Academy coiled back in amazement at the boldness of this artwork, and this led to the artist being labelled as a fringe painter with an independent mindset - something that was not entirely a compliment within those circles.
It must be remembered that the artist was only in his early to mid twenties at the time that he painted Fallen Angel. The content was entirely in line with the rest of his oeuvre up to that point, but his delivery was bolder and more energetic. The contrasts across the scene were immediately impactful, and Fallen Angel would become his most famous painting.
This article examines Alexandre Cabanel's Fallen Angel painting in considerable detail, analysing the composition piece-by-piece, whilst also placing it into the context of the artist's overall oeuvre. We consider the meaning of the work, and who else has covered Lucifer within their work. There is also technical information on the painting, such as its size, medium and current location.
Table of Contents
Who was Alexandre Cabanel?
Alexandre Cabanel was a French 19th century artist who specialised in classical and mythological scenes. His style is classed as Academic art, and he followed the traditional path of French artistic education prior to starting out as a professional painter.
The artist became an integral member of French art institutions, and would attempt to bar more contemporary artists from joining the same groups. He would be awarded Prix de Rome scholarship just two years before completing Fallen Angel, and would go on to develop a strong relationship with the Salon, exhibiting many times and eventually tutoring the younger generations, as part of his role as professor at the École des Beaux-Arts.
Cabanel's style may have been considered old fashioned in some quarters, but he had no shortage of commssions, and enjoyed a number of prestigious donors who allowed him to have a successful and highly profitable career. Besides his own famous paintings, he would also have taught many hundreds of art students, helping to stretch his legacy several decades longer.
What is Academic Art?
Academic art was the output of various art academies spread across Europe, with France being the dominant influence. Typically, artists would focus on religious and mythological content and combine these themes with impressive technical skills which were very precisely taught.
During the era of Cabanel, there would a crossroads would appear within French art, pitting the Academic artists against the new contemporary movements, such as Impressionism. This situation was solved by the two groups exhibiting separately for a number of years, but today both styles are respected and celebrated for their own unique qualities.
Academic art would feature elements of both Neoclassicism and Romanticism, and covered both oil painting and sculpture. Drawing was also a fundamental stage of education and laid at the foundation of all that followed. Other famous Academic artists included the likes of William-Adolphe Bouguereau, Thomas Couture, Hans Makart, Lawrence Alma-Tadema, John William Godward and Frederic Leighton.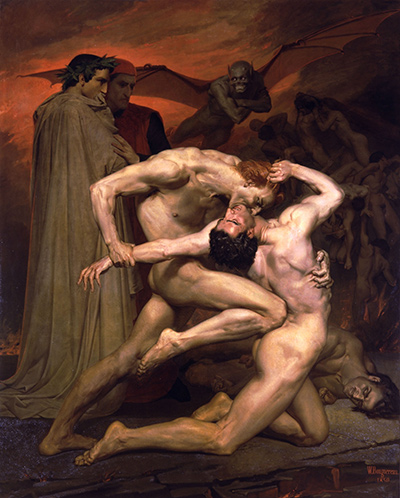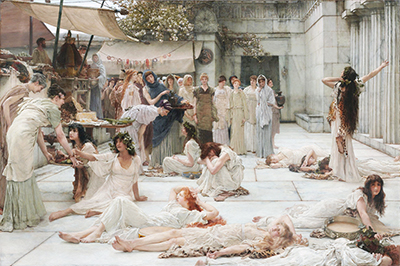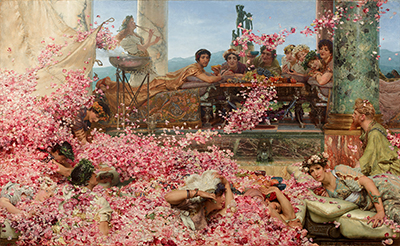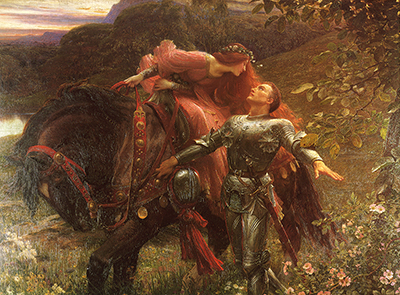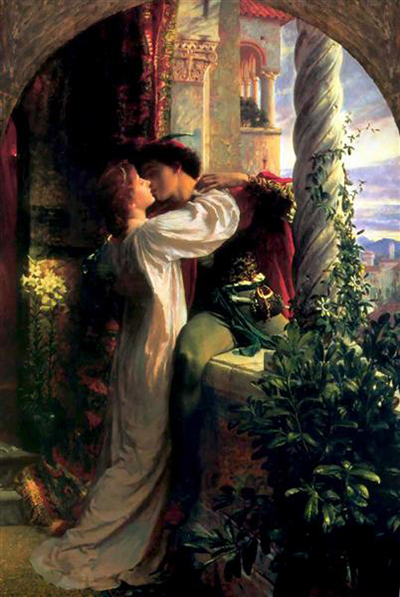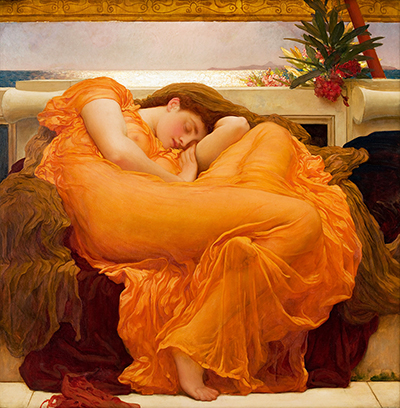 Preparation
Alexandre Cabanel completed a highly detailed study for Fallen Angel (l'ange dechu) in 1846. It features such a high level of completeness that it can be considered a genuine oil painting in its own right and would have taken many months to finish.
You will notice from the image of the study below, however, that the artist made considerable changes to the composition in the final artwork that followed a year later. You will notice how he changes the angel of Lucifer, to look directly at us which builds a stronger connection between the painting and the viewer. He also brightens the sky to create a stronger contrast between the foreground and background. He also gives the fallen angel a lighter brown hair colour, plus a number of more subtle alterations.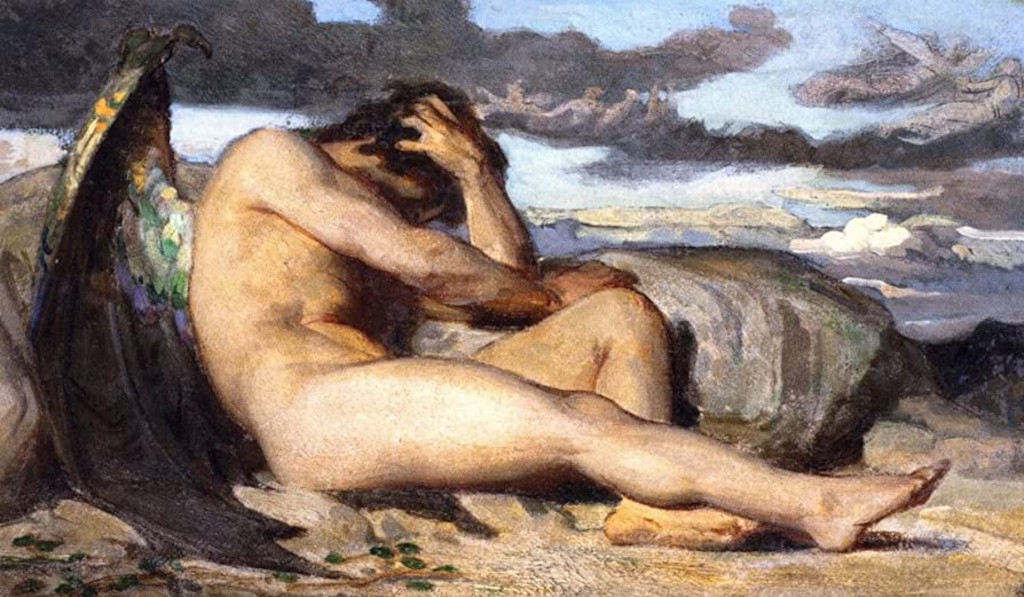 Study for Fallen Angel (1846)
Description of The Fallen Angel
Within this composition, the Fallen Angel lays on his back in the foreground, with his face partially covered by his right arm. His hands are locked together, whilst he holds a fierce stare which is aimed towards our right hand side. Tears fall from his eyes in this emotional scene. His right wing is depicted in detail, whilst the left is mainly obscured.
Lucifer's legs are outstretched, reaching across the full width of this large painting. The angel lies on a stone landscape, with small leaves wrapping around underneath his body. He is depicted with a toned body, providing an aesthetic beauty which contrasts with his immorality. He lies in a darkened section of the painting, whilst the upper half is lightened to portray a happier mood.
Other than a few low-hanging clouds, the blue sky is dominated by a procession of angels who the artist once described as being "chaste and pure rises radiantly towards God glorifying him". The contrast within the final piece differs somewhat from the earlier study, and the connection between the viewer and the fallen angel is particularly memorable.
Analysis
Alexandre Cabanel took inspiration from extracts of the Bible, which had been re-imagined by some more recent poetry and set about creating a visual representation of Lucifer being banished from Heaven. He produced a lifesize depiction in which the sadness of Lucifer contrasts against the joyful angels who fly above.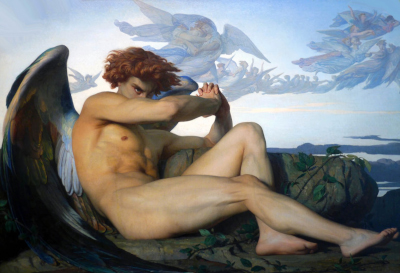 Fallen Angel Painting by Alexandre Cabanel
The artist tweaked the earlier study in order to allow the fallen angel to stare out from behind his arm, rather than looking directly downwards. He even adds a tear, symbolising beautifully the pain of being cast out. The folded arms with hands clenched continues this mood, and also shows him shielding himself in despair, but also shame at what has happened.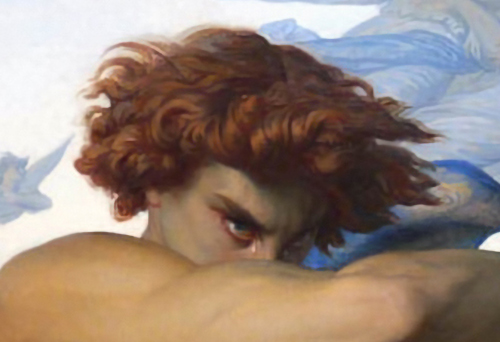 Fallen Angel Sheds a Tear
The lightly painted angels above merge into the blue tones of the sky, and they head upwards whilst Lucifer lies by himself below. The style of these angels, moving in unison, is similar to the approach taken by a number of Italian Renaissance artists, a period in which angels appeared very frequently.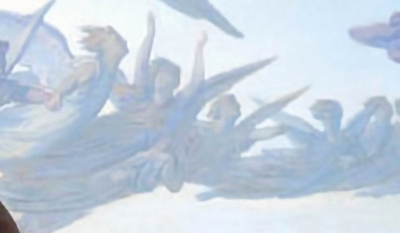 Joyous Angels Above
The angel is undeniably beautiful, with a strong, toned physique, which also will remind some of the work of Renaissance figurative painters, such as Michelangelo and Leonardo da Vinci. The meaning behind this is that aesthetic beauty and morality are not the same thing, and often will not go hand in hand with each other.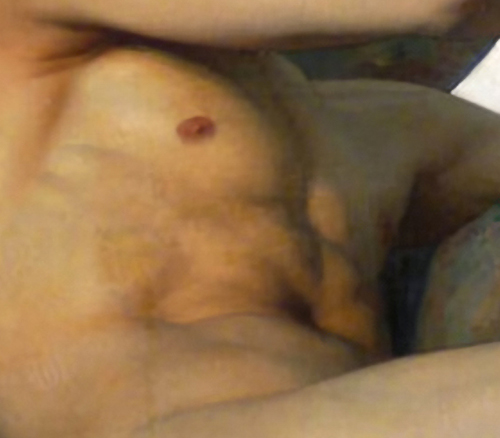 The Angel's Strong Physique
Here is a close-up of Lucifer's wing, with the other partially obscured. Again, these are elegantly delivered and provide beautiful imagery, in stark contrast to the behaviour and morality of Lucifer himself. It also is an obvious reminder to the viewer of his status as an angel.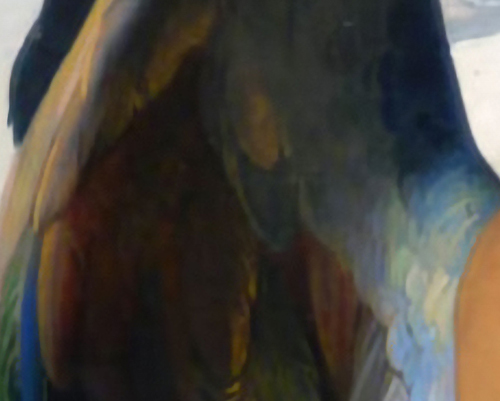 Lucifer's Wing
Meaning and Symbolism
The Fallen Angel by Alexandre Cabanel depicts Lucifer being cast out of Heaven by God. The tears running from his eyes symbolise his damaged pride which ultimately led to him seeking powers that exceeded those of God. He also feels regret at having been banished from those who continue to fly above.
Lucifer, who represents the devil, conceals part of his face with his arm, perhaps meaning to represent the shame that he also feels as he lied on the ground beneath the heavens. The initial study left him holding his head in his hands, giving a more obvious image of his pained frustration at recent events.
The angel himself is entirely beautiful, and this reminds us of how morality and aesthetic beauty are very much not the same thing. We can therefore celebrate his image, and physique, whilst recognising the negative aspects to Lucifer's character which has ultimately led to him being banished from the heavens by God.
Who is Lucifer?
Lucifer means the devil within Christian theology, which is where most western artists have derived this inspiration, although the name can be traced to many other religions and cultures. Luke 10 reads "...I saw Satan fall like lightning from heaven..." which is depicted within Fallen Angel.
This use of Lucifer as the devil would continue through western culture, with artists, poets and sculptors learning from past interpretations and then contributing their own versions. John Milton's Paradise Lost may have specifically inspired Cabanel to produce this particular painting.
Story
The story of the Fallen Angel refers to a beautiful angel named Lucifer falling from the heavens, having been banished by God. Indeed, Cabanet reproduces this beauty in the stunning figure of Lucifer within his Fallen Angel painting, whilst the joyful remaining angels fly around above.
This story comes directly from the book of Isaiah which states that, "How art thou fallen from heaven, O Lucifer, son of the morning!". Other versions of this story exist, but the fundamental narrative remains the same, and artists would eventually concentrate more on other artist's existing interpretations, rather than studying the original Bible texts.
Lucifer Paintings
Lucifer has risen from Christian literature, as well as classical mythology, to become a common sight within western art, particularly over the past few centuries. As shown in the Gustave Dore illustration below, the topic of Lucifer appeared many times during the 19th century in France. As part of the Academic movement, Cabanel was well acquainted with scenes of mythology and such paintings also proved popular with his patrons, and French art collectors in general.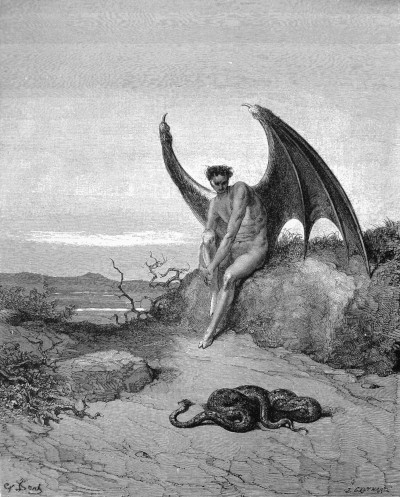 Location of The Fallen Angel
The Fallen Angel is located at the Musée Fabre in Montpellier, France. The artist himself grew up in this famous French city, making it a suitable home for his most famous painting.
Size and Medium
Alexandre Cabanel's Fallen Angel painting measures 190 cm in width by 121 cm in height.
The work was completed using oil on canvas, using the standard techniques of the Academic art movement. Presumably, Cabanel would have used underpainting initially directly on the canvas in order to layout the composition, before then applying multiple layers of oil over the top in order to deliver the various figures found within this piece.
Famous Paintings by Alexandre Cabanel
Alexandre Cabanel followed a consistent approach throughout his career, focusing on scenes of mythology with his classically-trained skills of portraiture. He came into conflict with more contemporary styles in France at the time, who believed in a more personal approach. He specifically impressed with fluid forms and a precise replication of his beautiful models.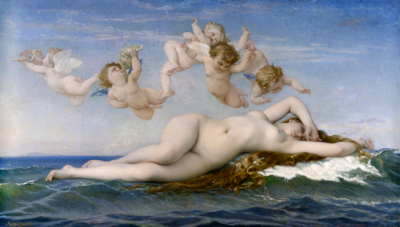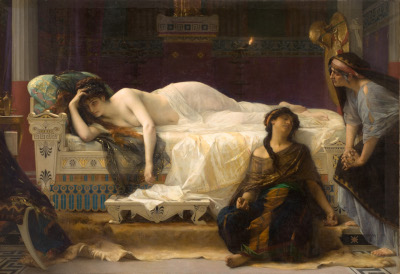 Large High Resolution Image of Fallen Angel
See below for a large, high resolution image of Alexandre Cabanel's Fallen Angel painting2. Our analysis section also includes detailed cropped sections of the painting, focusing on specific elements of the overall composition. This stunning artwork was produced using classic techniques found throughout the Academic art movement, and prominently across French art within the 19th century, helping it to become one of the most respected periods in recent European art history.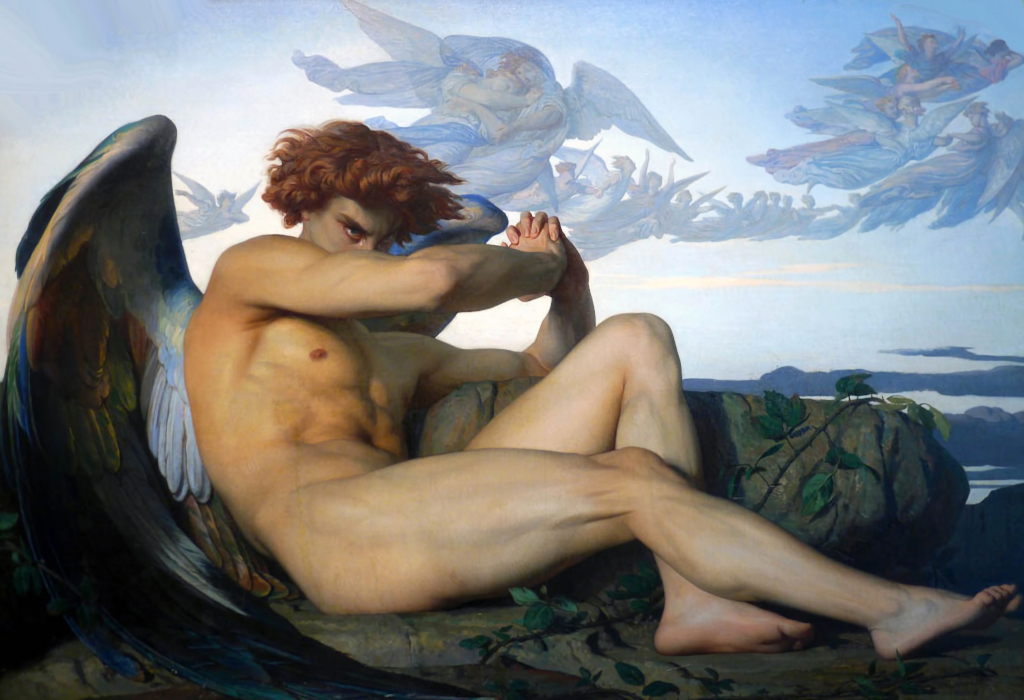 High Resolution image of the Fallen Angel painting
Prints and Wallpaper
Fallen Angel prints are highly sought after, because of the popularity of this painting. Despite Cabanel not being the most famous artist in French 19th century art, he has gained something of a cult status in recent years, despite his artistic style falling out of fashion during his own lifetime.
Additionally, Fallen Angel wallpaper offers a chance to add this famous artwork to the background of your desktop, for free. You are welcome to do so with the large, high resolution images added here, though they are courtesy of Wikipedia, so check usage rights first. We provide them solely for educational purposes.
Frequently Asked Questions
What type of Art is The Fallen Angel?
The Fallen Angel is from the Academic Art movement, which was particularly prominent within 19th century France. Whilst remaining popular today, the style was sometimes derided as stale and old fashioned, receiving the term, 'L'art pompier'.
Who does the Angel Represent?
The angel represents the devil, also known as Lucifer, who has been banished from the heavens. French Artist Alexandre Cabanel would take on a variety of mythological and religious themes right across his career.
Why is Lucifer Crying?
The tears of Lucifer display visually his sadness and frustration at being banished from the heavens. It also perhaps represents his damaged ego as lies alone, with a resentful look in his eyes.
What is the French name of the Fallen Angel Painting?
Alexandre Cabanel's Fallen Angel painting is better known in France by it's original title of L'Ange Dechu. It remains the artist's most famous painting, and perfectly captures his use of mythology within the Academic art style.
References
We have researched this artwork as best as we could, but sadly the artist, Cabanel, has not been documented particularly deeply over the past century or so. Indeed, most publications about his career have been written in French, with few translated into English. We therefore consulted the painting's owners, the Musee Fabre in Montpellier, as well as a number of online resources, with specific references included below.
The Fallen Angel, Musee Fabre, https://museefabre.montpellier3m.fr/
Images courtesy of https://commons.wikimedia.org/