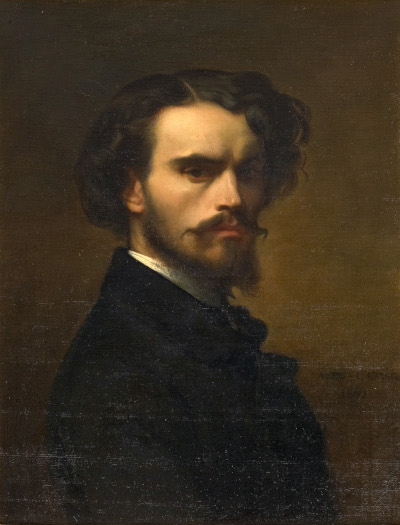 Buy Art Prints Now
from Amazon
* As an Amazon Associate, and partner with Google Adsense and Ezoic, I earn from qualifying purchases.
Alexandre Cabanel was a French 19th century artist who was well established within the Academic art movement. His most famous paintings included the likes of Fallen Angel, The Birth of Venus and Phaedra.
Introduction
The artist took on mythological scenes from an early age and made use of the impressive technical skills which he had developed during his education in Paris. Figurative art and portraiture were the dominant genres within his oeuvre, with attractive young female models being his most common choice.
Cabanel was a fierce defender on traditional artistic techniques within Paris, and firmly rejected the contemporary styles of the Impressionists as they started to compete for attention within the major French galleries. He saw little value in their work, as they did in his, and eventually it proved necessary for the two groups to exhibit separately.
Alexandre's themes cannot be described as original, and are seen throughout the Academic art movement, but he was respected for his fluid brushwork and polished technique. Even as interest in the Academic movement started to fade, Cabanel still enjoyed some high profile donors who enthusiastically collected his work.
Cabanet became a respected figure within upper society, becoming the preferred painter of Napoleon III as well as receiving many awards across his career, including the Grande Médaille d'Honneur at the Salons of 1865, 1867 and 1878. As his life progressed he would start to teach within the same institutions that had promoted his career, and would leave his strongest legacy through the young pupils who came under his influence.
Ultimately, the Academic art movement would lose out to the Impressionists, who offered more emotion and imagination, but in today's world there is room for both. His technical skills cannot be doubted, and he was also a passionate supporter of what he believed in, even though it would eventually fall out of fashion.
Cabanel's style summarises the mainstream Parisien art scene during the 19th century, prior to the arrival of artists such as Monet, Caillebotte, Degas and Renoir, who would shake things up. A century or more later, we can now appreciate his achievements and analyse his work in a more neutral manner, without concern over competing movements at that time.
Within this article we examine the full breadth of Alexandre Cabanel's career, highlighting his most famous paintings, as well as placing his work within the overall Academic Art movement. We discuss the influences and education which shaped his artistic style and also touch on related artists who played an important role in his life.
Table of Contents
Early Life and Education
Alexandre Cabanel was born in the French city of Montpellier on the 28th of September, 1823. He joined a local art school after showing some early artistic promise. He continued to impress, and was rewarded with a prestigious opportunity at the Ecole des Beaux-Arts in the French capital, Paris.
Cabanel was taken under the wing of François-Edouard Picot, who introduced him to a variety of artistic styles whilst also helping him to develop his technical skills as a painter.
His studies would introduce him to significant subjects that would inspire the genres in which he worked, and was not just about teaching artistic technique. He became familiar with themes such as religion, mythology, European history and literature. Cabanel was now a fully rounded young man, with all of the skills required to make a success of his career.
Development as a Professional Artist
Cabanel spent a number of years living in Italy as reward for his participation in the Prix de Rome competition, in which he came runner-up. This scholarship brought new ideas into his work and he took in as much as he could through study and practice, before returning to Paris. He would exhibit at the Salon for decades to come, and became a highly respected, established figure within 19th century French art.
His acceptance into the French art institutions brought many opportunities to Cabanel, including a mixture of commissions. Internal decorations for prominent members of high society followed, but his traditional paintings always remained his primary focus. Marking his maturity as an artist, he would be elected a member of the Institut de France as well as a professor at the Ecole des Beaux-Arts, the same institution in which he originally learnt his craft.
Alexandre Cabanel would spend his latter years teaching young students the technical skills that he had amassed over his lifetime, whilst also opening their eyes to different subjects that could potentially inspire their work. Whilst his painting style was a part of the Academic approach, and included inspiration from the Romanticist and Neo-classicist movements, he allowed his students to express themselves fairly freely.
Alexandre Cabanel's Most Famous Paintings
We have hand-picked three artworks below which best summarise the style and qualities of Alexandre Cabanel's paintings. Fallen Angel retains a cult-status today, with its memorable life-size depiction of Lucifer, whilst The Birth of Venus and Phaedra continue to remind us of the artist's exceptional handling of figurative art and portraiture. He remains one of the finest exponents of mythological scenes within the Academic art movement.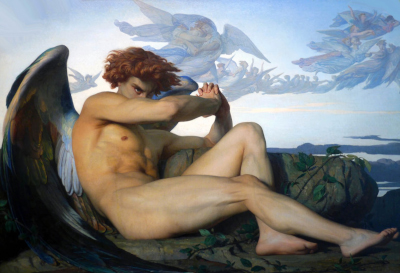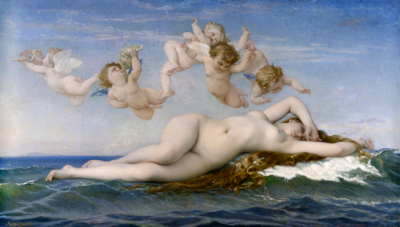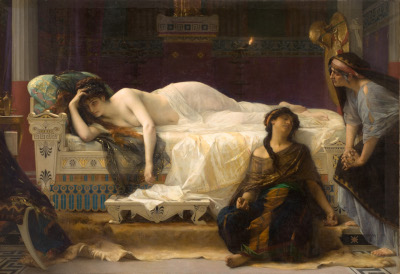 Style and Technique
The Ecole des Beaux-Arts in Paris, where Cabanet studied for a number of years, would always encourage its artists to use of polished, elegant style when producing the female form. Cabanet continued this approach on huge canvases, often creating life-size imagery which both shocked and excited in equal measure.
The young artist would absorb elements of Romanticism and Neo-Classicism into his work, but technique would always be his main focus. Cabanet studied mythology and religion as a student and set about incorporating some of these themes into his work. These topics also proved popular with his patrons, and any artist of that period would always have to consider which content would be more commercially viable.
Over time, Romanticist influences would become stronger within his work. He would also start to work within the history painting genre for a period, mainly due to the requests of his patrons. He would also start to work on interior design projects for a number of hotels which provided some additional funds.
A browse of Cabanet's oeuvre reveals a large number of women, often undressed, in a variety of poses. His impressive figurative skills were key to this, and he produced fluid, stunning reproductions of his models. These paintings were accessible to all, instantly, and the support of some major donors encouraged him to continue in this manner throughout his career.
In terms of artistic technique, he would follow the standard routines as passed down generations throughout the 19th century through the Paris art colleges, with the Ecole des Beaux-Arts being the most respected of those. This provided a consistency to his work, which was both a positive and a negative.
Patrons
Napoleon III ruled France during the mid to late 19th century. He became embroiled in the debate about Impressionist art, and allowed the public to decide their preference, by exhibiting Academic and Impressionist art separately. His own taste was more traditional, and he most appreciated the work of Cabanel alongside German artist, Franz Xaver Winterhalter. This mark of approval ensured Cabanel could attract other collectors easily, and would have no trouble in financing his career.
Adolphe Goupil, a respected art dealer chose Cabanel for a number of commissions, and would then produce series of prints that could be distributed around France at reasonably prices. The artist had earlier worked on the internal decorations of the Hôtel Chevalier de Montigny, with this leading to a number of further projects for other prestigious hotels across Paris. He would then return to focusing exclusively on painting later on in his career.
Awards
Alexandre Cabanel won the Grande Médaille d'Honneur after exhibiting at the Salons of 1865, 1867 and 1878. His first appearance at the Salon had actually been much earlier, in 1843. For that entry, Agony in the Garden, he would receive a runners-up spot in the prestigious Prix de Rome competition.
He achieved second place again two years later, but this time the prize of a free scholarship in Italy had been widened, allowing him to also receive this incredible opportunity. Cabanel remained thankful for this prize for the rest of his life, continuing to exhibit at the Salon, even after his reputation had been established. Whilst living in Italy he would deepen his knowledge of the classics, as well as study in detail the finest Italian art from the Renaissance era.
Conflict with the Impressionists
Despite being open-minded in how he educated and encouraged his own students, Alexandre Cabanel did come into conflict with established artists from other movements, of whose style he disapproved. This was most evident in the way that he attempted to block Impressionist painters from exhibiting at the Salon.
Eventually, it was deemed necessary to set up the Salon des Refusés exhibition in 1863, which enabled Impressionist artists to exhibit their work, whilst avoiding upsetting the established names such as Cabanel, Bouguereau and Gérôme who only wanted to see Academic artistic styles appearing within the Salon.
Death
Alexandre Cabanel died on the 23rd of January, 1889 in Paris, France. He was aged 65. The artist suffered an asthma attack a day earlier and spent his final hours battling his illness, whilst also preparing elements of his estate, fearing the worst.
Legacy
The artist was appointed professor at the École des Beaux-Arts in 1864 and continued to teach many accomplished art students here until his death in 1889, by which time many hundreds of students would have passed through the institution.
Indeed, a number of his pupils would follow in his footsteps, even surpassing his achievements in actually winning the Prix de Rome, a famous competition that he had finished second on two occasions. He was popular with his students and also attracted pupils from abroad who learnt of his skills as a teacher and educator. Most accounts have painted him as a friendly, down-to-earth figure who wanted to encourage and educate others about art and history.
Whilst enjoying success within his own lifetime, and boasting a number of high profile patrons such as Napoleon III, Cabanel's paintings today are not considered particularly valuable. His Fallen Angel has acquired something of a cult status, though, and this piece from early in his career continues to bring attention wider achievements.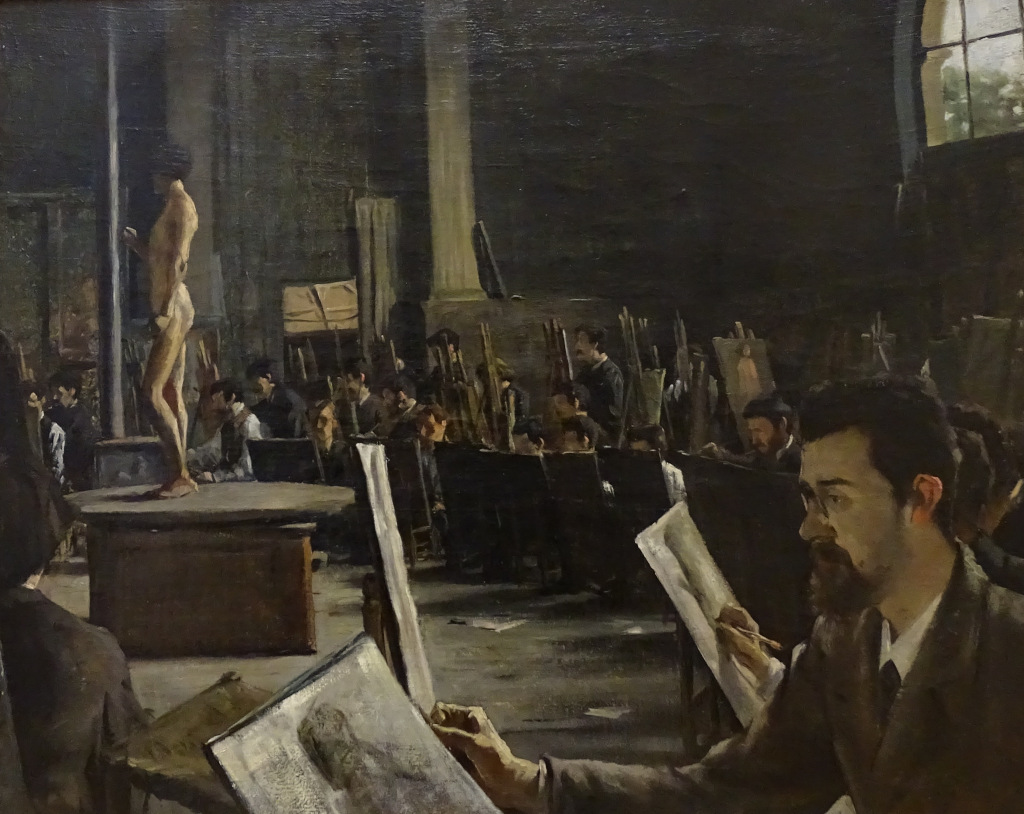 Alexandre Cabanel teaching his students