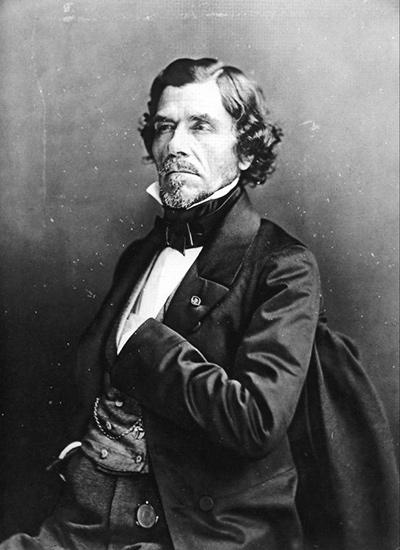 Buy Art Prints Now
from Amazon
* As an Amazon Associate, and partner with Google Adsense and Ezoic, I earn from qualifying purchases.
Eugene Delacroix was a French 19th century painter whose innovative techniques helped to shape the Romanticist art movement.
This website looks at detail into the career of this impressive French painter and lists all of his major works, with photos of each included with in a helpful gallery further down this page. The impact of Eugene Delacroix went well beyond just his art work as he had connections with several important areas of the French society and so this life is frequently studied in several different aspects. French art played an important role with in Europe during the 19th century and Eugene Delacroix was just one of several painters who really helped to develop new ideas and influence future generations through their successful experimentation and variation on what had gone before. Liberty Leading the People remains the most famous Eugene Delacroix painting of all, but there was a huge amount of work from his career which is worth taking note of as the painter managed to retain a high level of consistency through his extended career which lasted around 40 years in total.
Eugene Delacroix created Liberty Leading the People, which you can see above in all it's glory. Liberty Leading the People came around in 1830 and represents a key moment in French history, which is another reason why this particular painting remains the best known of all his paintings, with it being up against such a huge range of work. All of the photos included in the gallery here are linked through to the Art.com Eugene Delacroix prints gallery where you can buy your own reproductions of the artist's original paintings as framed or unframed art prints, posters and stretched canvases. Eugene Delacroix was an artist who concentrated on the art mediums of classic oil painting as well as lithographs and you will see a combination of the two included with in the gallery found here. During the 19th century, classic French artists would not generally try out as many different mediums as artists do today, with modern creatives often experimenting with all sorts of mixed media as innovation and originality is now strongly encouraged.
Besides his paintings there were also many study piece sketches which the artist used to prepare as best he could for a major piece, with sketches often covering just a small section of the overall work, where Delacroix felt there were issues which made practice and artistic exploration beneficial. You will also notice with in our gallery that Delacroix also produced many frescos with in his career and these came about as his reputation as an artist began to mature and from that some impressive commissions came, including several internal installations that required some artistic touches. Frescos were the common route for artists of this time for most art covering walls on existing buildings. See below for some of the most notable Delacroix frescos, with an explanation aside each on the location in which they were created.
Influences on Eugene Delacroix
Some of the most notable names in art history are believed to have influenced the artistic development and inspiration of Delacroix, including the likes of Theodore Gericault, Francisco Goya, Michelangelo, Peter Paul Rubens and Diego Velazquez. Besides this, he would also gain much from close friendships with other artistic minds such as Theophile Gautier, Dante Alighieri, Lord Byron, William Shakespeare and Adolphe Thiers.
Famous Artists Influenced by Eugene Delacroix
The artist's work in the Classicist and Romanticist art movements have left a huge legacy which has inspired many who followed on afterwards. Specifically, the likes of Paul Cézanne, Gustave Courbet, Henri Fantin-Latour, Édouard Manet and Pablo Picasso are known to have studied his work in great depth. Additionally to this, other famous Romanticist names would also have taken note of his work, such as JMW Turner and Caspar David Friedrich. Lithographs and Prints.
Liberty Leading the People
Liberty Leading the People is a key French painting which represents the July Revolution of 1830 where Charles X was overthrown. The woman who takes center stage is there to represent Liberty whilst the flag she holds was the tricouleur which remains the national flag of France. La Liberté guidant le peuple was the original French name of this historic painting which came around in 1830, the same year that the revolution came about. This was a highly powerful painting that represents a major moment in the development of the French nation and also uses the great artistic skills of Eugene Delacroix which were fortunately available exactly at that time. Liberty Leading the People has now become one of the most popular paintings from this period, from any art right across the world, and it is regularly bought as a fine art reproduction for the many fans of the career of Eugene Delacroix who exist all around the world.
There are all sorts of variations on this original work, with copies coming as framed and unframed art prints, posters and stretched canvases, though giclee prints are probably the medium best suited to the style of this painting. Liberty Leading the People is shown above in this website but this was certainly not the only historically based painting created by this Romanticist painter. It is likely that choosing key historical scenes would have provided an excellent source of inspiration for this Romanticist painter who would make use of the inherent passion and combine it with his own brushstrokes. There are some similarities here with how British Romanticist painter, JMW Turner, used famous sea battles as inspiration for much of his work and these two artists had similarly influential careers.
Flowers
Flowers is a delightful painting which combines the beautiful nature of several different types of flowers along with a carefully chosen use of light which gives a real impression that the flowers are very much real and right there in front of you. Some art fans today may find still life a little stale but it must be understood that this medium was a great way for traditional artists to develop their technical skills with key aspects that are involved in most paintings, such as light, colour and texture. Still life paintings were particularly common in traditional periods of art, such as the early 19th century, and Eugene Delacroix did produce several himself as seen with the Bouquet of flowers shown above.
Still life fruit is also another common choice and Delacroix did experiment with that as well, finding these subjects helpful for exploring his ideas of light and it's impact on other objects. The flowers painting shown above is actually the most common choice at the moment for reproductions of any work from Delacroix's career which is slightly surprising considering the fame surrounding his Liberty Leading the People piece.
Death of Sardanapalus
Young Tiger
It was common for artists of this period to capture wild animals in their paintings in a domestic setting where as artists nowadays are much more likely to capture them in more natural settings. Quite simply, the likes of Frenchman Delacroix, as well as British painter Sir Edwin Landseer who also produced wild animal based paintings, would never have had the opportunity to safely paint natural scenes with wild animals and they would have had to visit local London based setups where wild animals were on display. These paintings may also have been helpful in an education sense too, with few normal people being able to see these animals themselves.
Christ in the Garden of Olives
It was Peter Paul Rubens as well as various Renaissance painters from Venice in Italy who were to inspire the work of Eugene Delacroix and it was this that created his romantic style that was markedly different to Ingres, a more realist artist who was also around at that time and provided considerable competition to the Frenchman. Delacroix was never interested in purely matching reality and wanted to pick scenes that inspired him and to add that passion into his final work. In recognition of the importance of Eugene Delacroix as an artist, many of his best known paintings are now stored in the permanent display of the Louvre in Paris, which itself holds one of the finest collections of art in the world.
Those who get a chance to visit the French capital simply must head to the Louvre if they hold any artistic interest as there is a wide range of art on display there which reflects the long standing importance of French artists on European arts as a whole. You will notice religious scenes in many paintings from Delacroix and this reflects the importance of religion in western society at that time, with art in general being devoted in large swathes to all sorts of different Christian subjects such as scenes from the life of Christ, God himself or other related scenes from the Bible and other teachings. Key religious institutions were also some of the most affluent commissioners of art at that time as well and many artists would be forced to paint what they asked in order to meet their own living costs where other projects were unavailable.
Bouquet of Flowers
We hope that you have enjoyed this unofficial Eugene Delacroix website and there will be future updates, so feel free to check back at your leisure. We aim to translate the website into many different languages to match the international standing of this great artist and there will also be further information added on the life of this painter and also an expansion of the existing gallery found in this homepage. There may also be an opportunity to leave your own opinions as well quite soon, with a functionality similar to regular blogs.
List of Famous Eugene Delacroix Paintings
Please see below for a summarised list of the best Eugene Delacroix paintings that are featured throughout this website.
Liberty Leading the People
Death of Sardanapalus
Arabs Skirmishing In The Mountains
Aspasia
Basket of Flowers
Christ on the Sea of Galilee
Clorinda Rescues Olindo und Sophronia and Columbus
His Son at La Rábida