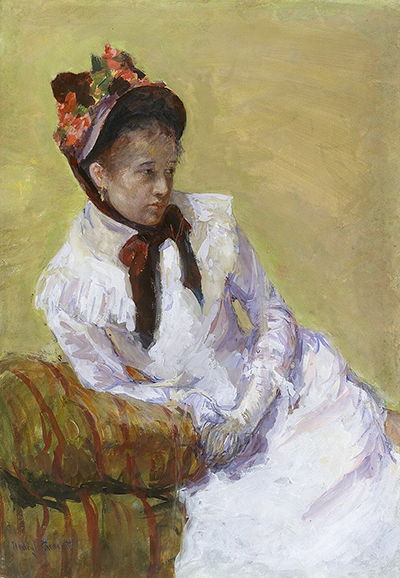 Buy Art Prints Now
from Amazon
* As an Amazon Associate, and partner with Google Adsense and Ezoic, I earn from qualifying purchases.
Mary Cassatt was a famous member of the French Impressionist movement and one of three women that would become known as Les Trois Grandes Dames, along with Marie Bracquemond and Berthe Morisot.
Mary Cassatt was an American printmaker and painter. She used to create images of the private and social lives of women, putting emphasis on the special bonds between children and mothers. She was born on 22 May 1844 in Allegheny City in Pennsylvania, which is currently part of Pittsburgh. Her father was Robert Simpson Cassatt, a successful land speculator and stockbroker.
Her mother was Katherine Kelso Johnston, who came from a family with a baking background. Katherine Cassatt was educated and well-read and had a great influence on Mary Cassatt. Their ancestral name was previously Cossart. The family later moved eastward; they first moved to Lancaster, then Pennsylvania and eventually to Philadelphia, where the 6-year-old Mary started her schooling.
She was raised in an environment that saw travel as essential integral to education. As such, Mary spent 5 years in Europe, visiting many of the capitals in the continent, including Berlin, Paris and London. While she was abroad, Mary learned French and German; she also took lessons in music and drawing.
It's likely that Mary's first exposure to the famous French artists Gustave Courbet, Camille Corot, Eugène Delacroix and Jean Auguste Dominique Ingres was at the 1855 Paris World's Fair. Camille Pissarro and Edgar Degas - who were later Mary's mentors and colleagues - also attended the exhibition.
Although Mary's family didn't want her to become a professional artist, she joined PAFA in Philadelphia to study painting when she was 15 years old. Part of her family's concerns was Mary's exposure to feminism and the bohemian behaviour that was seen in some male students. For this reason, Mary and her friendship network started advocating equal rights for both sexes.
Although 20 per cent of the students in that art school were females, the majority viewed art as a skill that was socially valuable. Few of these students were determined - as Mary was - to pursue art as their career. Form 1861 through 1865, she continued her studies. Thomas Eakins, a realist painter, was one of her fellow students. Later, Thomas resigned as the Academy's director.
Mary was impatient with the pace of instruction as well as the patronising attitude that the male teachers and students had. She, therefore, started studying the old masters by herself and later ended her studies. In 1866, she moved to Paris after overcoming her father's disapproval, with her family friends and mother acting as chaperones. Because women were not yet allowed to join the influential art school École des Beaux-Arts, Mary decided to apply to be taught privately by masters from the school.
She was accepted to study privately with the French painter and sculptor Jean-Léon Gérôme who was a respected teacher recognised for his hyper-realistic style and his portrayal of exotic subjects. Mary expanded her artistic training with everyday copying in the Louvre and obtained the required permissions needed to control the copyists who filled the museum on a daily basis to produce copies for sale.
In late 1866, Mary decided to join a painting class that was taught by genre artist Charles Joshua Chaplin. During the same year, mary studied with the French artist Thomas Couture. In 1868, the selection jury for the Salon accepted Mary's A Mandoline Player, one of the only 2 paintings by this artist from the first ten years of her art career that's documented today. Mary was one of the two women from the United States to first exhibit their work in the Paris Salon.
As the Franco-German War (War of 1870) was starting, Mary returned to the United States and lived Altoon in Blair County, Pennsylvania. She stayed together with her family. She placed 2 of her works in a New York-based gallery and found lots of admirers. She later travelled to Chicago, where she lost some of her early works in the 1871 Great Chicago Fire. The archbishop of Pittsburgh was attracted by Mary's work and commissioned her to paint 2 copies of paintings by Antonio Allegri da Correggio in Parma. She then went back to Europe with a fellow artist Emily Sartain.
Within months after returning to Europe in 1817, her prospects had brightened. One of her paintings was received well in the 1872 Salon, and it was bought. Mary attracted favourable notice in Parma, with the art community supporting and encouraging her. After finishing the archbishop's paintings, Mary travelled to Seville and Madrid, where she executed a group of paintings with Spanish subjects. In 1874, she took up residence in France and opened a studio in the capital city. She continued expressing criticism of the Salon politics and the conventional taste prevailing there.
In 1877, Edgar Degas invited the artist to show her works together with the Impressionists, who didn't have a formal manifesto and varied significantly in technique and subject matter. They used Plein air painting and applied vibrant colours in different strokes with a bit of pre-mixing, allowing the eye of the viewer to merge the results of the work in an "impressionistic" way.
Mary Cassatt admired Edgar, whose pastel had made an impact on her when she met them in 1875. She accepted Edgar's invitation and started working on the paintings that she would exhibit on the 1879 Impressionist show. She met with the Impressionists privately and at exhibitions to avoid unfavourable attention.
During the intervening 2 years, Mary's style had gotten a new spontaneity. She also produced several portraits of her family members. Her style evolved, and she decided to move away from Impressionism and chose a simpler, straightforward approach. After 1886, she stopped identifying herself with art movements and started experimenting with various techniques.
In 1911, Mary was diagnosed with cataracts, neuralgia, rheumatism and diabetes. This didn't slow her down; however, after 1914, the artist became blind and stopped painting. Mary died on 14 June 1926 and was buried at Le Mesnil-Théribus, a comune located in the Oise in northern France. A public garden located in one of the twenty arrondissements of Paris is named after the artist in her memory.
She was inducted into the American institution National Women's Hall of Fame in 1973. She inspired many women artists from the Montreal-based group called the Beaver Hall Group. In 2003, four of Mary's paintings were produced again on the 3rd issue in the stamp series of American Treasures. Six years later, Google Doodle honoured Mary in recognition of the artist's birthday.