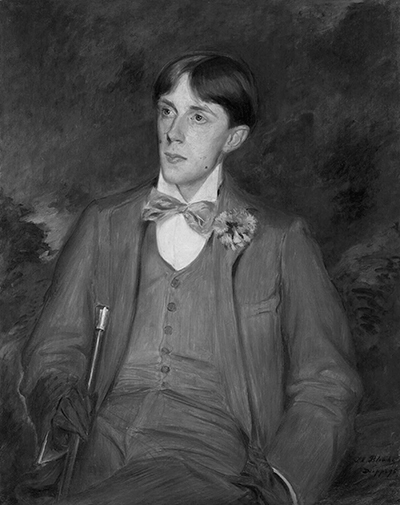 Buy Art Prints Now
from Amazon
* As an Amazon Associate, and partner with Google Adsense and Ezoic, I earn from qualifying purchases.
Aubrey Beardsley was an important British artist who specialised in illustration and was a part of the influential Aesthetic movement. Despite passing away very young, he was still able to leave a legacy which is still felt today within the graphic arts.
The artist's majestic illustrations were inspired by many of the techniques found within Japanese woodblock prints, which at the time were in circulation around Western Europe. Due to his early death from tuberculosis, Aubrey Beardsley would only have around six full years of work to his career, but even in that short time he was able to produce an impressive body of work which ensured a strong legacy which is still celebrated today. Indeed, exhibitions of his work remain common and can be held far afield from his native UK. He would visit Paris just as the start of his professional career and this experience would mould what of what he produced, particularly having seen the poster art of Henri de Toulouse-Lautrec and also some of the Japanese art that came before it. He would take these technical ideas back home and then work them into his own unique innovations and preferences.
As with most famous illustrators, Beardsley would work commercially, spending time as an art editor for a publication that he helped set up. He would eventually develop a style which was bold and memorable, though some would describe it as grotesque, or at least depicting the grotesque. There would be a sexual element to many of his drawings and the heavy contrast between black and white would create an immediate impact within his poster designs. His work seemed to be loved and hated in equal measure, and he regularly courted controversy. As his opinionated nature started to seep into his work, caricatures would appear too. He worked alongside writers to put various publications together, and then later worked on posters independently as his reputation continued to grow. He also varied the detail in his illustations, with some being incredibly complex and other being produced from relatively few strokes of his ink pen.
The artist was also highly sociable and became a popular figure within the Aesthetic movement, famed for his eccentric behaviour and strong fashion sense. He would spend a lot of time in the company of other creatives, not so much to learn but actually purely as a means to enjoy his life. Rumours soon surfaced about his sexual behaviour, even his preferences, which was perhaps partly fuelled by the controversial nature of his work, but none of these claims have ever been given much weight by art historians. What cannot be denied, though, is how his bouts of tuberculosis would regularly interfere with his work, as well as his life in general. Thankfully, in the short career that he had he was able to establish himself as one of the most famous British illustrators of all time and his work continues to be celebrated today all around the world. One can only imagine what this bright, innovative and highly skilled artist might have achieved if his life and continued for several more decades. Aubrey Beardsley prints are also particularly popular in the UK and abroad.
Table of Contents
Famous Illustrations by Aubrey Beardsley
Beardsley was clearly unable to produce a huge body of work within his career because of how it was cut short so early. This has made it slightly easier to summarise his most famous drawings, than if it was not the case. His key contributions tend to involve female figures within extravagant clothing, sometimes with nudity. They are all black and white, with the main figures tending to be elongated to an extent, and all filling the full vertical of each artwork. Alongside his page illustrations, there would also be covers and title pages which would inevitably be constructed in a slightly different manner. The Peacock Skirt, The Yellow Book and The Climax remain some of his best known pieces, along with The Stomach Dance, The Eyes of Herod and John and Salome. Despite being controversial for many at the time, Beardsley has been welcomes into the halls of British art fame and is considered one of the nation's finest ever illustrators, with a strong following further afield across Europe and into the US as well.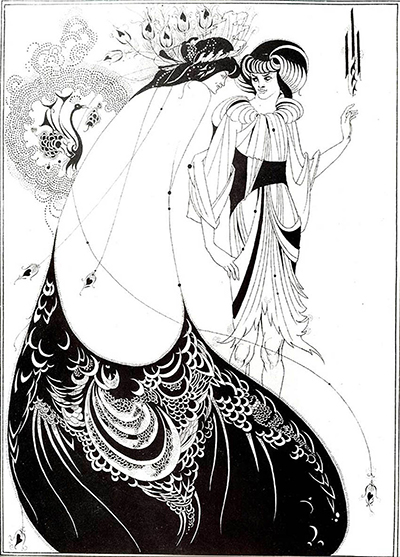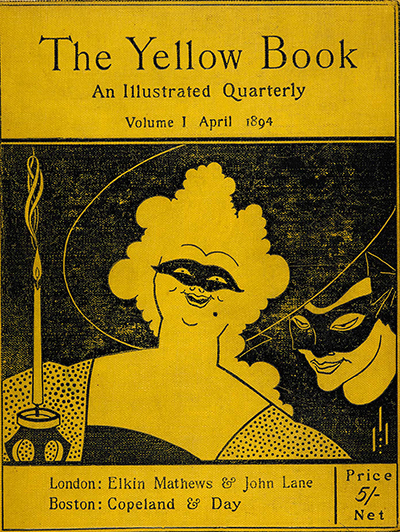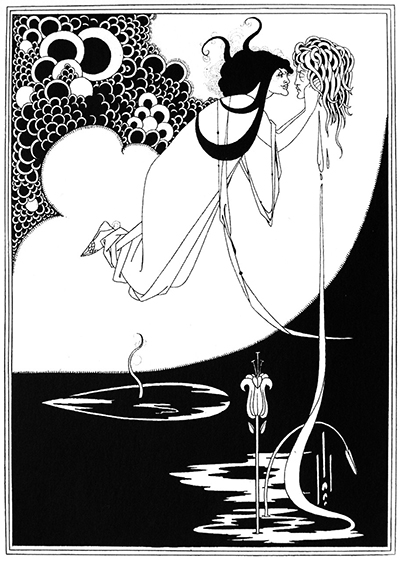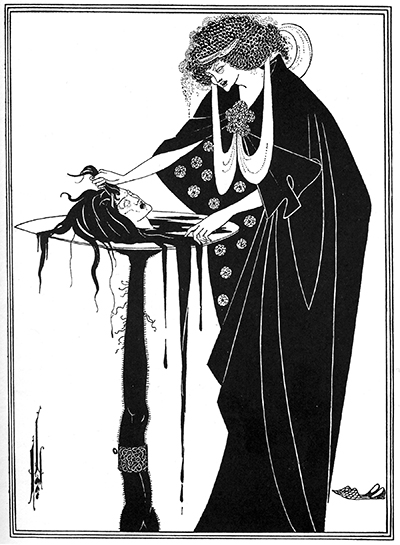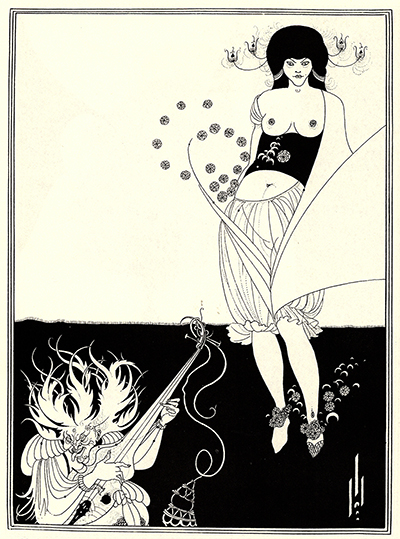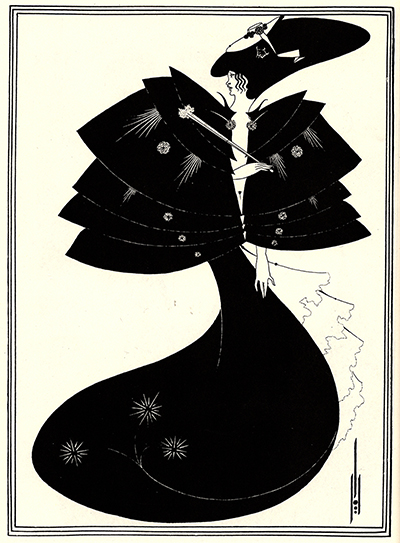 Artistic Style
The style of art produced by Aubrey Beardsley was an unusual balance of the grotesque and the elegant, with some shocking content being delivered with class and beautifully crafted forms. Whilst calling on a variety of influences in his work, Beardsley was no follower, but an innovator. With just black and white tones he was able to produce impactful designs that excited just as many as they horrified. His fellow artists could immediately pinpoint the brilliance of this man and would defend him against criticism from outside the media or art institutions. Today, such content is not seen as anywhere near as controversial, allowing his technical ability to be judged in a fairer manner. As a caricaturist, there would also be humour in some of his creations, whilst others were produced to accompany text sat alongside in a variety of publications. The Aesthetic movement included writers as a key part of their group, and so the two would regularly work together on various projects.
Influences
The biggest influence on Beardsley's artistic style would have to be his experiences during a trip to France. It was here that he came across poster art for the first time, and also where he became more familiar with the styles of Japanese art. He was already keen on illustration at this point, but seeing work by the likes of Toulouse-Lautrec would influence his artistic direction. His colleagues within the Aesthetic movement would also offer him alternatives in terms of style and content, with famous names of that group including the likes of Oscar Wilde, James Abbott McNeill Whistler, and also slightly earlier with William Morris and Dante Gabriel Rossetti. It became an important and influential British movement that was highly innovative and also varied in the mediums that it used. Literature and the visual arts would work together in harmony, which entirely suited Beardsley's focus on illustration, in just the same way illustrators from previous centuries had put their work into publications of classical poetry, all the way back to the Italian Renaissance.
Techniques and Mediums used
Aubrey Beardsley would use pen and ink for the majority of his illustrations, and this produced a stark contrast between the black and white parts of each composition. Lettering would be used in some of the advertisments posters, similar to what he had witnessed in Paris, but most were purely figurative. Erotic scenes would appear in many of his artworks, which was one of the direct influences that came from Japanese art. At that time, Paris was full of examples of woodblock prints imported from the Far East and he came into contact with it whilst visiting the city in the early 1890s. Toulouse-Lautrec and a few others were also building a strong momentum with their poster art which promoted small businesses and events in and around the city. Montmartre was the specific district where creatives would get together, in a similar manner to how Beardsley would associate himself with other artists within certain parts of London. Paris itself was also a hub for European creativity in the late 19th century, and so Beardsley's time there would have exposed him to all manner of other ideas from elsewhere on the continent.
Art Education
The artist's mother was keen on the arts and therefore worked hard to ensure that Aubrey and his sister, Mabel, would receive a good grounding in cultural topics such as music, literature and art as part of their education. Aubrey initially worked a number of professional roles in order to help his family out professionally, just after leaving school, but on the side he would discover and foster his love for illustration. The family were well connected and knew several artists whom they would meet from time to time. Edward Burne-Jones persuaded Aubrey to show him a small portfolio that he always carried upon his person and the established artist was immediately impressed. He encouraged him to become an artist fulltime, which he did, with his mother's blessing. Aubrey enrolled Westminster School of Art and from then on his technical ability would develop quickly, encouraged as he was to practice frequently and to focus on the fundamentals of outline, composition and self expression.
Early Career
Beardsley was able to get some early commissions which enabled him to leave his professional office life behind. He was asked to produce a series of supporting illustrations for an upcoming publication, with all to be styled in a medieval manner. Further illustration projects came soon after and it was clear by now that Beardsley was going to be able to make a career out of his undoubted natural artistic ability. He would also then start to receive requests for some of the grotesque content that proved so controversial. He delivered it with his usual elegance and by now was starting to form a clear style which made his work instantly recognisable, and therefore producing a brand which could attract yet more commissions. Beardsley continued to display influence from Japanese art as well as other British artists such as Whistler, whilst also inserting plenty of his own innovations and unique ideas. As controversy and revulsion from some quarters grew, so his success grew.
Late Period
The 1890s would make the rise and fall of this exceptional individual. At the start of the decade he had established his chosen career and built up a list of committed patrons who provided a regular flow of work. Sadly, towards the end his health would quickly deteriorate and he would have to take regular breaks from his work in order to recover. Recent advancements in printing technology allowed the artist to reproduce his work in more impressive formats and he held full artistic control of all projects that he worked on by this stage. His focus in the late period was society itself, and specifically the glamorous side of it. Beardsley captured some of the stunning fashion of the period with his elegant curved lines and precise detail which helped him to become one of the most in-demand artists of that period.
Legacy
Despite his short life, Beardsley left behind a strong influence on many other artists. Having been so inspired by the poster art that he witnessed several years earlier, Beardsley would now influence a number of future illustrators, such as Papé and Clarke, helping to continue the artistic path which had been flowing for many centuries already. He would also have an impact on French Symbolists and the Poster Art Movement of the 1890s, whilst his work continued to cause controversy until as late as the 1960, many years after his sad demise. It would therefore take society as a whole at least six decades to broadly accept the more erotic and perverse parts of his oeuvre, and even today some would find it simply too much. Most, however, simply see a highly skilled artist, said by some to be a protege, who delivered elegance within his work, even when covering some decidely unsavoury subjects. Modern day graphic design has also been heavily influenced by the key exponents of poster design from the turn of the century, and he played a major part within that.
Death
Aubrey Vincent Beardsley sadly died at the age of 25, on the 16th of March, 1898. He was living in France at the time, and so was later buried at the Cimetière du Vieux-Château, Menton, France. He spent his last days in the company of his mother and his sister, who were aware of his health problems which worsened a year before after a haemorrhage which had already reduced his resistance to illness considerably. The artist had actually converted to Catholicism fairly recently, perhaps predicting his fate and wanting to be on the right side of any judgement, were it to come. He would not have considered his life to be entirely moral up to that point, partly because of the company that he kept, although today he would be judged much more favourably by our less formal, more open-minded society. A plaque remains in place at his burial spot and serves as a reminder of the important legacy left by this unique character.
Quotes
Aubrey Beardsley was an eccentric extrovert, and regularly courted controversy, which he appeared to entirely enjoy most of the time. The nature of his work meant that the public and media alike were interested to learn more about the man himself, and so interviews were frequent. The artist was able to deliver memorable quotes to summarise his work as well as giving strong opinions on others in the industry. He normally spoke openly in a manner which was not as common at the time as it is today, and he would always do what he thought right, regardless of convention at the time. The result of all of this was a series of quotes that have been documented in various studies of his life and career which have been published over the past century, the best of which are featured below. Many fellow artists would also discuss his strong qualities after his passing, aware that such a talent would undoubtably be a huge loss to the art world.
Of course, I have one aim, the grotesque. If I am not grotesque I am nothing.
I have always done my sketches, as people would say, for the fun of it... I have worked to amuse myself, and if it has amused the public as well, so much the better for me.
Advertisement is an absolute necessity of modern life, and if it can be made beautiful as well as obvious, so much the better for the makers of soap and the public who are likely to wash.
How few of our young English impressionists knew the difference between a palette and a picture! However, I believe that Walter Sickert did — sly dog!
From the greatest living artist in Europe. Afterwards we returned to the lawn and had afternoon tea. Mrs Burne-Jones is very charming.

After receiving a complement from Edward Burne-Jones
Related Artists
The main group in which Beardsley was involved was the Aesthetic Movement, which combined literature and visual art together. Many important names from British art could be found within this collective which also took in a good number of different mediums and disciplines. The likes of William Morris were from its earlier stages, as it progressed in the second half of the 19th century. Whistler was also a notable member, and their agreed principle was to produce art which could impress without any symbolic meaning behind it - "art for art's sake", as some were quoted at the time. Painting featured prominently within the group, and contributions came from the likes of Simeon Solomon, Dante Gabriel Rossetti, Albert Joseph Moore and GF Watts. It therefore contained a mixture of many famous British artists and also included writers such as the legendary Oscar Wilde, who himself was at the centre of its lively social engagements. Beardsley's work also had a connection to the Europe-wide Art Nouveau movement, which featured the likes of Alphonse Mucha.