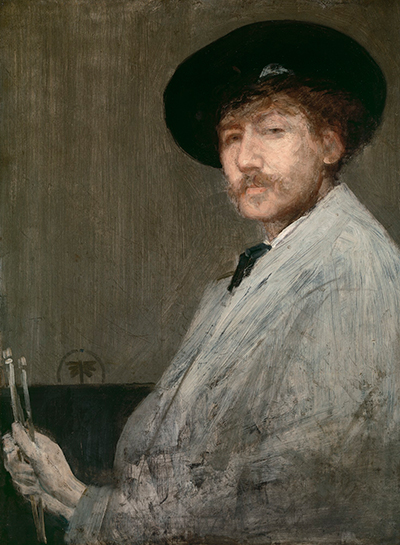 Buy Art Prints Now
from Amazon
* As an Amazon Associate, and partner with Google Adsense and Ezoic, I earn from qualifying purchases.
James Abbott McNeill Whistler was an American artist who was active during the period of the American Gilded Age. He was based primarily in England.
Unique Artistic Methods
The approach of the artist to portraiture was described by Arthur J. Eddy, one of his sitters, who posed for Whistler in 1894, stating that the artist worked with great speed and long hours. Whistler used his colours thin, covering the canvas with numerous coats of paint, and the colours increased in intensity and depth as the work progressed. He first painted the whole figure in greyish-brown tones, and with little flesh colour, the entire blending with the prepared canvas greyish-brown. Then he would intensify the entire background a little.
After that, the figure was made a bit stronger, then he would go to the background and the other sections of the paintings every day, and he would even take weeks or months. This made his portraits to really grow and develop as an entirety, just like negatives under the action of chemicals come out gradually—light, shadows, all from the first faint hints to their full value. It's like his portraits were hidden in the canvas and the master evoked the image by passing his wands on a daily basis over the surface.
Multiple Sources of Inspiration
The artist was inspired by, and he incorporated numerous sources in his artwork, including the work of Velázquez, Rembrandt, ancient Greek sculpture and Japanese art to develop his highly influential, individual style. Whistler was adept in numerous media, with more than 500 paintings plus lithographs, drawings, watercolours, pastels and etchings. The artist was a leader in Aestheticism, promoting, writing as well as lecturing on the philosophy "art for art's sake". With his pupils, Whistler advocated economy of means, simple design, the avoidance of technique that is over laboured, plus the final result tonal harmony.
The artist is the subject of numerous museum exhibitions, publications and studies. Like the Impressionists, Whistler was employing nature as an artistic resource. He used to insist that it was the obligation of the artist to interpret what he is seeing and bring out from chaos, glorious harmony. Whistler affected 2 generations of artists during his life: in the United States and Europe.
He had significant contact and managed to exchange ideas with Impressionist, Realist and Symbolist painters. Well-known protégés include writer Oscar Wilde and Walter Sickert. Whistler's Tonalism had a great effect on lots of American artists, including Willis Seaver Adams, William Merritt Chase and John Singer Sargent. Another notable influence was upon American Tonalist painter Arthur F. Mathews, whom the artist met in the late 1890s in Paris. Arthur took to Whistler's Tonalism to the City and County of San Francisco and spawned a broad use of the technique among California artists of the turn-of-the-century.
Butterfly Signature
In the 1860s, the artist developed his famous butterfly signature out of interest in Asian art. Whistler studied the factory mark on the china that he collected and designed a monogram logo of his initials. This evolved into an abstract butterfly shape over time. By around 1880, the artist added a stinger to that butterfly image to create the mark that represents his gentle and sensitive nature as well as his provocative, feisty spirit. Whistler took great care when it came to the proper placement of the image on his custom-made frames and paintings. His focus on the significance of harmony and balance extended beyond the frame, his paintings placement, their setting and the design of a whole architectural element just like in the Peacock Room.
Frequent Foreign Travels
In 1861, after Whistler returned to Paris, he executed his first famous work, The White Girl. This portrait of Joanna Hiffernan, his business manager and partner, was created as a simple and clear study in white. Two years later, he painted another Heffernan in white portrait and displayed his new interest in Asian motifs; he entitled the painting The Little White Girl. Whistler's The Golden Screen and Lady of the Land Lijsen, which were completed in 1864, also portray his mistress, but in a more emphatic Asian setting and dress.
In 1866, the artist visited Valparaíso, in Chile; the journey produced his first 3 nocturnal paintings, which Whistler named "moonlights", but later renamed as "nocturnes". Nocturnes are night scenes of the beautiful harbour which are painted with a light green or blue palette. After returning to London, Whistler painted more nocturnes over the following decade, many of the Cremorne Gardens and River Thames.
Career Highlights
Whistler's mother is the most famous painting from this artist and you can see that below, along with links to where you can buy your own copy to add to your home or office wall. Whistler's Mother is also sometimes referred to as Arrangement in Grey and Black: The Artist's Mother and came about in 1871. Those interested in seeing the original can find it on display at the Musée d'Orsay in Paris.
Whistler paintings are typically oil on canvas as was common for this period. Whistler's style is generally referred to as Tonalism, of which he was the founder. This movement generally concerns a style of landscape painting but Whistler also produced paintings of other topics, as seen with the Artist's Mother above which is a portrait painting.
Influence on Related Artists
The success of Whistler is shown, in part, by the impressive list of creative Americans whom are believed to have taken in elements of his style in their own, having following on afterwards. These include the other tonalists who joined the art movement which he himself set up as well as the American impressionists plus notable painters William Merritt Chase and John Singer Sargent.
Self Portrait is an interesting painting which allows us to visually see the artists through his own eyes. Self portraits have always been highly valuable to art historians who can use them as a way of learning more about the artist himself and his own personal mood at the time that each one was produced. Van Gogh was best known for this as he had a highly turbulent character and also created many self portraits right across his career.
Stylistic Connections
The tonalism style of Whistler which bears similarities to the French Barbizon style as well as many of the works of British Romanticist painter, JMW Turner, and this approach has proven extremely popular in recent years with it's emotional skies proving to be to many people's taste. Sadly for Whistler the tonalists were forgotten about amidst the rise of the impressionists, but many still are well aware of the career of this skilled American painter.
Nocturne In Black and Gold can be seen above and is a charming landscape painting which serves well to best sum up the frequent style of this artist. Whistler spent a lot of his time living in the UK and as such many of his landscapes were of locations around the south of England, including London and Haystings, to name just two.
There were several Nocturnes in the major works of Whistler and these best show off his use of tonalism where mood and shadow played exaggerated roles with each painting. JMW Turner's Fighting Temeraire is another good example of where slighly blurred characteristics to a landscape scene can help a viewer focus on the wonderful array of colour that has less distraction from trying to define clear objects.
Snow In Chelsea is one of his UK-based paintings and ranks amongst his best. Besides the south of England, the painter also travelled to several other European countries is the pursuit of suitable locations for his landscape art works. These included Venice as well as several parts of France. Venice has long since been a key venue for thousands of professional and amateur artists.
Whistler paintings are amongst the most reproduced of any American artist from the 19th century and the links provided within this website offer you the chance to buy copies of Whistler originals from Art.com's comprehensive Whistler gallery, where prints, posters and stretched canvases are all available at competitive prices. We personally use them for our own art prints, and find framed finishes offer the best look.
List of Famous Whistler Paintings
Please see below for a summarised list of the best Klee paintings that are featured throughout this website.
Portrait of the Artist's Mother
Arrangement in Grey and Black
Self Portrait