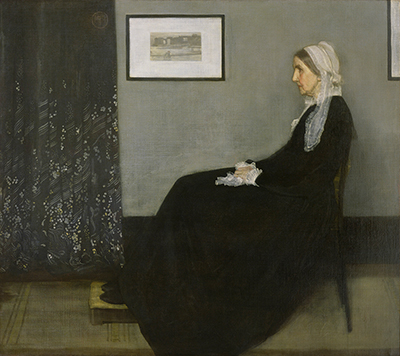 Buy Art Prints Now
from Amazon
* As an Amazon Associate, and partner with Google Adsense and Ezoic, I earn from qualifying purchases.
The paintings of James Abbott McNeill Whistler are instantly recognisable, from his choice of colours to the unique balance between reality and abstraction.
Subtle Technique
To enhance the abstract appearance of his paintings, Abbott would limit the colour on his palette to lower the tonal contrast. He applied this special technique in most of his artwork in which he used light liquid paint and lightly brushing onto a canvas. Through this, he emphasised the flat and abstract quality in his paintings. The titles to his paintings also sang the same song, remaining abstract. His titles such as "Symphony" were his way to direct the attention of the audience to the artist's manipulation of the paint instead of putting the focus on the subject matter that may be depicted in the painting.
Courting Controversy
His devotion to the Aesthetic movement, however, earned Abbot some enemies. Due to this, most of his works were done in the face of controversy and criticism which, to some extent, used to his advantage. Amidst the controversy and criticism, he still succeeded in pushing his philosophy forward and this was a source of inspiration for many modern artists who shared in his ideology.
Generally, most of James Abbot McNeill's works of art revolve around the theme of visual delight. The artist uses scenes and objects from daily interactions and in most of his paintings, the scenes and objects are aesthetically pleasing. His aestheticism was aimed at separating his art from the textbook social and moral context and in this way, he expressed his art in visual delight, using aesthetic sceneries and objects. This enables art to serve each audience differently. For instance, in his artistic works; the Nocturne in Black and Gold: The Falling Rocket of 1875, there is a mass of dark hues and shadows amidst vague wandering figures. Such art does not speak of anything in particular and it may evoke different emotions in different people, but it still comes out aesthetically pleasing.
Inspired by Reality
For most artists, inspiration may be drawn from ongoing or past events, historical or religious contexts, social issues or and not limited to political issues. For James Abbott McNeill Whistler, inspiration is drawn from real-life objects and landscapes which he would visualise and represent aesthetically in form of abstract art. A good example of this is the Nocturne in Black and Gold: The Falling Rocket of 1875 painting in which Abbot depicted an event he had witnessed; a fireworks display over the London Cremorne Gardens. Similarly, his painting; Symphony in Grey and Green: The Ocean (1866) was inspired by his visit to the seascape of Valparaiso, Chile.
British-based artist James Abbot McNeill Whistler had a lot to say in his works of art. He had a signature in each of his masterpieces in the form of a stylised butterfly with a long tail that was not a tail but a stinger. James Abbot McNeil Whistler knew how to make use of clever and indirect approaches to achieve marvellous art and he was a great influence on the world of art. This American-born artist has his name written in the history of art.
Whistler's paintings are characterised by two main styles of painting from the 17th century and both started major artistic movements. He played a role in the transitioning from realist painting styles to the abstract painting style. For instance, he actively participated in the Aesthetic movement that promoted appreciation of "art for art's sake", appealing to the abstract nature of art and the way beauty is perceived in it. In his abstract painting style, no real-life object, objects on the canvas are presented in shapes and colours. Versatility, the painting could mean anything.
Clever use of Colour and Tone
Colours were meant to represent emotions and shapes represented real-life objects. Through the abstract painting style, art becomes appealing and aesthetics are satisfied. The Harmony in Blue and Silver: Trouville (1865) painting is a perfect example of the modern tendency to create art from abstract ideology. He was also the founder of tonalism which was another one of his painting styles from the 17th and 18th century. In this style, James Abbot McNeill used an overall tone for the painting's atmosphere. This style was characterised by the use of a neutral colour to mean more than just colour.
For his art, James Abbot McNeill used stunning etchings. These were made by engraving a surface with a ground which is resistant to acid and then scratching the ground off with an etching needle on areas where the artist wants a line to appear on the finished art piece, which came out very beautiful. His tonalism approach in some of his works of art was his technique for a unique use of colour on the more decorative colour; a technique he used in his painting the Nocturne in Black and Gold: The Falling Rocket (1875).