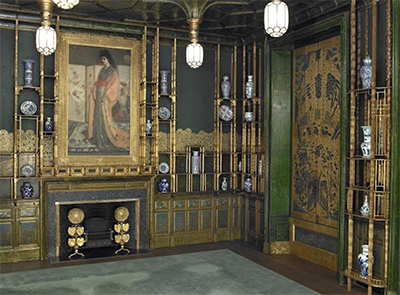 Buy Art Prints Now
from Amazon
* As an Amazon Associate, and partner with Google Adsense and Ezoic, I earn from qualifying purchases.
James Abbott McNeill Whistler painted Rose and Silver: The Princess from the Land of Porcelain in 1864. His model was Christine Spartali, the sister of the artist Marie Spartali Stillman, who because of her beauty, was in great demand as a model.
It is one of several of his works depicting a Western woman dressed in Asian clothes, shown in an Asian environment. Spartali's father refused to buy the painting, so it was first exhibited at the Paris Salon, then at Gambart's French Gallery in London. It came into the possession of Whistler's friend Dante Gabriel Rosetti, who looked after it until his return from South America. It was then sold by Joanna Hiffernan, who was Whistler's lover and muse. The buyer is thought to have been Frederic Huth. The painting was returned to Whistler in 1867.
Several years later British shipping magnate Frederick Richards Leyland bought the Princess, Whistler suggested he modify the colour of the room to better suit the painting. The room had a large collection of KangXi ceramics. Leyland had employed Jekyll to do the remodelling of his dining room, but Jekyll fell ill and was unable to continue at the time, so Whistler was asked to step in. His ideas clashed with Leyland's and resulted in a quarrel between the two. However, this is how the Peacock Room came into being. Whistler is reported to have said to Leyland, 'Ah, I have made you famous. My work will live when you are forgotten. Still, per chance, in the dim ages to come you will be remembered as the proprietor of the Peacock Room.'
After Leyland's death in 1892, the painting was bought by Alexander Reid at Christie's in London, then sold to William Burrel. In 1903 the painting was bought by American industrialist and avid art collector Charles Lang Freer in Bond Street for £3,750, under the title of The Princess of Porcelain. He anonymously bought the entire contents of the Peacock Room in 1904 from Leyland's daughter and her husband, to have it installed in his mansion in Detroit, Michigan. Freer died in 1919 and the Peacock Room was transported to the Freer Gallery of Art at the Smithsonian in Washington, D.C. In 1923, the gallery opened to the public. The Peacock Room has undergone renovation in 2016 and re-opened to the public in the summer of 2017. The painting has been installed above the fireplace.