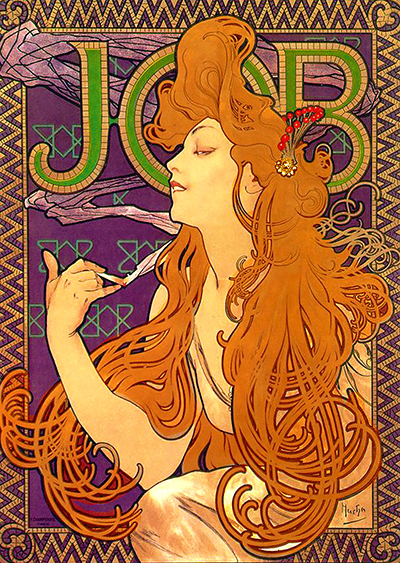 Buy Art Prints Now
from Amazon
* As an Amazon Associate, and partner with Google Adsense and Ezoic, I earn from qualifying purchases.
Alphonse Mucha was a highly skilled Art Nouveau Czech illustrator whose paintings and prints have a really feminine look which is proving very popular in the present day, with regular reproductions being bought as copies of his originals.
This website brings you information on the career of Alphonse Mucha and also presents an extensive gallery of his most impressive work, spanning the full length of his considerable career. Mucha was a highly productive artist and as such there is a huge amount of work from his career, and it was not easy to summarise it down to the works included with in this website. If you want to discover more then please take note of the more comprehensive list further down the page. The artist's original birthname was Alfons Maria Mucha.
This talented artist had a very consistent output, as you will see from studying the art in this website. Because of this, it is very easy to quickly recognise an Alphonse Mucha print when travelling around the different international galleries. His work has also been compared to British painter Beardsley, who remains well known herself. Alphonse Mucha is known for beginning the Art Nouveau movement but the artist actually later distanced himself from that in order to promote the media that he moved onto later in his career, such as oil painting. By the end of his career Mucha had created advertisements, postcards, paintings, illustrations and designs and showed immense talent in each of those disciplines, showing a real adaptability as an artist.
Alphonse Mucha had extraordinary illustration skills which helped him to quickly draw attention to his work at an early stage in his career. The work that he is best known for today came over an extended period of his early years before he later decided to move in a new direction, though he never varied too significantly from his original ideas and more just varied the mediums which he used. The original full name of the artist was Alfons Maria Mucha though he is now referred to internationally using his English name. Mucha is also a huge success right across the world and it seems his style is to the liking of art fans from all sorts of different cultures and countries, with his work also instantly recognisable.
The Czech artist decided to move away from the style for which he is best known for a certain period later in his career and started to experiment with new ideas and new mediums. The Slav Epic is a huge project which he is now well known for as the artist set up producing a series of large oil paintings which would cover the key historic moments of his own slavic race, and these are included in an inspiring permanent collection in the Czech Republic. The local name for these works was Slovanská Epopej and there were around 20 in total by the time Mucha had completed the series.
The Slav Epic is amongst the most impressive artworks to view in the country and well worth a visit if you find yourself near the town of Moravský Krumlov in the South Moravian Region of the Czech Republic, where a chateau was adapted to provide a permanent home for this important series. Alphonse Mucha left the Munich Academy of Fine Arts to move to Paris where he then further developed his growing talent at the Académie Julian and Académie Colarossi in the French capital. At this time the city of Paris was home to many bright lights of the European arts scene and many of them were relatively contemporary and forward thinking, making it an exciting melting pot for Mucha to really absorb a whole series of ideas, opinions and techniques.
Mucha's movements around Europe may also have helped him to grow as a young man too, building confidence in himself and his ability to do whatever was necessary to push his budding career ever onwards. After spending several years in Paris building his own artistic reputation it was the 1900 Universal Exhibition in Paris which served as a springboard for the artist to broaden his audience to an international level for the first time, and it was this moment which marked the birth of a true international artist which he very much continues to be today, more than 100 years later. During this period it would have been harder for an artist to spread their work internationally than it is now, as there was not the same level of international media and art was a lot more localised than it is today.
Art Nouveau is the art movement which is now regarded as having been started entirely by the work of Alphonse Mucha before inspiring others to follow a similar style with in their own work which helped this art movement to expand over time. Art Nouveau translated directly from French as New Art and that is how many saw the style of Mucha as he sought to find acceptance from academics for his work which was undoutedly innovative and unusual at that time, in several different ways which combined to give the art public something quite different to what had gone before.
Alphonse Mucha was a typical artist in that fame was not what drove him on at all, nor financial reward. The artist would always say that the point of his work was to spread a message rather than simply gaining fame for it's creator. The popularity of the Art Nouveau movement indeed led to Mucha trying to distance himself from it later on in his career, even though it was his work that actually initiated it in the first place.
Alphonse Mucha Paintings are renowned for their intricate detail plus the charming feminine style which the artist used in most of his work. F. Champenois France is the painting included above and it remains one of his most popular and well known, aided by the artist's Wikipedia page which displays it prominently. F. Champenois France is very typical of Mucha's popular style and is frequently purchased by his many fans around the world who often choose art print reproductions of his best work. As with all of the paintings included in our gallery, you can buy a copy of F. Champenois France from the links provided which will take you through to the Art.com prints gallery where a great selection of the best Alphonse Mucha paintings are available.
Artist Alphonse Mucha received some high quality training from an early age which helped to set him along the right path and ensured that the natural ability which the young student had was put to good use and developed in the right way which was to yield great benefits later on. The first teachings for the young pupil came at the Munich Academy of Fine Arts where Alphonse was sponsored privately after showing early promise on several artistic jobs which he had already completed. At this stage it was already clear that Mucha was likely to find a career in an artistic role but the impact which he eventually made was not yet known.
Moon and Stars
Mucha created the Moon and Stars series in the very early 20th century. It was to become amongst his best known series of paintings. The artist's models would be used for more than purely decorative meaning here, becoming part of the moon and star arrangements themselves. Personification of the females as stars produces a stunning set of work, ideally suited to the Art Nouveau movement of which this artist was so significant. Mucha would typically choose to put four figurative portraits together into a single artwork, though his fame has meant each element have at times been studied individually as well as collectively. There is a calming, sedate atmosphere to this collection of four artworks together in one final piece, which is an idea repeated by Mucha in several other themes.
Sarah Bernhardt
Sarah Bernhardt is depicted above in one of many portraits of this famous actor created by Mucha over a six year period as the two worked together closely and helped to draw more and more attention to the Paris-based painter. It would have been a huge honour for the artist to cover such a glamorous and well known actress as Sarah Bernhardt and he was quite content to continue this relationship over many years as the two started to build a close bond which remains much discussed and researched, with it being the most significant moment of his career.
Sarah Bernhardt was a famous actress in Paris who became highly significant in Alphonse Mucha's life when their paths crossed as he remained in the city himself. It was here that a chance opportunity enabled the artist to show off his illustration skills to a wider audience across the city through an advertisement which focused on Sarah Bernhardt and promoted her new play at the Théâtre de la Renaissance on the Boulevard Saint-Martin. The lithograph poster was immediately successful and created a great interest in Mucha, leading to an extension to Mucha's employment here which eventually lasted for an incredible six years.
Job
Job is one of the most famous art works by artist Mucha and you can see it above in all it's glory. Job features a very clear portrait of a woman using marginally less detail than usual for this artist, though there are more typical signs of his style in the background with flourishes on the lettering as well as background patterns that are very in keeping with this artist. Job has a particularly dark purple background which helps the female being portrayed to really stand out which is intended from Alphonse Mucha who uses her as the main topic of the painting. You will notice the tones used by the painter for the skin in this portrait and he regularly chose these colours for many of his other portraits too.
Tapestry
Tapestry shown above is another alternative for those who want to see examples of the different art mediums used by an ambitious Alphonse Mucha who spent much of the latter half of his career seeking to stretch his skills as far as possible. The tapestry shown above is even available as a reproduction, with Art.com offering some tapestries from great artists, though art prints, posters and stretched canvases are much more substantial in their product range. The style of Mucha with great detailed backgrounds and bright colours are probably more suited to art prints, but this tapestry may still be to your particular taste.
Precious Stones and Flowers
Precious Stones and Flowers is another stunning series piece from Mucha which features four related portraits together on one canvas in a similar way to the artist's seasons series. The same model is used here in different poses as the artist concentrates on combining different coloured outfits together to create a stylish overall work that fits the four portraits together seamlessly. Precious Stones and Flowers is certainly another good work that is well worth checking out, with some also choosing this as a print reproduction.
La Primavere
La Primavere is a delicate and highly feminine painting from Alphonse Mucha which sums up his career perfectly and also retains the tones that can be seen in so many of the artist's portraits. La Primavere is one of several seasonal pieces from the artist who produced individual works plus a multi-portrait painting aimed at depicting all of the four seasons together. It is very common across most art movements for artists to use seasons as an inspiration for their work, and also to produce a series of each one together. La Primavere remains one of the most frequently reproduced art prints from the painter's career.
Famous Art Nouveau Artists
After the successes of Mucha there was now a new art movement which drew in many other talented artists over an extended period. See below for a list of famous Art Nouveau artists.
Alphonse Mucha
Louis Comfort Tiffany
Eugene Grasset
Rene Lalique
Aubrey Beardsley
Alphonse Mucha Paintings - A List Of The Best
Alphonsemucha.org covers a selection of the best paintings from this artist, but please see below for a more extensive list for those looking to learn more about him and see yet more of his impressive art.
Evening
Les Saisons
Czech Slet
Night
Morning
Spring
Daytime
Dance
Polar Star
Eveil du Matin
Salon des Cent
La Samaritaine
Reverie du Soir
Painting
Lorenzaccio
Job
Cognac Template
Printemps
Moet et Chandon
Music
Fruit
Eclat du Jour
Seasons
Automne
Poetry
Dusk
Chocolat Ideal
Ivy
Ete
Dance
Morning Star
Mucha Nouveau
Bernhardt Gismonda
Moet Chandon Dry Imperial
Round Portrait
Theatre de la Renaissance
La Dame aux Camelias
Precious Stones and Flowers
Repos de la Nuit
Medee
Salon des Cents
Biscuits Lefevre Utile
Reverie
Zodiac le Plume
Flirt
Salammbo
Summer
Bieres de la Meuse
La Primevere
Winter
Fall
Cycles Perfecta
Hiver
Princess Hyacinth
Amants
Mucha Nouveau Iris Flower Poster
Theatre de la Renaissance
Seasons 1896