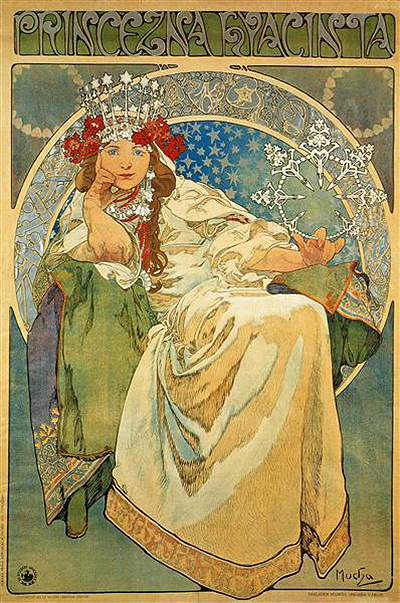 Buy Art Prints Now
from Amazon
* As an Amazon Associate, and partner with Google Adsense and Ezoic, I earn from qualifying purchases.
Czech painter Alphonse Mucha was a famous artist, known for his unique style of painting and produced many designs, postcards and exclusive paintings that made him a legend.
Mucha was born in Ivancice, Moravia recognized today as Czech Republic. He worked for a theatre scene painting association in Vienna. Mucha studied art in Munich, Prague and Paris in the 1880's.
In 1881 he began creating paintings of portraits independently. This is when Count Karl Khuen of Mikulov hired Mucha to work on his castle, reconstructing portraits and decorative murals.
Khuen was inspired by Mucha's work that he decided to sponsor this new artist, at the Munich Academy of Fine Arts. Mucha produced designs, magazines, and costumes in ballets and operas. He became famous after he delivered the finest artistic style to the residents in Paris.
The beautiful aspects of the female beauty fascinated Mucha. Its distinctive shape and soft coloring of the posters were stunning, and rich of decoration. His work featured classic young women in neoclassical robes, surrounded by flowers.
One of Mucha's masterpieces was a series of twenty paintings illustrating the Epic of the Slavic People (1912-1930).
The artist gained public recognition when he created the master of the art nouveau poster, decorative panels to brighten interior walls.
His first decorative panels were The Seasons (1896), which consisted of four panels presenting the four seasons. They panels were decorated on high quality fabric such as silk, or paper.
Mucha created the famous poster for the ballet named Princess Hyacinth (Princezna Hyacinta). The person on the poster is the famous actress, Sedlackova, who was the main star in the ballet.
The story behind it is a village blacksmith has a vision that his daughter becomes the Princess Hyacinth and is kidnapped by a sorcerer.
The ambience combines parts from the plot of the ballet: the blacksmith's tools, a crown, hearts, and instruments of sorcery. A hyacinth motif is used all through the decorative details.
He continued to create outstanding paintings, which gained fame and remains today as one of the most famous artists that existed.