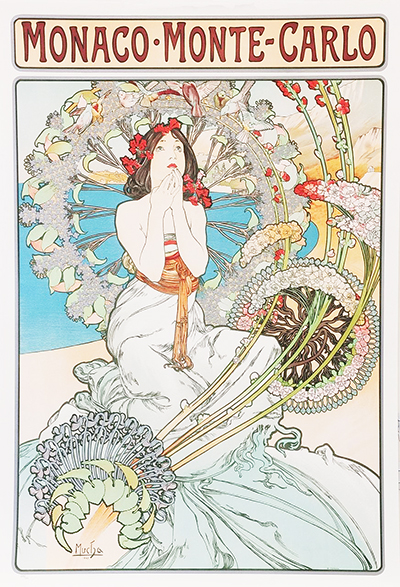 Buy Art Prints Now
from Amazon
* As an Amazon Associate, and partner with Google Adsense and Ezoic, I earn from qualifying purchases.
Poster for Monaco Monte Carlo, P.L.M. railway services (1897)
Born in 1860, in the town of Ivančice, Moravia (in the former Czechoslovakia), Alphonse (Alfons) Mucha was a painter who is fondly remembered today as a leading decorative artist in the Art Nouveau movement.
In the 1980's, there was a revival in his work, following an exhibition of his work at the Grand Palais in Paris (the city that inspired and supported his art in the late nineteenth and early twentieth centuries).
Mucha's Art Nouveau style became very much in demand with companies who commissioned him to advertise their products, using the newly created medium of colour lithography to produce advertising posters.
His work for Sarah Bernhardt, led to commissions from printers (Camis in Paris and Cassan Fils in Toulouse), but it was an exclusive contract with the company, F. Champenois Imprimeur-Editeur, that guaranteed him a monthly pay cheque and enabled him to focus solely on producing advertising designs.
Gaining financial security also opened up the possibilities of travel (including to Monaco Monte Carlo) and exploring the country that had become his home.
Most of the advertising posters created by Mucha were produced with Champenois, including the Poster for Monaco Monte Carlo, P.L.M. railway services (1897).
The style of the Monaco Monte Carlo piece focuses on a beautiful woman, relaxing on the Mediterranean coast. Appearing to be in a relaxed and meditative state, the female figure clasps her hands to her face, looking skywards as if she is transfixed by something in the sky.
The long parallel stems (a metaphor for the train tracks) of the buddleia and the use of a circular halo containing flowers, birds and leaves suggest the heavenly quality of this place.
Red flowers tied into her hair, her striking black hair and eyes and her strapless dress represent the use of attractive models to promote brands: another theme of Mucha's advertising posters.