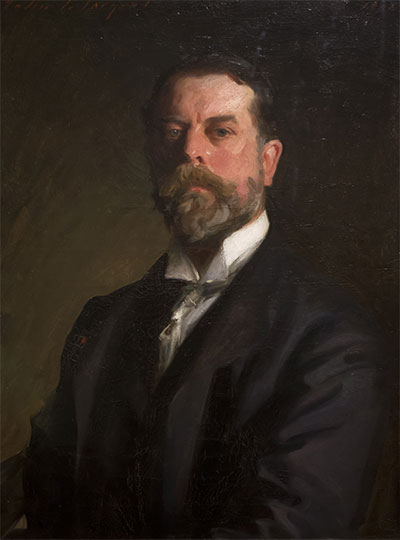 Buy Art Prints Now
from Amazon
* As an Amazon Associate, and partner with Google Adsense and Ezoic, I earn from qualifying purchases.
John Singer Sargent was a breathtaking American portrait painter whose career spanned the late 19th to early 20th centuries.
Having been born in Florence, Sargent also had strong ties to European art and the influences of that are clear to see in his work.
This was a highly competitive time for western art but Singer Sargent had the skills required to really draw attention to his work and this would then lead onwards to some truly prestigious commissions, with many famous celebrities falling over themselves to attract his services.
The best known portrait painting by the artist could be Theodore Roosevelt when considering the status of this subject, but there are also many other significant portrait paintings which technically are just as impressive, such as Madame X and Carnation, Lily, Lily, Rose.
High Productivity
The versatility and productivity of Singer Sargent was incredible, always looking to produce more and more and a selection of different mediums which he would happily experiment in order to push his own career achievements onwards.
Watercolours and oils were the artist's main focus and he created hundreds of works in both formats during an extended career which takes some time to really look into in the detail that it undoubtedly deserves.
Sargent also produced many charcoal drawings too, and these help us to appreciate his raw technical skills that lay behind his work in all different mediums. Sketches play in a significant part in the work of many portrait painters, such as Gustav Klimt and Egon Schiele, as they looked to hone their skills.
Early life
Sargent was born into an international family, American parents living in Europe, and this may have been the secret behind his passion for travel. His art documents his constant travels, with work capturing stunning scenes in the likes of Venice, Corfu and the Middle East plus Montana, Maine and Florida in the United States.
Sargent received his artistic training in mid to late 20th century Paris. The French capital was the centre for international art at that time, and was to gift us several key art movements including Impressionism and Cubism, to name just two.
John attended the École nationale supérieure des Beaux-Arts and this his first step along the path to developing his natural talents.
Inspired by travel
The artists's travels progressed his development as an artist beyond all recognition, such as his spell in Spain where he was to study in detail the work of Diego Velazquez. This was a different approach to painting which he found exciting and more original than the academically approved methods which he had been taught previously. He was also influenced by Thomas Gainsborough.
French art had an even greater impact on this open-minded artist, thanks to meetings with significant artists like Degas, Rodin, Monet and Whistler. It was an important time in European art at that time, and Singer Sargent was right in the middle of it. There also stylistic similarities to Renoir.
The earlier work from the American was predominantly landscape based, before his passion was to switch to portraits later on in his life. It then returned to landscape art after that, when Plein Air was to become his preferred artistic environment. Some of his fans see similarities with academic artists like William Bouguereau.
Sargent's travels were aided by his impressive language skills, being fluent in English, French, Italian and German. This was to help him to understand more about the art that he came across during his travels, as well as the stories behind it. For example, in Italy he was to be impressed with several works of Tintoretto, comparing them to the achievements of Michelangelo and Titian.
List of Famous John Singer Sargent Paintings
We have provided a helpful list below of Singer Sargent paintings which goes beyond just those listed in our gallery.
Carnation, Lily, Lily, Rose
Portrait of Mr. and Mrs. Isaac Newton Phelps-Stokes
On his holidays
El Jaleo
Spanish Dancer
In the Dolomites
Portrait of Theodore Roosevelt
Portrait of Madame Edouard Pailleron
Portrait of Madame Ramón Subercaseaux
Dr. Pozzi at Home
Lady with the Rose
El Jaleo
The Daughters of Edward Darley Boit
Portrait of Mrs. Henry White
Portrait of Madame X
Portrait of Robert Louis Stevenson and his wife
Portrait of Arsène Vigeant
Claude Monet Painting by the Edge of a Wood
Santa Maria della Salute
The Chess Game
Portrait of Edwin Booth (1890)
Portrait of the dancer Carmencita
Portrait of Mrs. Thomas Lincoln Manson Jr
Portrait of Isabella Stewart Gardner
Portrait of the composer Gabriel Fauré
Egyptian Girl
Portrait of Mrs. Hugh Hammersley
Lady Agnew of Lochnaw
Portrait of Frederick Law Olmsted
Mrs. Louis E. Raphael
Portrait of Almina, Daughter of Asher Wertheimer
Portrait of John D. Rockefeller
Portrait of Grace Curzon, Marchioness Curzon of Kedleston