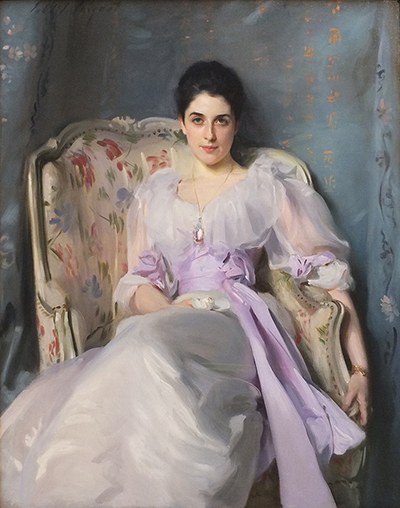 Buy Art Prints Now
from Amazon
* As an Amazon Associate, and partner with Google Adsense and Ezoic, I earn from qualifying purchases.
Painted by John Singer Sargent in 1892, Lady Agnew of Lochnaw is an oil on canvas work
It currently hangs in the Scottish National Gallery in Edinburgh. This painting is interesting both because of its style and execution and because of the person that it represents.
Lady Agnew of Lochnaw was known to her friends as Gertrude Agnew. She was married to a lawyer named Noel Agnew, and they lived a life that was filled with partying, soirees and holding private views of their paintings. She was, in short, a well known socialite of the second half of the nineteenth century.
It is very likely that Lord and Lady Agnew of Lochnaw met the painter John Singer Sargent through mutual friends at a dinner party and then Gertrude asked him to paint her portrait. It is not known how much she would have paid Sargent for the privilege, though judging by the amount that he usually charged for portraits of three quarter length, it is likely that she paid him several hundred pounds.
Though it obviously has a personal story behind it and it depicts a real individual rather than an abstract form, Lady Agnew of Lochnaw is a painting that is valuable and interesting in its own right - even beyond the immediate historical context that has just been described. This is because of the stylish and engaging way in which it has been painted.
Sargent painted Lady Agnew of Lochnaw probably within a single year, which is quick work compared to other painters of his day. This painting is painted with fluid brushstrokes and everything has a sense of layered illumination.
Broad strokes are used for Gertrude's cream coloured dress, and the pink sash at her waist appears to be made of a shiny fabric. The whole painting uses these wide, quick seeming strokes and layers of slightly darker colours onto bright, light colours to create the sense of a sumptuous interior.
At the same time, win Gertrude's facial expression - which is painted with finer and more detailed strokes - gives a sense of what her personality might be, perhaps: forthright and good humoured. She appears to be engaging with the painter - and with the viewer - as she sits for her painting. The overall effect of this painting entitled Lady Agnew of Lochnaw is of a celebration both of an individual woman and of the opulent life that she led.
In many ways, Lady Agnew of Lochnaw is typical of other portraits by Sargent. He liked to paint socialites, and in fact in the 1880s he had caused a stir with his famous portrait entitled Portrait of Madame X. Completed in 1884, this was a full length oil portrait of the French socialite Virginie Gautreau and it was quickly condemned in many circles as being 'immoral' due to the fact that the sitter is depicted wearing a low cut dress.
Nevertheless, this beautiful portrait earned Sargent a lasting reputation, and Lady Agnew of Lochnaw may have specifically wished for Sargent to paint her portrait because of his scandalous, fashionable reputation for depicting socialites as stunning beauties. There are significant differences between the two portraits, too. Unlike Gautreau, for example, who is depicted standing with her bust turned slightly towards the viewer and her gaze turned slightly away from us, Lady Agnew of Lochnaw is seated and she looks more frankly towards the painter and the viewer.
Sargent painted a plethora of portraits, including one of Mrs Leopold Hirsch, and one of the celebrated actress Ellen Terry in her role as Lady Macbeth. In all of these portraits, as in his depiction of Lady Agnew of Lochnaw, his interest in the fabric of his sitter's clothing is in evidence. Sargent seemed to love creating lush colours and evoking a variety of textures using a few broad and fluid brush strokes overlaid onto brighter blocks of colour.
Though he was originally born in the US, Sargent travelled right across Europe, as is evidenced by the different nationalities of his sitters. Madame X is French, for example, whilst Lady Agnew of Lochnaw was a Scottish woman. Sargent, who lived from 1856 to 1925, was also a skilled watercolourist as well as a painter who worked in the medium of oil on canvas.
As well as painting numerous portraits, he is also well known for his landscape paintings. Many commentators in fact see two dimensions to his life as an artist: in one sphere, he painted lavish watercolours of the countryside, and in the other, he painted glamorous and imposing oil paintings.
Lady Agnew of Lochnaw is one of the treasures of the Scottish National Gallery and the fact that it is still much loved and visited today shows just how appealing the character and depiction of Gertrude is in the twenty first century.