Introduction
This painting was inspired by a Greek play, and Cabanel was highly knowledgeable on Greek and Roman culture and history, using it many times as the basis for his work. He was introduced to these themes whilst studying in Paris and would then extend his knowledge during a spell in Italy, as part of an award for his early success as a painter.
Cabanel was famed for the beauty and precision of his figurative art, normally capturing slim, light skinned female models in a variety of postures. Within Phaedra, he contrasts the model, and the white bed sheets which lie over her, against a dark background in order to increase their prominence. Notice how the two other women in the portrait are dressed in darker clothing, to avoid distracting our initial gaze from the main focal point of the composition.
Some have argued that Cabanel, alongside other members of the French Academic Art movement, would use themes such as these as an excuse to include undressed women within their work. It allowed them some leeway from conservative critics, so long as they trod carefully. Whether this was true or not, Cabanel's artistic merits cannot be questioned, and Phaedra remains one of his most famous paintings of all.
The artist remains faithful to his academic approach throughout his career, merging elements of Neo-Classicism and Romanticism with his artistic education in Paris. That said, he would start to experiment a little within that style in his latter years, mainly during the 1880s and Phaedra is a good example of that, with its influences of Orientalism.
It may have been the artist's pupils, whilst he served as a professor, who encouraged him to seek out new ideas for his work. He had a strong relationship with many of those he taught, and did not try to force them into working in his own style. All-in-all, Phaedra remains one of his most famous artworks, alongside the likes of The Birth of Venus and Fallen Angel.
This article examines Cabanel's Phaedra painting in detail, discussing its qualities and how it was received by critics at the time. We also place it into the deeper context of the artist's oeuvre, finding related artworks that might have inspired this late piece. There is also technical information, such as where the item is located today for those hoping to view it in person.
Table of Contents
Background
Phaedra derives from ancient Greek Mythology and was a princess from Crete. It is likely that Cabanel's inspiration for this artwork came directly from a play by Euripides which was based on events in her life. The main story, which is perhaps what is pictured in this painting, tells us of unrequited love on the side of Phaedra, leaving her in this fit of despair.
The artist himself studied classical history during his time at the École des Beaux-Arts in Paris and also delved deeper into Italian history whilst living in Rome. Cabanel would also have been influenced by his main tutor, Picot, who had devoted much of his own career to topics such as this, and is likely to have encouraged Cabanel to do the same.
Euripides' Hippolytus
Euripides' Hippolytus was a tragic tale, written in 429 BCE, in which Phaedra takes the rejection of her step son badly, and ultimately hangs herself. A note that she leaves behind blames him for everything, leading to further repercussions within this turbulent family.
Description
The composition features Phaedra represented by a young, light skinned woman who lies on her side in bed. Her lower half is covered by bed sheets, one of which hangs loosely over the side. One arm hangs down, whilst the other supports her head. She looks deep in thought, as she stares off into the distance, just to our left hand side.
Two women are close by, and presumably are her maids or helpers. They express despair, and are unsure how to comfort their employer. Phaedra stretches across the width of this painting, making it at least life size, providing an extraordinary impact for those viewing the painting at the Musée Fabre in Montpellier, France.
The rest of the canvas is used to incorporate stunning detail of the room and its contents. We find the influence of Orientalism here, such as in the style of furniture and interior design. Cabanel had worked as an interior designer himself, mainly in hotels, and so was already familiar with historical styles of furniture and decoration - you may notice some animal rugs and curtains towards the bottom of the scene which are incredibly life-like.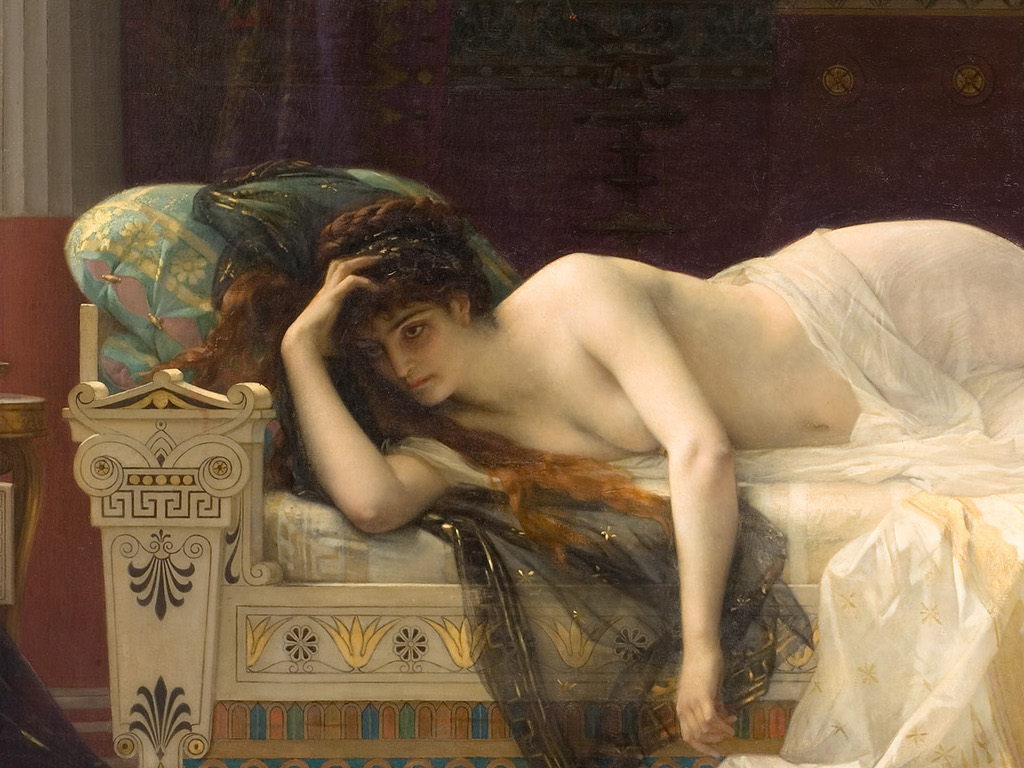 Close Up of Phaedra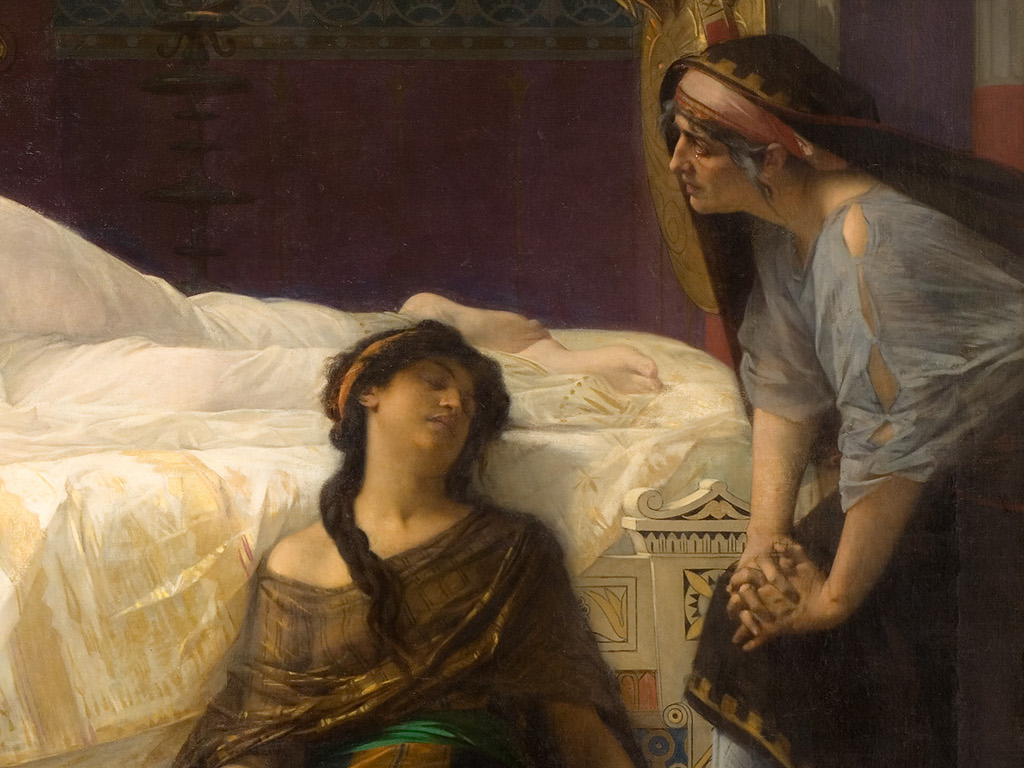 Two Maids
Analysis
Most of the elements within this scene are there to provide an impression of wealth and despair. The ornate detail on the furniture, plus the delicate, expensive fabrics lead us to many assumptions about Phaedra and her lifestyle. The expressions of each figure, however, along with the unmade bed, provide an atmosphere of sadness and desperation.
When analysing Phaedra, it is clear that this painting captures the essence of Cabanel, displaying an artist with immense technical ability but whose approach was starting to fall out of fashion. All of the main qualities of his work are on display within this piece, with the long figurative portrait of a pale skinned beauty grabbing our initial attention.
Despite his considerable success at the Salon, over a number of decades, judges there were starting to seek new ideas and found his approach to be stuck in the middle, between Academic art and the more modern approaches - ultimately pleasing no-one by that stage. In the present day, historians are somewhat kinder and less judgemental, helping to bring more attention back to his career in recent years.
Size and Medium
Alexandre Cabanel's Phaedra is 286 cm wide, and 194 cm tall. Despite the artist reverting to slightly smaller canvases in his later years, this piece is amongst his biggest. Naturally, it was executed using oils on canvas, as with all of his major works.
The artist tended to save his largest canvases for these mythological scenes, where creativity and detail were key. For his privately-commissioned portraits, he tended to go slightly smaller and keep the compositions a little more straight forward. At three metres wide, Phaedra is about as wide as the artist went for oil paintings, but he did work in much larger scale when producing interior designs for a number of Paris-based hotels.
Location
Phaedra can be found located at the Musée Fabre in Montpellier, France. This was the birth place of Alexandre Cabanel, and where he first showed artistic promise through a series of drawings as a young boy.
Large Image of Phaedra
See below for a larger, high resolution image of Alexandre Cabanel's Phaedra. It should enable you to enjoy more of the detail found in the original artwork, for those unable to view the painting in person. Detail was a key quality of this artist, thanks to his academic training and a desire to produce life-like scenes in which the beauty of the female body is combined by a mixture of mythology and more modern influences.