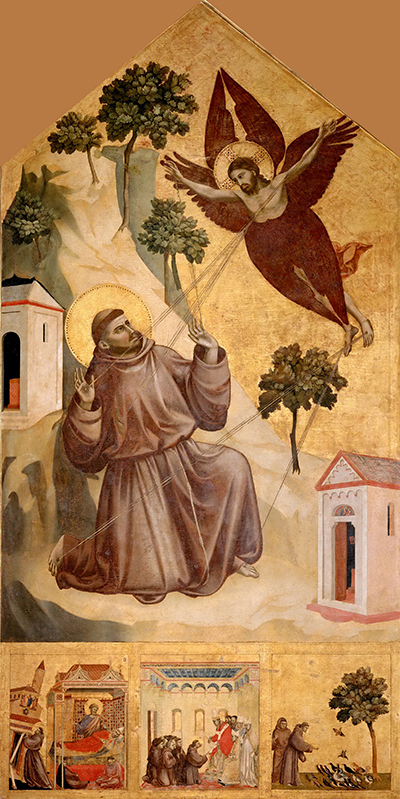 Buy Art Prints Now
from Amazon
* As an Amazon Associate, and partner with Google Adsense and Ezoic, I earn from qualifying purchases.
Giotto di Bondone played a crucial role in moving the European art scene onwards from the Byzantine styles towards the Early Renaissance and all that followed on from that.
Giotto paintings are some of the finest to have come from pre-Renaissance Italy and are another example of the role that Florence played in influencing the overall development of European art towards all the movements which we enjoy today. Giotto's period is roughly classified as Late Gothic but his style was highly original and sought to bring new qualities to the rather stale paintings which dominated at that time. The consequences of having his career as long ago as the 13th and 14th century is that there is a great lack of reliable information on the artist himself and also many of his works have deteriorated substantially. Fortunately there is still plenty enough information to appreciate the significant role that Giotto played as an innovator of the art world and more is discovered on him even today.
The reputation of Giotto di Bondone has continued to remain strong over many centuries and his name is now set in stone in the international art hall of fame. Giotto paintings and frescos included Scrovegni Chapel frescoes and Campanile. You can see a fuller comprehensive list of all paintings and frescos currently attributed to Giotto further down the page, with some of Giotto's most finest oil paintings including The Kiss of Judas, Dante Alighieri, Attendant figures in a scene from the Arena Chapel, The Flight into Egypt, Adoration of the Magi, The last supper and Alte Pinakothek. Michelangelo Buonarroti and Leonardo da Vinci are the most famous artists from around the period of Giotto and Masaccio, though coming slightly later. Raphael completed the three great masters of their era.
Giorgione, Gianlorenzo Bernini and Titian were fundamental to the rise of Italian painting and architecture during the various periods of the Renaissance, plus several centuries before and after. Their achievements would continue into the Baroque period when Italian artists would again dominate across Europe. Annibale Carracci, Giovanni Bellini and Fra Angelico were also highly influential Italian artists who built a basis for all the art movements that followed. Italian architecture would make extraordinary strides during the Renaissance, with great rewards for those who could promote their particular papal state the most.
Giotto was seen as a major artist during his career and attracted some of the best commissions going, particularly whilst in Florence and Rome. Giotto's frescos and paintings remain very popular as reproductions even today, with the artist's fans typically choosing handmade reproduction oil paintings, framed giclee art prints, tapestries, and in some rarer cases, posters. All links included within this website that accompany Giotto images will take you through to Art.com, our recommended art retailer, where you can buy your own copies of original Giotto di Bondone works.
Lamentation of Christ
Frescos were amongst the most common art medium during the period of Giotto and further on through the different stages of the Renaissance that spread across most of Europe. The reason for this was that most key artists were commissioned to create paintings within internal buildings by major religious institutions who at the time had huge amounts of wealth to spend on making their places of worship exceptionally beautiful environments. See Lamentation of Christ and Ognissanti Madonna, for example.
Giotto is an artist who remains relatively unique due to the timing of his career and he is seen who helped to move ideas within art onwards from the middle ages to the exciting times of the Renaissance which was led from his native city of Florence in Italy before spreading to the other provinces of this country. Previous styles to Giotto were seen as less than inspiring and he helped to bring about real style and personal artistic characteristics.
Entrance into Jerusalem
Entrance into Jerusalem is another fine example of Giotto's successful use of religious topics for many of his paintings and frescos. You can see Entrance into Jerusalem above plus many other impressive religious depictions throughout this website with the best works from his career all included as images plus a further list of all the rest further down the page. During the 13th century and onwards for several centuries, religious scenes domainted the art world but in the modern era things are much more varied, with portraits, landscapes and other ideas now also very common.
The most important celebration of the life and contribution of Giotto can be found outside the internationally-respected Uffizi art museum in Italy, where a small statue of him can be found. Much art around his time was on a national level with communication between countries far more difficult than it is today but his reputation has now become fully accepted right across the world and his place in art history is fully established.
St Francis Preaching to the Birds
St Francis Preaching to the Birds is one of many works from Giotto which played on the life of St Francis. Many others are also included throughout this website. Giotto was respected by many for the natural poses in which he captured his portraits and this led to him being afforded a consistent and substantial salary from the Comune of Florence as a reward for the exceptional pieces he created which helped to enhance the artistic reputation of his native city.
International art fans are always likely to visit Florence in order to understand and enjoy the merits of Italian art which played a major role in the development of all western culture. For those interested in Giotto, notable attractions include the Campanile (bell tower) of the Florence Cathedral which was certainly amongst his most impressive commissions and one of the few pieces of information on his life and career which remains entirely undisputed.
List of Famous Giotto Paintings
Please see below for a summarised list of the best Giotto paintings that are featured throughout this website.
Flight Into Egypt
The Last Judgement
The Last Supper
Lamentation
Adoration of the Magi
Madonna and Child
Joachim's Dream
The Ascension
Preaching to the Birds
Hope
The Epiphany
St Francis Mourned By St Clare
The Expulsion Of The Demons From Arezzo
Noli Me Tangere
Expulsion Of Joachim From The Temple
Legend of St Francis Confirmation of the Rule
Marriage at Cana
Attendant figures in a scene from the Arena Chapel
Dante Alighieri
Kiss of Judas
Faith
Envy
Fortitude
Foolishness
Meeting At The Golden Gate
St Stephen
Stefaneschi St Peter
Stigmatization
The Bringing Of The Rods
The Crucifixion
The Expulsion Of The Demons From Arezzo
The Marriage Procession Of The Virgin
The Mocking Of Christ And Flagellation
The Nativity
The Presentation Of Jesus In The Temple
The Pentecost
The Wooers Praying