Botticelli paintings come from the 15th and 16th centuries. The Birth of Venus and Primavera are Botticelli's most famous paintings but this website includes a full gallery of around 30 of his career's finest works as well as detailed information on the life of this influential painter. Sandro Botticelli was around during a period in Italian art when it led the way in innovation and influence, with the country being a hotbed of competitive provincial regions competing strongly to be seen as the most artistically impressive area within Italy. Each would construct the highest towns within their squares and also ensure that their key buildings were laden with art from the most relevant and impressive artists of that time, with Botticelli one artist who became highly sought after.
Sandro Botticelli paintings have become household names thanks to the imagination and prominence of this talented painter. Botticelli's best known works can all be found here and include the likes of Primavera, The Birth of Venus, The Adoration of the Magi and Venus and Mars. See also our collection of Botticelli drawings. There are also several notable portraits too of leading members of Italian society at the time that the artist had established himself and started to take advantage of well paying commissions. The artist is one of the true Italian masters of this era and joins the likes of Da Vinci, Michelangelo and Raphael whose reputations have all remained exceptionally high even up to the present day, some 500 years later. As a sign of the development that occurred during the different phases of the Renaissance, Botticelli worked almost exclusively with egg tempera, but later contributors such as Raphael instead chose oils to their own paintings.
There were several innovations by the artist within his paintings which contributed to the wider changes found across Italy. He would, for example, introduce several alternative techniques for portrait painting that would prove fashionable and continued into the careers of later artists. Straight on portraits had normally been reserved for Christ, but this Florentine now worked in this manner for local models, which was one of his most obvious changes from the norm. He also tried out different angles and settings for his portraits when many were still following the approved techniques of the Middle Ages. This was a great time for challenging and developing artistic techniques, with others challenging the traditions of perspective within art and attempting to move towards something that was more accurate to reality, bringing more depth into artworks. Sandro Botticelli also took on non-religious themes within his oeuvre when most western artists had previously devoted their entire careers to subjects found in the Bible.
The artist incorporated strong emotion and a delicate sensitivity into his paintings which was also fairly unique at that time. He was able to capture the bond between Madonna and Child in a manner that others could not achieve, with most simply placing these figures together but without quite achieving that same emotional connection. This actually helped to communicate religious themes across to the common person who found his style more accessible and personal. This success was perhaps the reason for why Botticelli handled that particular subject so frequently. Some of the details incorporated into his larger artworks were also breaktaking, with touches of nature found across huge panels. Those fortunate enough to see the likes of Primavera and The Birth of Venus in person will be able to spot all manner of creatures dotted around the background, as well as different species of plants and flowers to make them endless sources of interest. He would call upon a host of assistants in order to complete these more ambitious projects.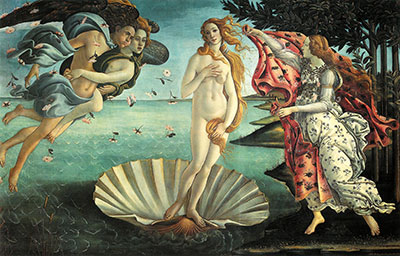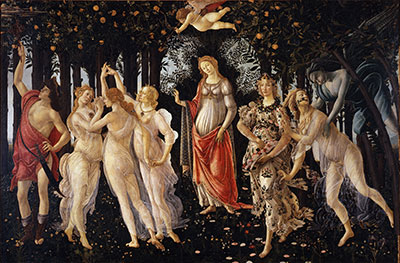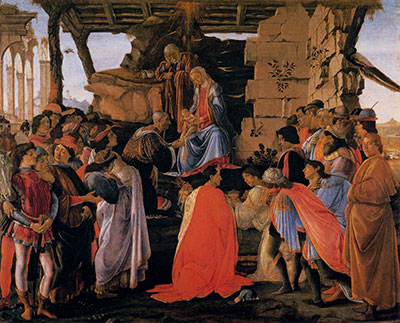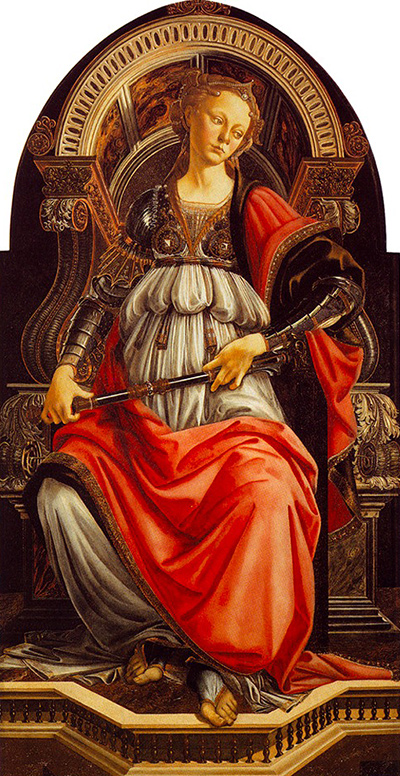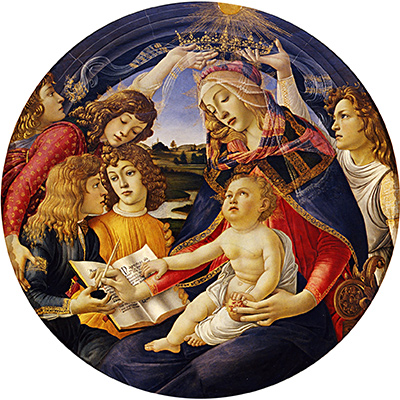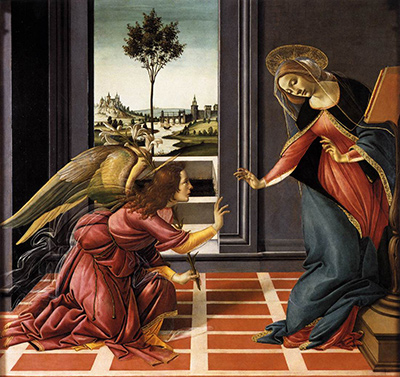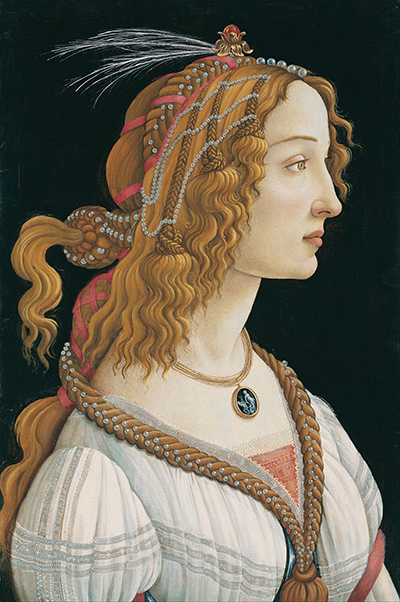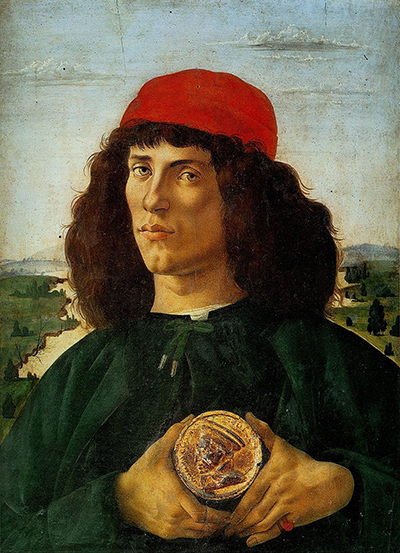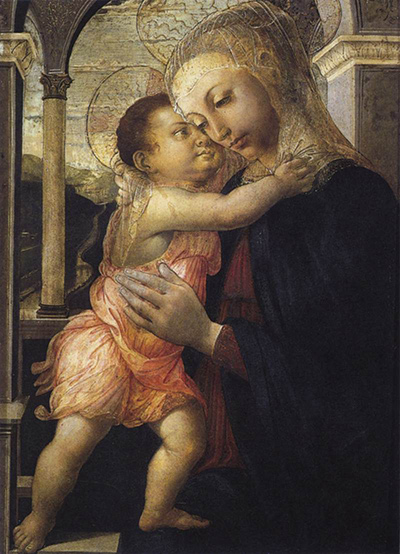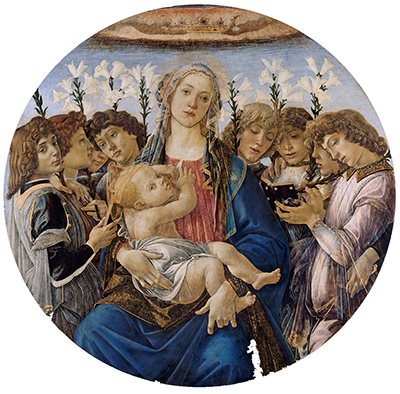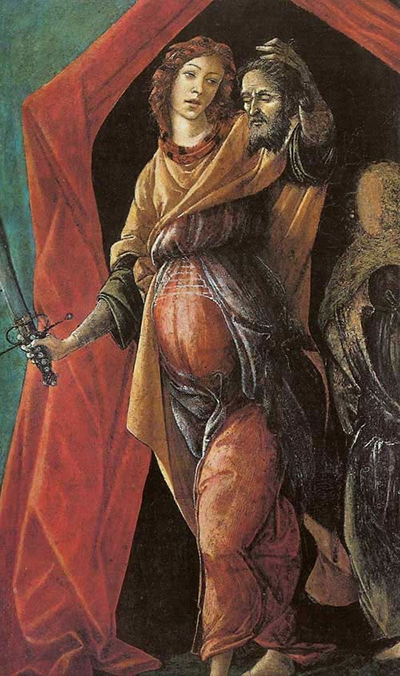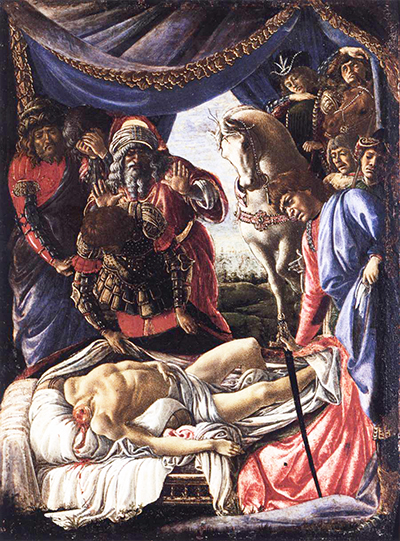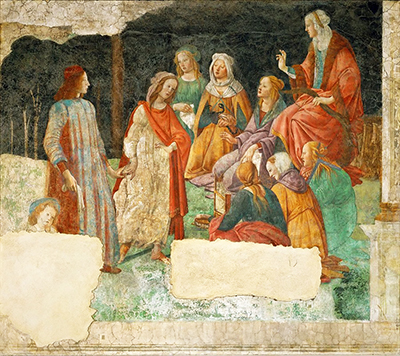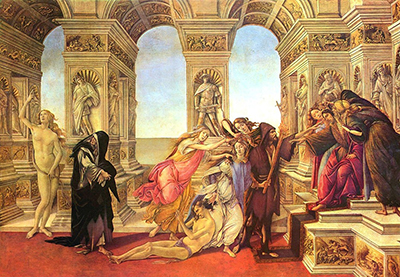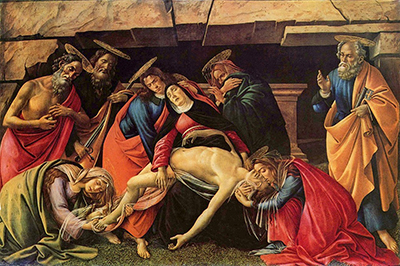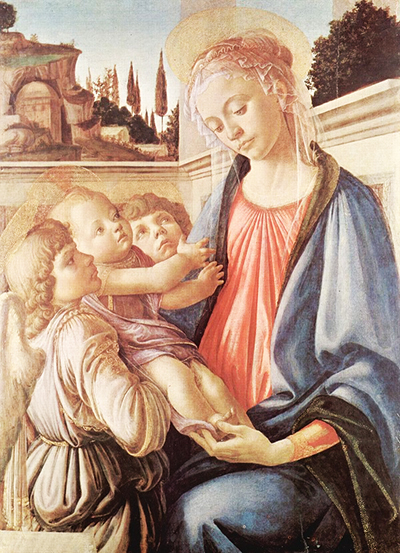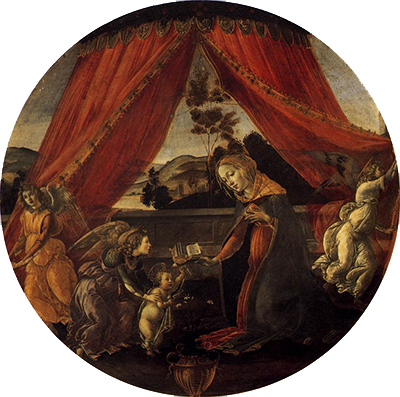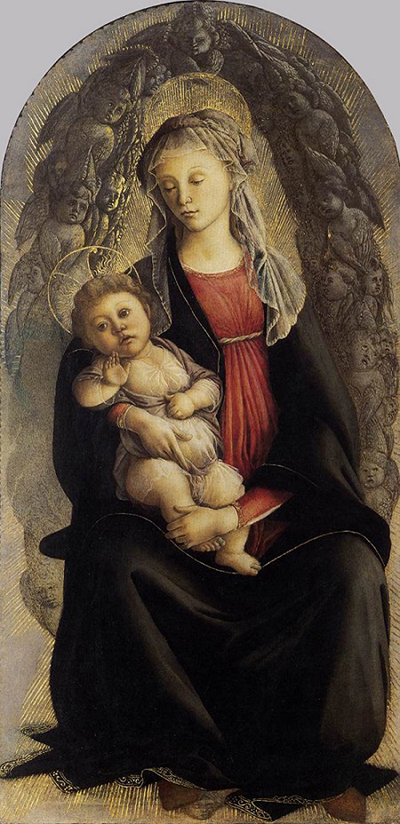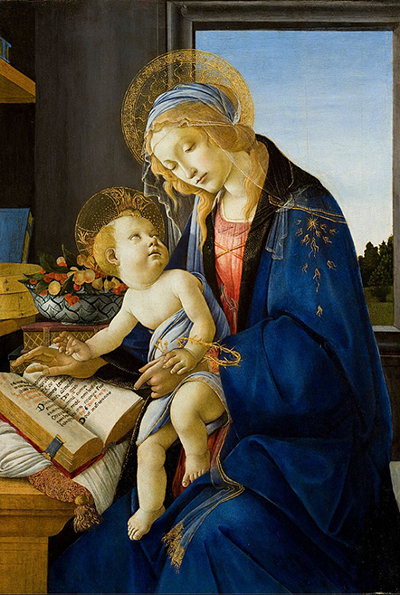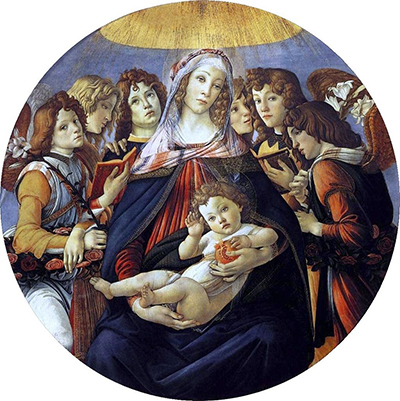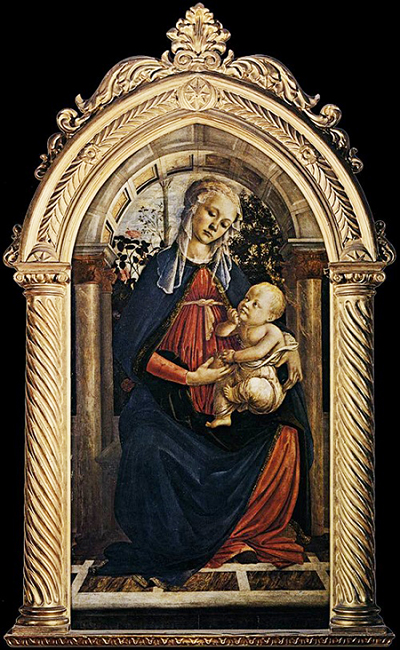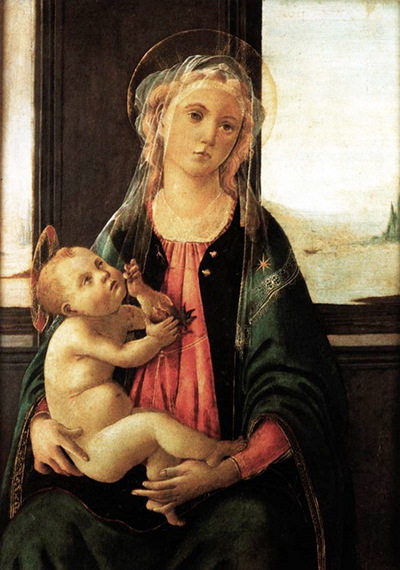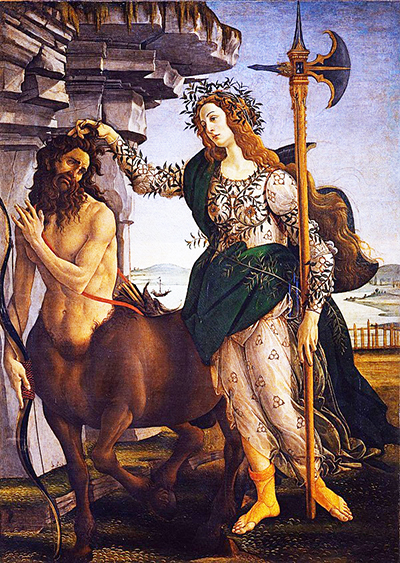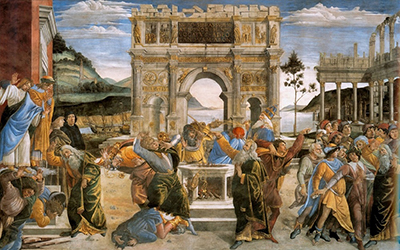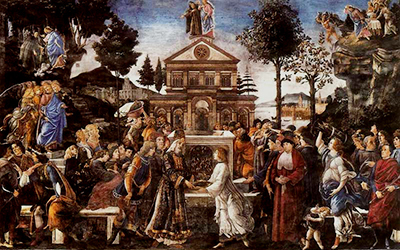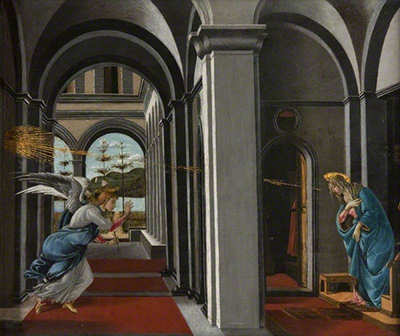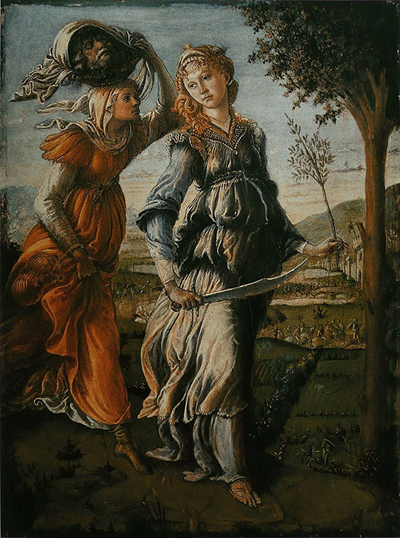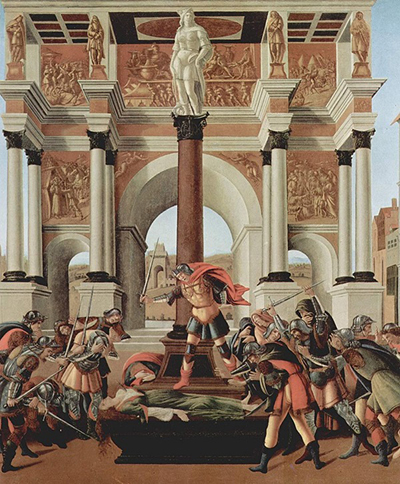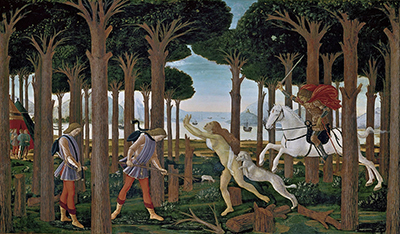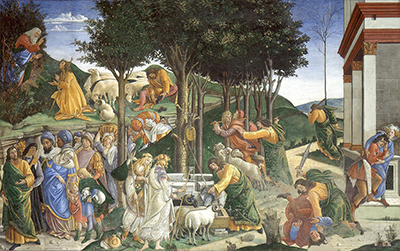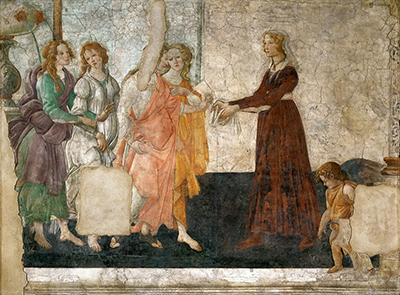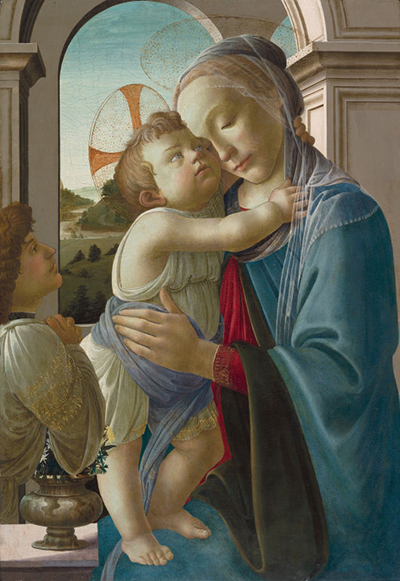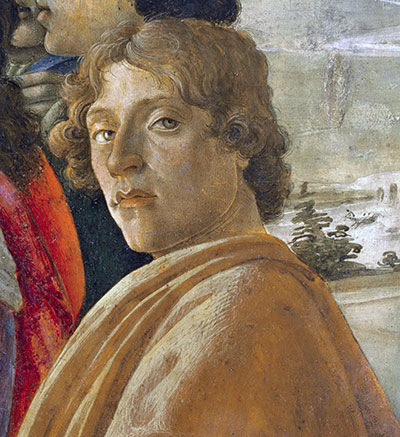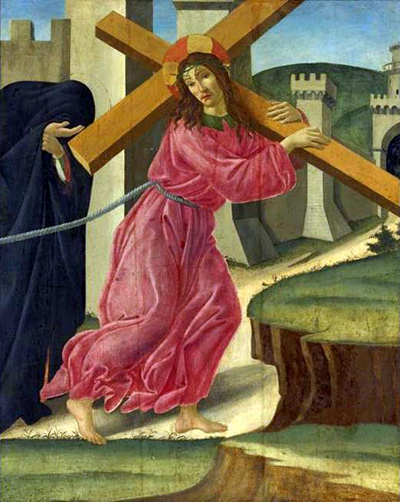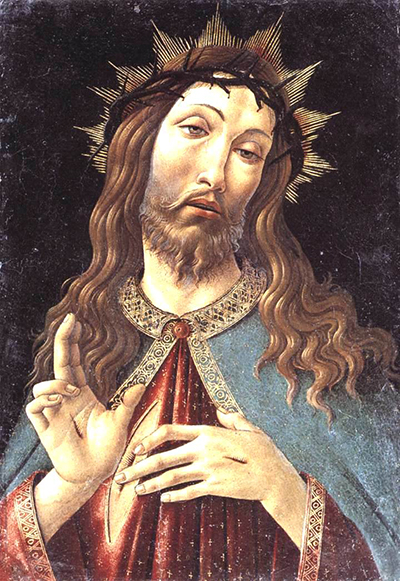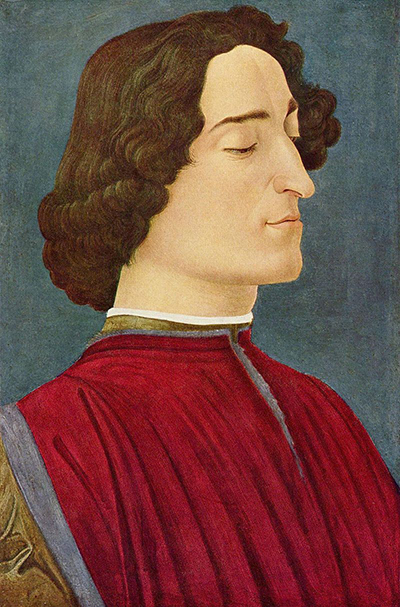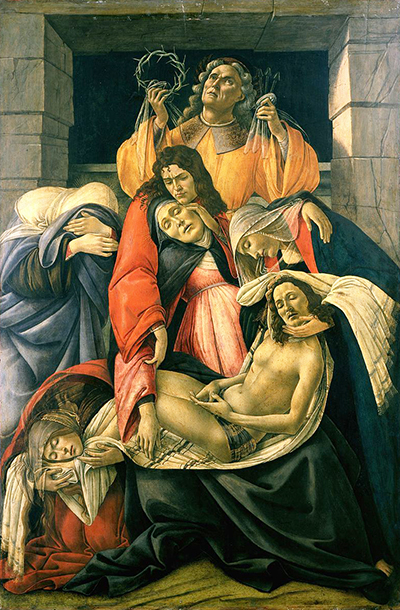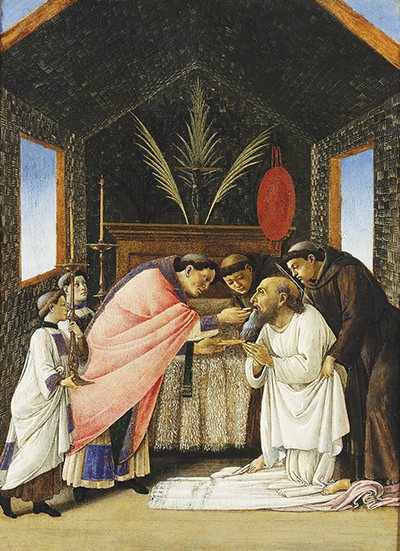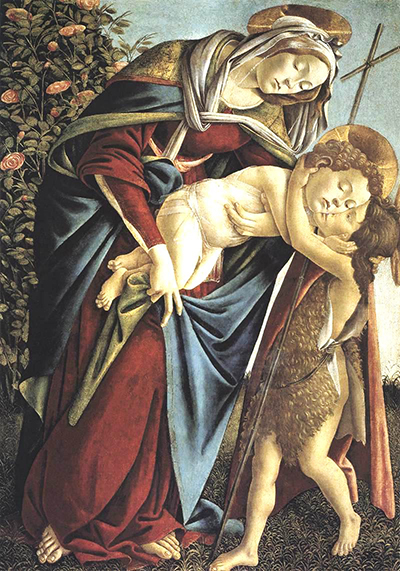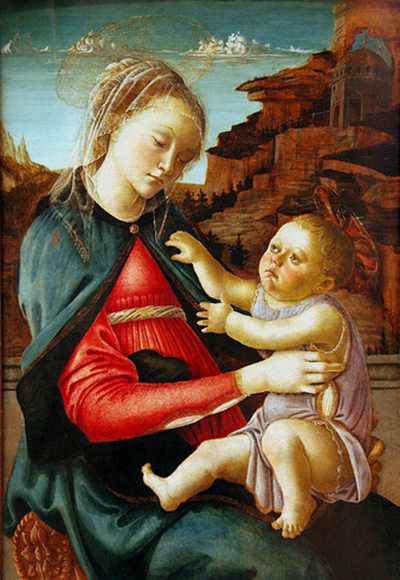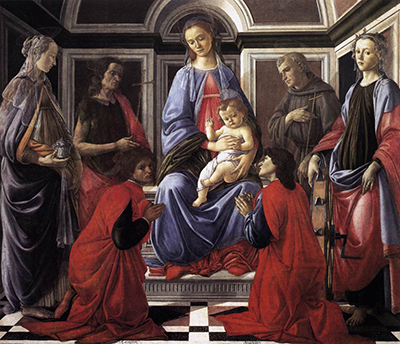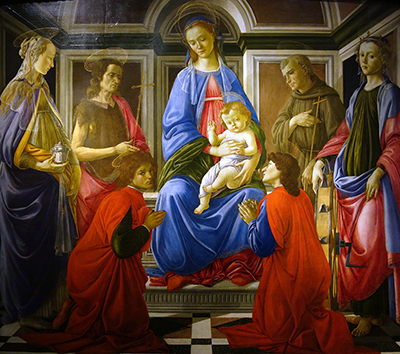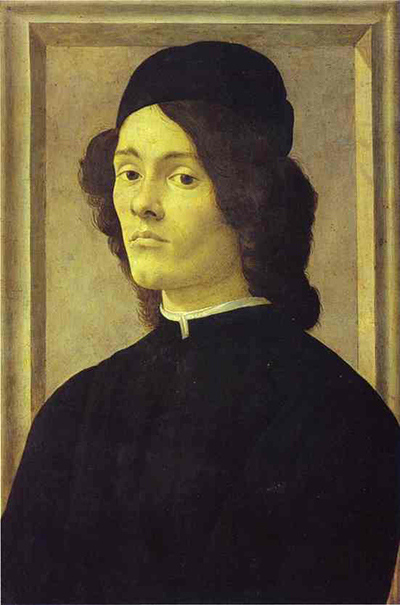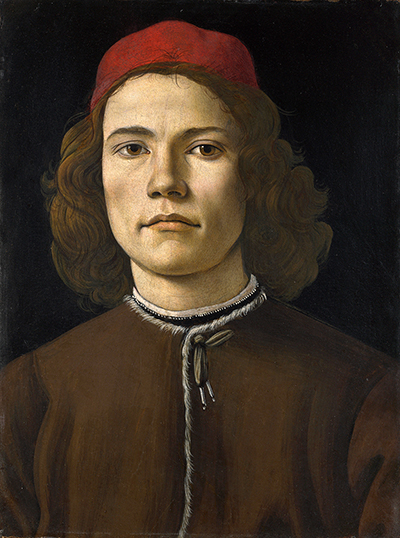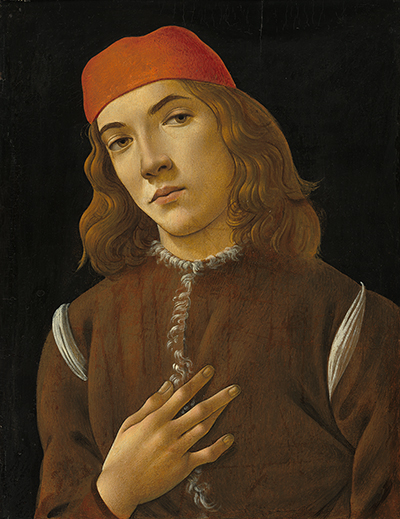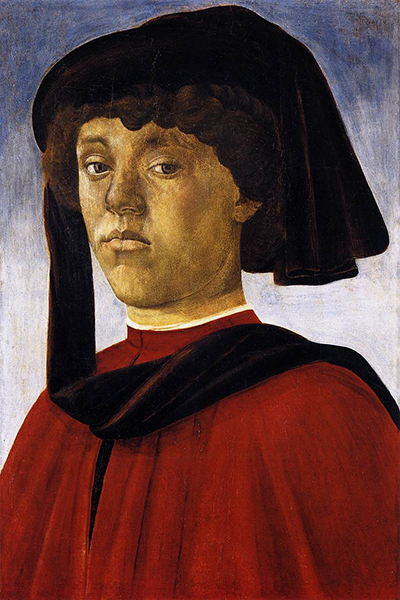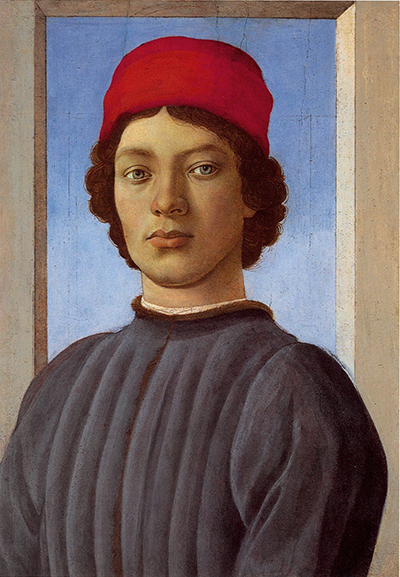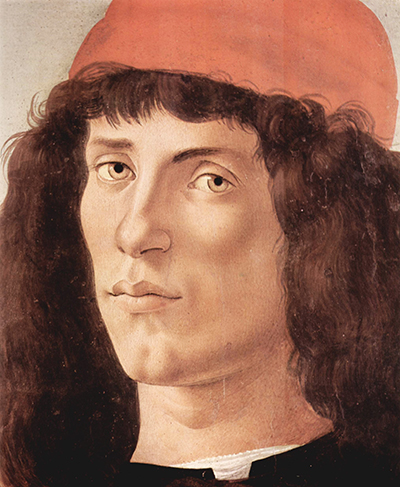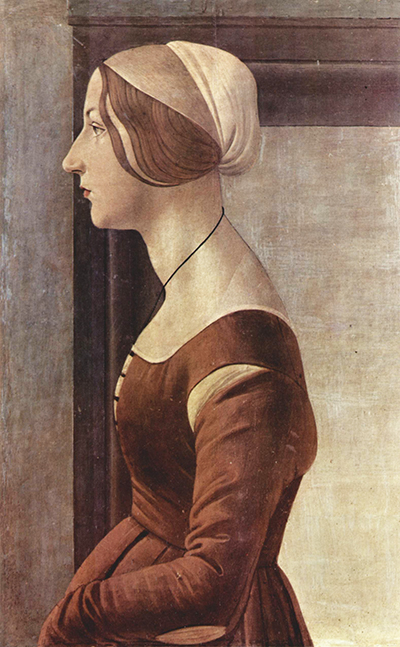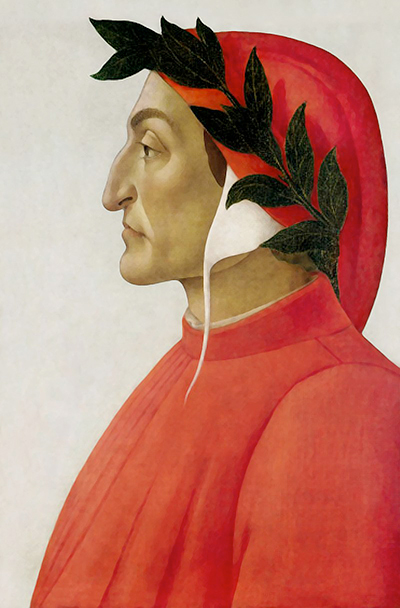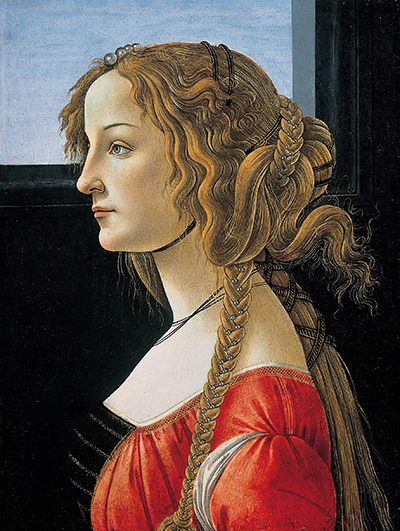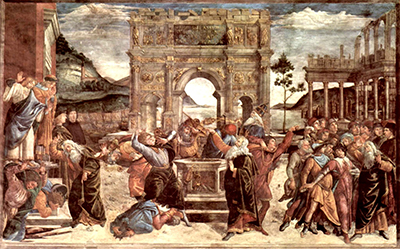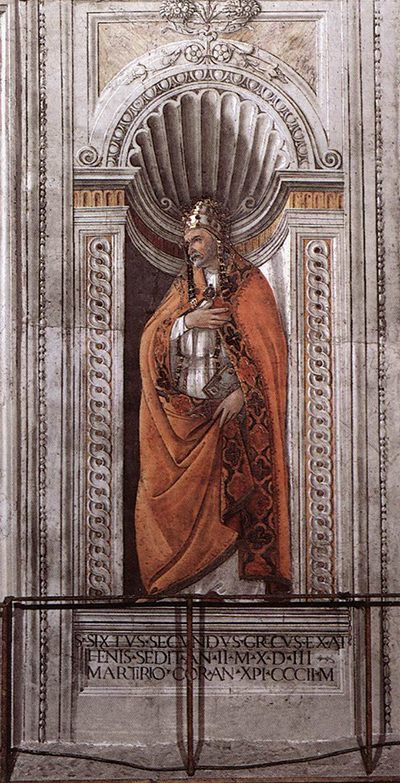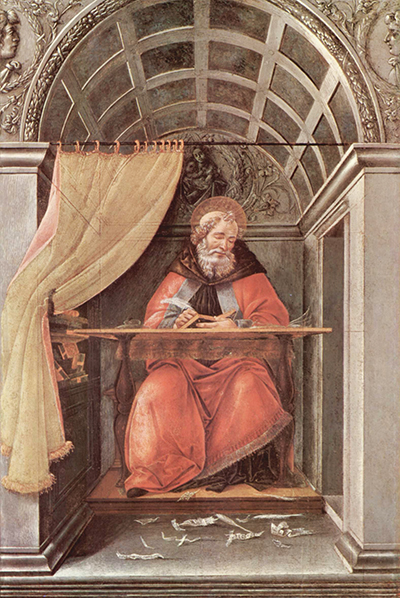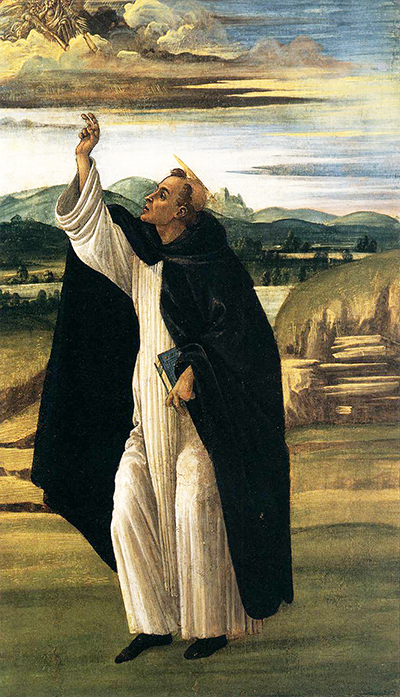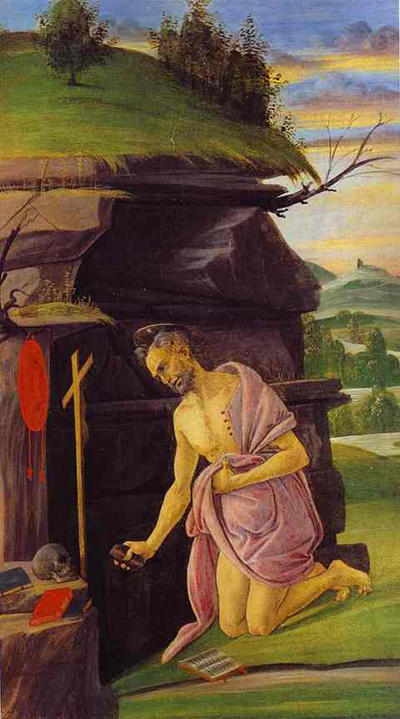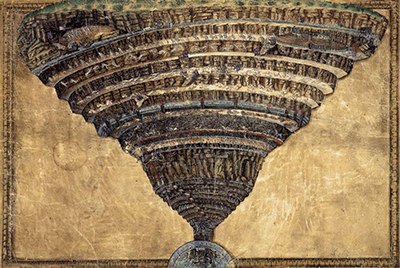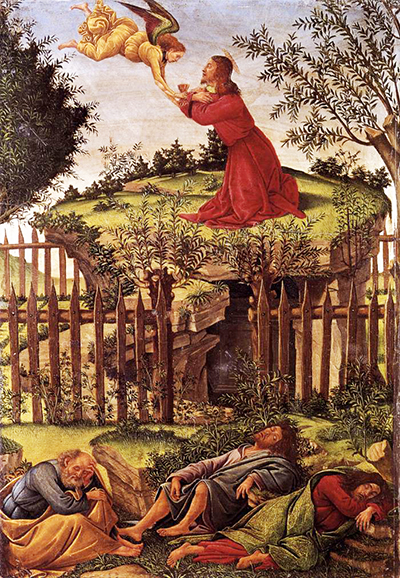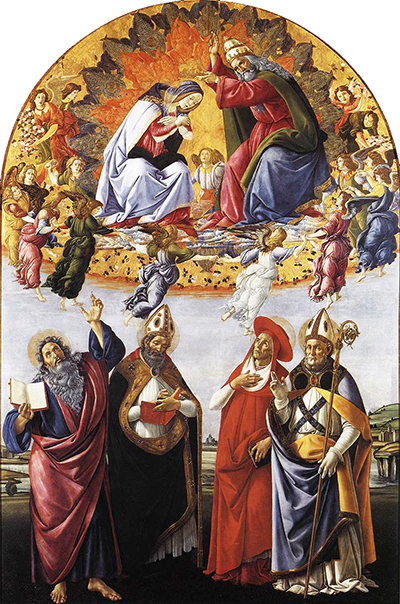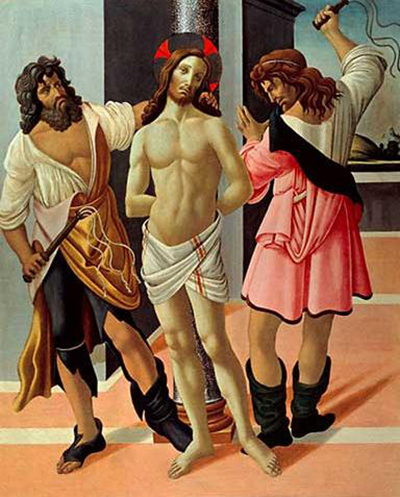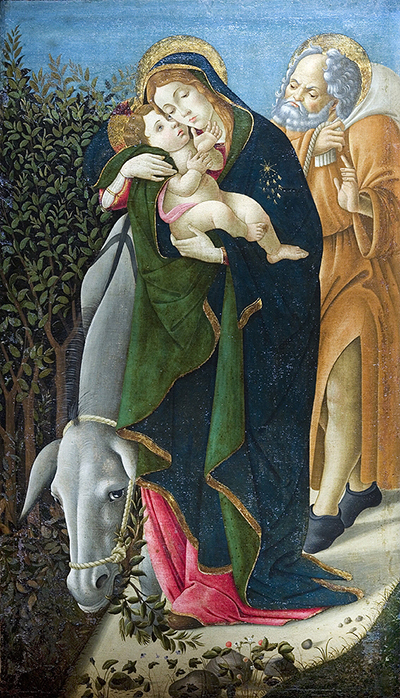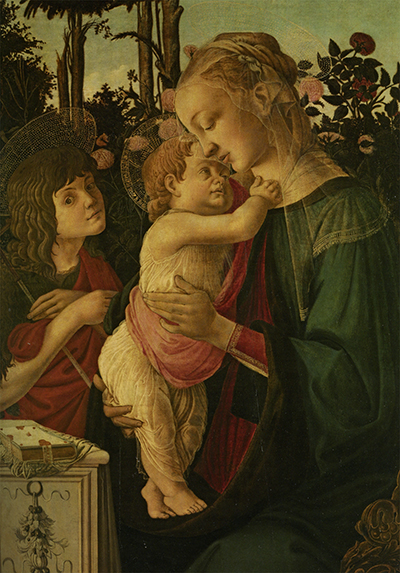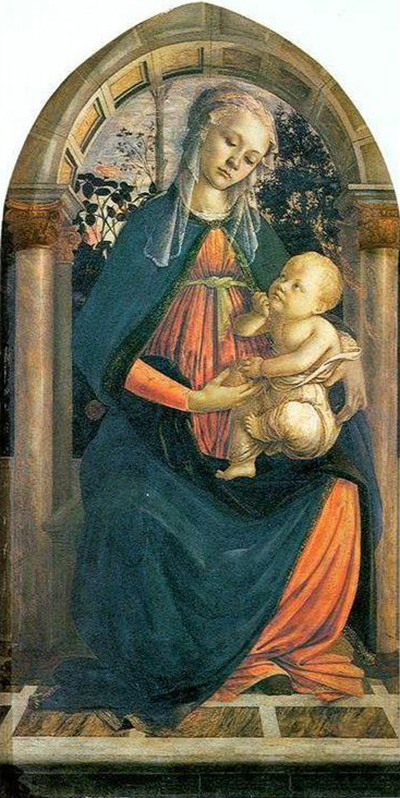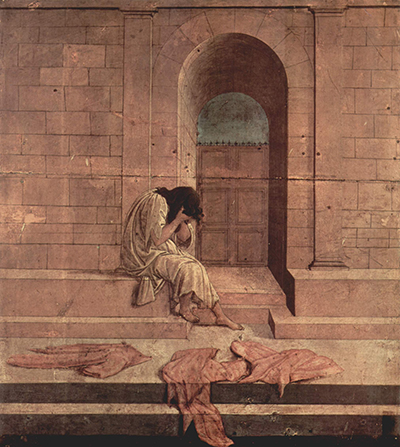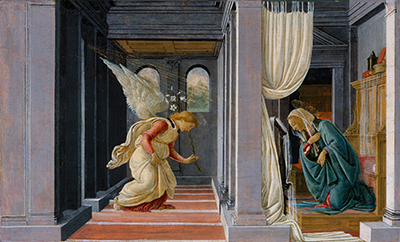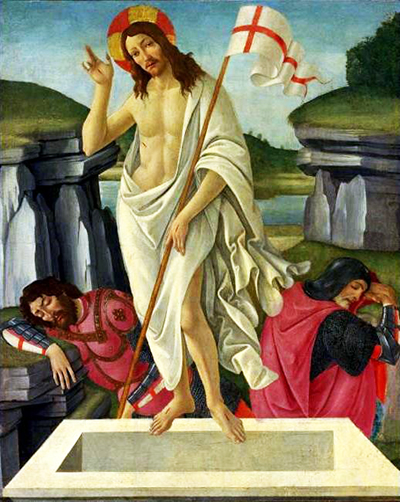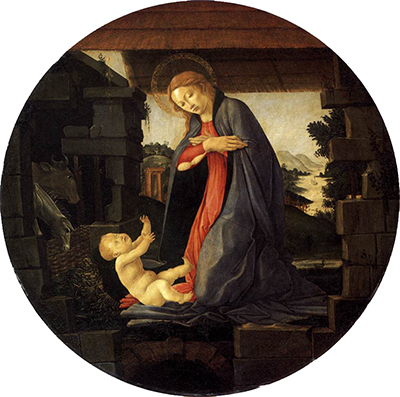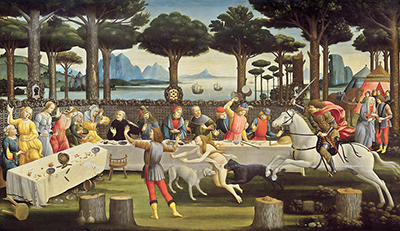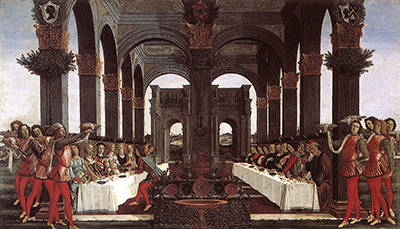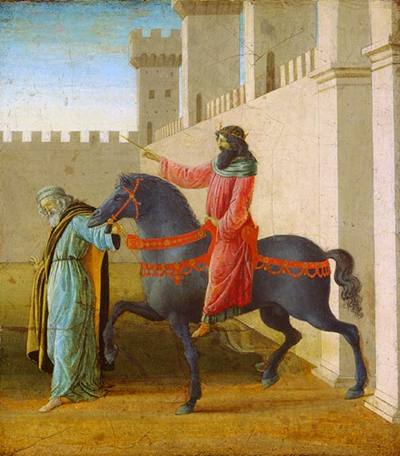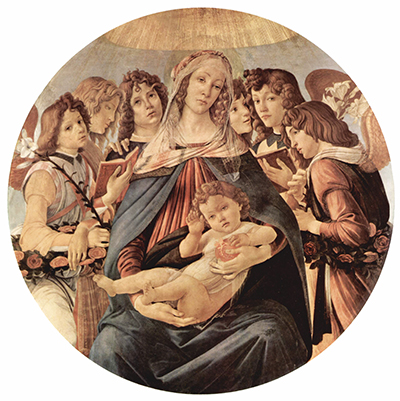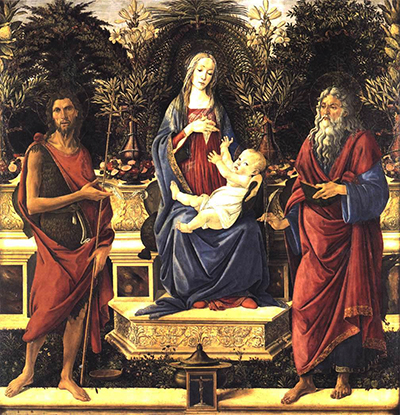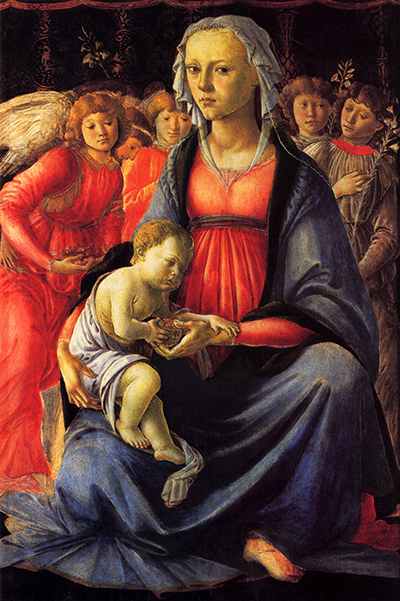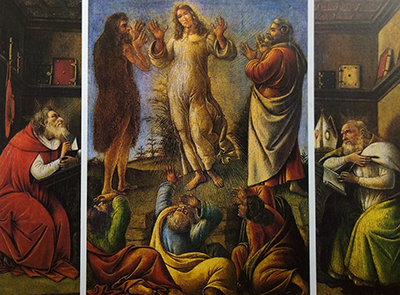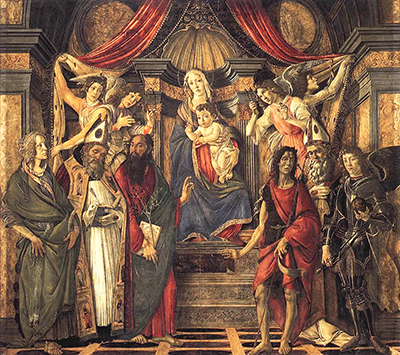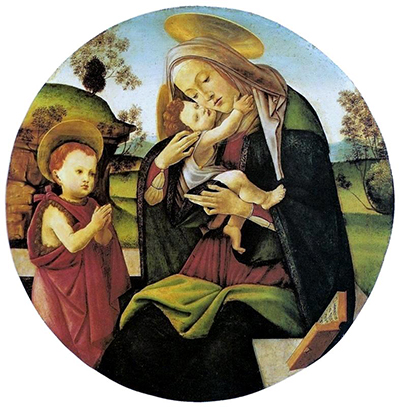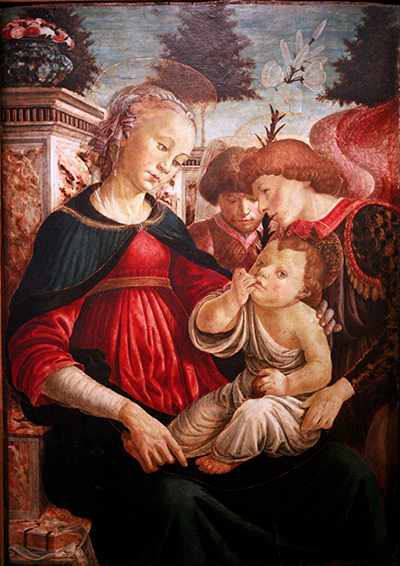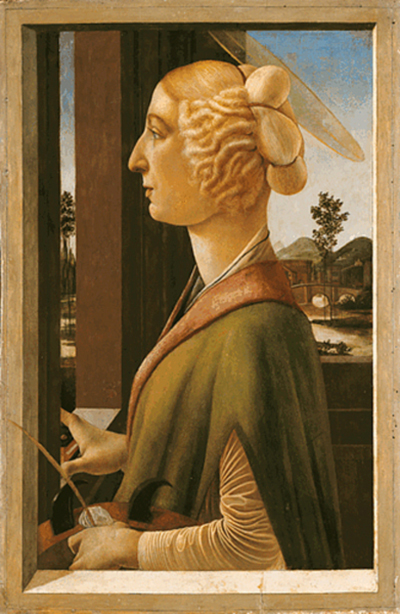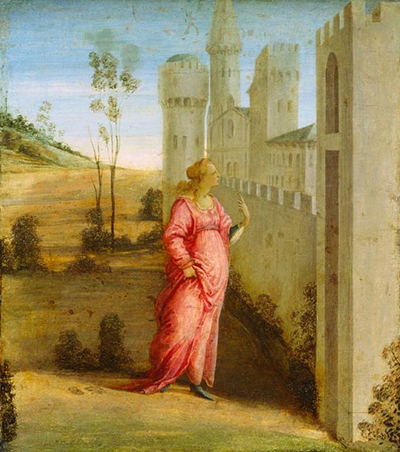 This website gives you a great collection of all the important paintings to have come from Botticelli's career and each is provided with links that take you through to our recommended Botticelli gallery at Art.com who offer a fine selection of art reproductions to suit your tastes. We use Art.com ourselves so are happy to promote their online gallery here. Most fans of Botticelli's original paintings tend to prefer reproduction copies in the forms of framed giclee art prints, posters or stretched canvases.
Sandro Botticelli established himself as a major player within the Italian Renaissance and many question marks still remain over his life and career even today, despite considerable amounts of research having been carried into several different aspects of his life. Controversy most commonly surrounds his sexuality, precise information on each of his paintings and also the symbolic signals given by him in his paintings.
Many of the paintings from Botticelli's career covered religious topics which was very much the norm during the Renaissance, with religion playing such an important role in most people's lives and also the fact that most wealth was held by religious institutions who could therefore dictate which artists received the highest paying commissions. There were also mythological topics within other Botticelli paintings as well. Sandro Botticelli ranks very highly within the overall Renaissance period of Italian art which spearheaded the overall Renaissance movement which spread right across Europe over several centuries.
Primavera
Primavera remains a much loved a significant work within Botticelli's career and you can see Primavera above, along with links accompanying the image to where you can buy your own reproduction art print or poster of Primavera from Art.com, the leading online art retailer who themselves hold a huge collection just of Sandro Botticelli's original paintings as well as a hold host of other important artists from a full range of different art movements.
Mystic Nativity
Mystic Nativity continues the religious theme of Botticelli's career and it helps to make us realise how fortunate modern day artists are with true freedom to express themselves where as artists around the time of Botticelli would be considerably restricted by the styles that they could use in their art and also particularly the subjects which they could cover without upsetting the highly conservative academics.
Annunciation
Annunciation is one of Botticelli's best known paintings and you can enjoy it above, with an Annunciation image included for your interest.
This religious topic has been covered by almost all of the notable religious painters of this period who would generally cover key Christian topics such as Madonna and Child, Crucifixion, The Last Supper and many more. Besides these religious topics, Botticelli also liked to include mythological subjects as well.
List of Famous Sandro Botticelli Paintings
Please see below for a summarised list of the best Botticelli paintings that are featured throughout this website.
Venus
Venus and Mars
Venus Detail
The Temptation of Christ
The Punishment of Korah
Scenes from the Life of Moses
Primavera
Adoration Of The Magi
Madonna And Child And Two Angels
Madonna And Child With SiBotticelli XSaints
Mystic Nativity
The Virgin And Child With Two Angels
Botticelli Sixtus II
Madonna And Child
Portrait of a Young Man
Pallas and the Centaur
Madonna Cestello
Guliano de Medici
Simonetta
Calumny
Fortitude
Discovery of Murder Holophernes
Nastagio First
Nastagio Second
Nastagio Third
Nastagio Fourth
Madonna with the Book
Virgin with the Child and Five Angels
Simonetta
Madonna Cestello
Madonna with the book
Nostagio
The Temptation of Christ
The Punishment of Korah
Scenes from the Life of Moses
The Virgin with the child and five angels
Primavera
Adoration Of The Magi