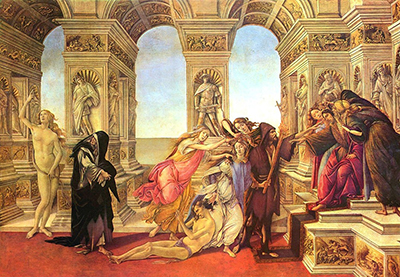 Buy Art Prints Now
from Amazon
* As an Amazon Associate, and partner with Google Adsense and Ezoic, I earn from qualifying purchases.
Calumny of Apelles is a significant fresco from Botticelli's distinguished career, arriving in 1494-1495
This tempera on panel artwork stands at 62 cm by 91 cm and features both anatomical figures and sculptured architectural details. There is a breadth of activity across the work, providing several items of symbolic and mythological significance.
Botticelli took the writings of Lucian, a Hellenized Syrian satirist, who described an ancient painting as inspiration for this piece. Several other artists such as Leon Battista Albert would also create their own versions of the Calumny of Apelles. Mars and Venus took in some influences from ancient artworks but Calumny of Apelles is his only fresco which is entirely devoted to an ancient theme.
Artist Botticelli moved towards religiously sensitive content later in his career and this is perhaps the last of his purely secular works. As an allegorical work it has long been discussed as to who this painting was really referring to, but that has never been confidently concluded. The artist is known to have picked up several enemies during his life and one of them may lie behind this symbolism.
With ten figures in the foreground plus many more sculptured into the walls, this is a highly complex artwork which beautifully displays his supreme talent as a portrait painter.
There were several other Sandro Botticelli paintings that used a similar sculptured architecture across the background such as Fortitude, Last Miracle and the Death of St Zenobius, Punishment of the Rebels and Temptations of Christ.