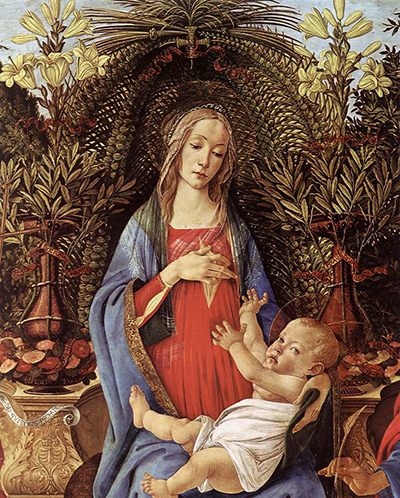 Buy Art Prints Now
from Amazon
* As an Amazon Associate, and partner with Google Adsense and Ezoic, I earn from qualifying purchases.
Botticelli is a famous Italian painter from the 15th - 16th century who was around during the finest period in Italian which was ahead of the rest of the western world, stimulated by Italian cities, towns and provinces who wanted to commission the finest artists available to them in order to make their buildings and galleries the most impressive in the country.
Birth of Venus is the best known painting by Sandro Botticelli and shows the goddess Venus as she rises from the sea. This classic oil painting is instantly recognisable when viewed at the Uffizi Gallery in Florence, Italy where it is now on display. Birth of Venus stands at 172.5 cm × 278.5 cm (67.9 in × 109.6 in) and was completed by the artist in tempera on canvas which was very common during the 15th century, when this painting was finished.
The Birth of Venus is a topic covered by many other painters besides Botticelli with further skilled artists also producing impressive sculptures too, themed similarly to the paintings. Sculpture was particularly prominent in Italy at that time. The Birth of Venus painting was not an exactly realistic depiction of the goddess with proportions chosen for image rather than accuracy, as is always the artist's way.
The Birth of Venus has been slightly difficult to give an exact date on but recent research places it between 1485-1487 with a reasonable level of accuracy once several factors have been taken into account such as written evidence and the consideration of the painting's style and composition in comparison to the rest of the works in his career.
Primavera, also known as Spring, is another classic painting by Sandro Botticelli. The Primavera was painted for Lorenzo's townhouse in Florence, and was stored alongside the Birth of venus at the villa of Lorenzo di Pierfrancesco de' Medici in Castello. Since being completed in 1482, Primavera has been held as a symbol of the Florentine Renaissance which was a key part of the overall development of art right across Italy around this time, with it's principles later spreading all across Europe to Netherlands, Germany, Spain, France and Britain.
The works of Sandro Botticelli have attracted great academic study over the years as has his life in general with quite a few question marks still existing over both. Sandro's sexuality, the exact dates of his works and also his intentions and emotions behind each and every painting are all topics which have attracted great attention for many centuries.
Mystic Nativity is a complex and charming work by Botticelli that features a detailed depiction of this classic relgious scene which has been covered by so many other artists too from around this period in art which was dominated by religious art, reflecting it's role in society at that time.
Annunciation is another religious topic covered by most of the main renaissance artists during their careers, and also rates as one of the best known paintings from Botticelli's own career. This classic scene offered the artist all he needed in inspiration and artistic license to produce an academically much respected painting, again on Tempura.
Famous International Galleries and Museums
The quality of Botticelli is shown in the prestigious art galleries, exhibitions and museums around the world that now hold the majority of his works, displaying them regularly to the delight of the painter's international fanbase. See below for some of the major instiutions which hold original works from Botticelli's career.
Hermitage Museum, Saint Petersburg, Russia
Fitzwilliam Museum at the University of Cambridge, UK
Art Institute of Chicago
Sandro Botticelli at the Louvre Museum, Paris
Sandro Botticelli at the Metropolitan Museum of Art, New York City
National Galleries of Scotland, Edinburgh
Museum of Fine Arts, Bosto
Museum of Fine Arts, Houston, Texas
Sandro Botticelli at the Prado Museum
Stadel Museum, Frankfurt, Germany
Vatican Museums, Vatican City
Cincinnati Art Museum, Ohio
Musée des Beaux-Arts de Rennes, France
Museo Poldi Pezzoli, Milan, Italy
Palazzo Ruspoli
Pushkin Museum of Fine Arts
Philadelphia Museum of Art
Columbia Museum of Art, South Carolina
Courtauld Institute of Art, London, UK
List of Famous Sandro Botticelli Paintings
See below for a longer list of the best paintings to have come from the career of the Italian master, Sandro Botticelli, with around eight of them featured in this homepage. Incidentally, many choose to buy reproductions prints of both the original Botticelli paintings as well as specific detailed sections of them, such as with Head of Venus. Some of his drawings are also popular.
Venus
Venus and Mars
Venus Detail
The Temptation of Christ
The Punishment of Korah
Scenes from the Life of Moses
Primavera
Adoration Of The Magi
Madonna And Child And Two Angels
Madonna And Child With Six Saints
Mystic Nativity
The Virgin And Child With Two Angels
Botticelli Sixtus II
Madonna And Child
Portrait of a Young Man
Pallas and the Centaur
Madonna Cestello
Guliano de Medici
Simonetta
Calumny
Fortitude
Discovery of Murder Holophernes
Nastagio First
Nastagio Second
Nastagio Third
Nastagio Fourth
Madonna with the Book
Virgin with the Child and Five Angels
Simonetta
Madonna Cestello
Madonna with the book
Nostagio
The Temptation of Christ
The Punishment of Korah
Scenes from the Life of Moses
The Virgin with the child and five angels
Primavera
Adoration Of The Magi
Famous Italian artists
Botticelli was just one of many Italian masters to have appeared during the Renaissance era which started in Italy before spreading across the rest of Europe. Other notable Italian artists from around this period are listed below.
Francesco Albani
Mariotto Albertinelli
Pietro Annigoni
Antonello da Messina
Fra Bartolomeo
Gentile Bellini
Giovanni Bellini
Jacopo Bellini
Gianlorenzo Bernini
Andrea di Bertholotti
Sandro Botticelli
Agnolo Bronzino
Nicolao Branceleon
Canaletto
Elio Carletti
Annibale Carracci
Ludovico Carracci
Caravaggio
Carpaccio
Cimabue
Leonardo Coccorante
Correggio
Giorgio de Chirico
Domenichino
Enrico Donati
Dosso Dossi
Duccio
Gentile da Fabriano
Rosso Fiorentino
Andrea da Firenze
Piero della Francesca
Artemisia Gentileschi
Domenico Ghirlandaio
Giampietrino
Giorgione
Giotto
Giuseppe Grisoni
Francesco Guardi
Achille Leonardi
Filippino Lippi
Fra Filippo Lippi
Ambrogio Lorenzetti
Luigi Malice
Andrea Mantegna
Simone Martini
Masaccio
Michelangelo
Amedeo Modigliani
Lelio Orsi
Eleuterio Pagliano
Giovanni Paolo Panini
Parmigianino
Ferdinando Partini
Perugino
Pietro Pezzati
Baldassare Peruzzi
Pinturicchio
Pisanello
Antonio Pollaiuolo
Pontormo
Raphael
Tommaso Redi
Guido Reni
Salvator Rosa
Andrea del Sarto
Gherardo Stamina
Bartolomeo Suardi
Tiepolo
Titian
Cosimo Tura
Giorgio Vasari
Raffaello Di Vecchio
Domenico Veneziano
Paolo Veronese
Leonardo da Vinci
Daniele da Volterra
Further Famous Artists
As well as the great works produced by Botticelli, the Renaissance, Baroque and Romanticist periods between the 14th and 18th centuries gave the world countless other skilled and innovative artists. Find a brief selection of some of the best below.
Bruegel the Elder and Younger followed a similar style of landscapes with great detail and an assortment of characters going about their lives which makes the prints interesting and worth studying several times over. They make great additions to your home because they constantly show new detail and interest to your eye as you look around the various Bruegel landscapes.
Albrecht Durer was a famous German artist who established a reputation around the world as the greatest artist of the Northern Renaissance, even with such a considerable set of challengers during the 15th and 16th centuries.
Rembrandt prints are amongst the best from the Dutch Golden Age, which is a famous period of Dutch art involving traditional Baroque paintings. Rembrandt remains one of the most important Dutch artist of all time, as well as the most influential from the 17th century.
JMW Turner is amongst the most appreciated British artists of all time, both academically and buy everyday art consumers. Many choose to buy Turner reproductions that they can enjoy in their own homes, though typically smaller than his original works because they were so huge. Turner's romanticist style makes his original oil paintings best reproduced as framed art giclee prints which completes a professional look and matches the relatively traditional style of this art movement.
Goya entered art at a very early stage in his life after accepting an apprenticeship at the age of 14 where he received tutoring from fellow artist Jose Luzan. Goya was to go on from this period to help progress accepted art principles of the time towards what we have today in a similarly impactful way to others painters like Rembrandt and Caravaggio.
Caravaggio used a more understated method than was common for the time with other works like Saint Catherine, Martha and Mary Magdalene, Judith Beheading Holofernes, a Sacrifice of Isaac, a Saint Francis of Assisi in Ecstasy, and a Rest on the Flight into Egypt.
Delacroix is a famous French artist for two main reasons, firstly the great quality and emotion found in his paintings, and secondly the dramatic and historically important topics of many of his key paintings, such as Liberty Leading the People.
John Constable marked the rise of landscape painting which previously had been undervalued and wasn't seen the way it is today, either by art buyers or academics. Below is a link through to a gallery of his best works, as well as a link directly to our recommended one, and Constable's most popular - The Haywain.