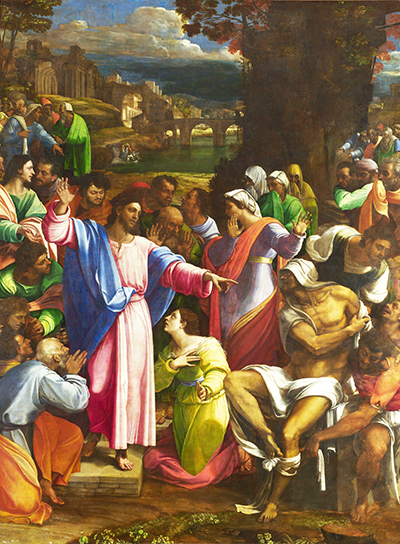 Buy Art Prints Now
from Amazon
* As an Amazon Associate, and partner with Google Adsense and Ezoic, I earn from qualifying purchases.
Sebastiano del Piombo rose to prominence as an artist in Renaissance Rome, but was originally trained in Venice by the famous names of Giovanni Bellini and Giorgione
It was his arrival in Rome that marked the start of his relationship with Michelangelo who provided support throughout his career from there on in. With the natural ability that the young artist had, combined with the influence of these famous Renaissance names, meant his opportunities were guaranteed whilst he continued to develop in Rome. Over time his style would be a beautiful blend of Venetian and Roman art - bright landscapes from the former, with classical touches from the latter.
The signature style of Sebastiano paintings were complex compositions with a combination of landscape and portrait. Many considered him the finest artist in Rome for an extended period after the exceptional talent of Raphael had passed away at a young age. One interesting development in his career was that having learnt from Michelangelo for several years he would be persuaded into joining in his master's artistic challenge with another great master in Raphael. Sebastiano del Piombo produced the stunning Raising of Lazurus in this battle but was generally considered to have lost out to his opponent's Transfiguration.
Sebastiano del Piombo was a heavily religious man who would serve to the Pope on a daily basis at times in his life. This devotion would have greatily inspired his work, but also meant that his productivity was considerably stunted. The vast majority of those considered masters were able to concentrate entirely on their art exclusively but there are some examples of where religion was actually their most prominent direction. Despite all this, his oeuvre was highly regarded by art historians and sufficient artworks have survived to the present day for his reputation to survive.
Whilst Michelangelo and Raphael continued to battle through commissioned pieces, the mild mannered del Piombo prefered to avoid the time-consuming fresco pieces that dominated so much of his masters' time. Sebastiano was very much an oil painter and whilst his compositions were often complex, they were relatively straightforward to implement rather than the ceiling scenes that others focused on. The name of del Piombo did not receive the legacy that it deserved for two main reasons - firstly, he did not have a studio from which to impart his knowledge on future generations, and secondly he did not make the effort to print and distribute copies of his work that would have better spread his reputation across Europe.
This artist could draw, but he would not go into great detail with his drawings prior to adding his oil on the same canvas. He would, however, invest more time in drawing elements of his composition in separate artworks which would feature a variety of components for the final piece. Whilst many of these drawings would not survive to the present day, as with most Renaissance drawings, there are still enough from which we can draw many conclusions around his method of working and also the quality of his skills in this medium.