Francesco del Pugliese commissioned this artwork by Botticelli as a means to celebrating an important figure from the history of Christianity. The patron is known to have made his money as a wool merchant and was able to attract the services of this artist who was known to be particularly busy at this point in his career. The frame and accompanying lunette painting were produced at around the same time and so were commissioned together in a single project. It was rare for a patron to give so much focus to the supporting frame but this underlines how much attention was given to this project by Francesco del Pugliese. The artwork retains all of these elements even today and is on display just as it would have been all those years ago. The actual piece is fairly small though, measuring just 25cm across and 35cm tall, approximately.
The patron intended this painting to be a devotional piece, which means it would be hung in a private residence for personal reflection. That explains why the artwork was fairly small, as normally artists such as Botticelli would be required to produce work that might be displayed on huge walls in religious buildings with traditional architecture. The life of Saint Jerome is of particular importance to Christians for he is known to have translated the Bible into Latin in around the 4th century. For that reason, as well as his more general role as a priest, theologian and historian he is normally depicted in art at his desk, symbolising his love for writing and study. Many artists from around this time would also capture St Jerome within their own careers, with some of the best examples being Saint Jerome Writing by Caravaggio, St Jerome in his Study by Albrecht Durer and St Jerome in his Study by Jan van Eyck.
Discover Last Communion of St Jerome at The Metropolitan Museum of Art in New York, USA
This important artwork is out on display at one of the most significant art venues in the US, namely The Metropolitan Museum of Art. It is beautifully presented within a frame which is believed to have been produced by the workshop of Giuliano da Majano. They have incorporated a lunette above the Botticelli painting which is a small curved artwork titled The Trinity by Bartolomeo di Giovanni. The Met also owns a small drawing which is believed to have been a study piece for the later Last Communion artwork, though that work is classified more generally as having come from his own workshop rather than necessarily from his own hand. Most of Botticelli's frescos remain in Europe, making this addition to the collection of the Met particularly important, with the Renaissance masters being so important in moving us towards all the modern art styles that we have today.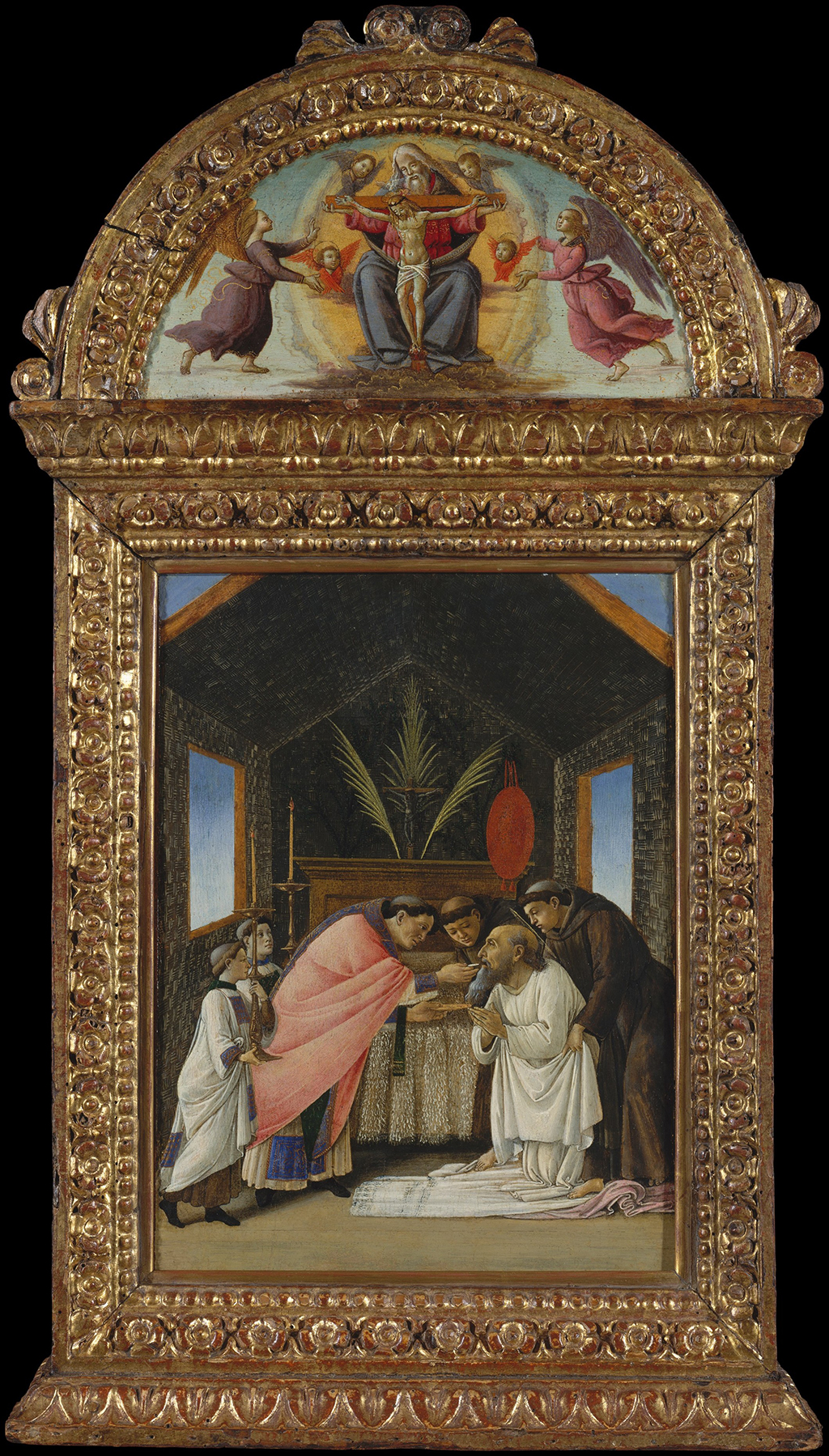 The Met itself is far more than just a homage to European or American art. It covers both topics beautifully, but there is also a plethora of items from other cultures and periods to interest you. As New York's population continues to become more diverse, so the importance increases of permanent displays such as this which can effectively cover almost any part of the world. Their selection of African masks is particularly memorable and you will also find a good selection of ancient sculpture here as well. In terms of related paintings, you will perhaps be interested in some of the highlights of their collection in the European and American paintings sections such as The Siesta by Paul Gauguin, Jeanne Hébuterne by Amedeo Modigliani, The Four Trees (Four Poplars on the Banks of the Epte River near Giverny) by Claude Monet and Self-Portrait with Straw Hat by Vincent van Gogh.