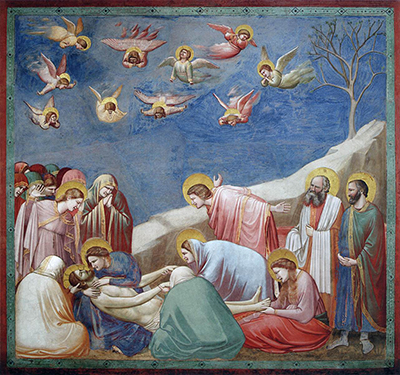 Buy Art Prints Now
from Amazon
* As an Amazon Associate, and partner with Google Adsense and Ezoic, I earn from qualifying purchases.
Our Giotto biography explains the artist's rise to prominence and features all those who aided his path throughout his career
Early Life
Giotto di Bondone was a highly skilled painter and architect and, to a lesser degree also a sculptor. As with all artists from the early 14th century, there is little documentation available on the artist, particularly of his early years. His date of birth is loosely placed at 1266 and he was born in a village called Vespignano, which is relatively near Florence.
According to the earliest biographers to report on Giotto's life, the budding artist was first discovered by Cimabue whilst sketching in the countryside. This has since been brought into question, but no definite decision has been agreed as to whether the two had spent time together or not. It does seem plausible, however, that a young Giotto would take to draughtsmanship in order to perfect his skills at a more afforable price.
The confusion over documentation of the lives of the early Renaissance masters was no different around a century later with the career of Masaccio, again prone to controversy over even the most basic of details and consistent disagreements over attribution of his work. It is only really the star trio of Michelangelo, Leonardo da Vinci and Raphael whose careers have received so much endless research that their lives are understood down to the very finest of detail.
Professional Career
Giotto's career would take in regions right across Italy, including decorative work in religious buildings in Assisi, Rome, Padua, Florence, and Naples. At this time frescoes would be produced in tempera before oils would later dominate Italian art after first appearing in Flemish art.
The biggest highlight within his oeuvre would have to be the series of frescoes produced for the interior of the Scrovegni Chapel in Padua. The artist decorated the internal walls of this small, intimate chapel with artworks based on the Life of the Virgin and the Life of Christ. The nature of the medium meant that he would need to work quickly, before the plaster dried, making his planning of the project particularly important. The fragile nature of these paintings has meant that certain pigments used by the artist have not withstood the test of time, but the series remains highly regarded and attracts many to the Paduan chapel even today.
Aside from this, Giotto was also tasked with producing paintings for a number of other religious buildings, including the Peruzzi and Bardi Chapels at Santa Croce. He continued to feature religious content, which would dominate his oeuvre, but there was some evolution in his style over time, perhaps influenced by his travels around the country which would have brought him into contact with different art schools in each Italian province.
Giotto's reputation soared, allowing him to acquire commissions all across Italy. including the church of Santa Maria degli Angeli in Bologna, various churches and chapels in Naples, and also potentially some items in Milan towards the end of his career. There may also have been some work on the Basilica of Saint Francis of Assisi. Florence, however, always remained his biggest source of opportunity with Giotto's Campanile now considered perhaps his highest profile achievement, though he died before his design was put into practice.
Personal Life
The artist married Ricevuta di Lapo del Pela in around 1290. They would have eight children together, four sons and four daughters. Giotto purchased a home in Florence which would become their base, though he regularly traveled on a professional basis throughout his career. Some art historians have suggested that he was actually born in the city of Florence, rather than in a village in the surrounding region, and his son Francesco was to continue the artistic legacy here too.
Death
Giotto di Bondone passed away in January 1337. He would have been aged 69 or 70 at the time of his death. The artist is believed to have been buried around the entrance to the Cathedral of Florence, although this has never been conclusively proven. A plaque would have been installed at the time, but no such item remains today. Considerable amounts of building work has been completed in this location over the years that have passed since, which perhaps explains how this confusion may have come about.
Legacy
Giotto remains one of the most significant European artists in the transition from Byzantine artistic styles to the Renaissance. His mastery of multiple disciplines also puts his reputation above most other artists plying their trade at that time. His impact during his own lifetime is underlined by the significant projects in which he was involved, as well as the respect afforded to his career by Giorgio Vasari, who was the leading art biographer of that period.