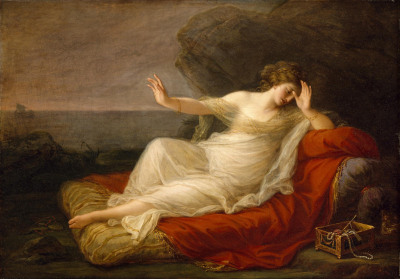 Buy Art Prints Now
from Amazon
* As an Amazon Associate, and partner with Google Adsense and Ezoic, I earn from qualifying purchases.
Angelica Kauffman was a Swiss 19th century Neoclassical painter who specialized in history painting. She remains one of the most famous female painters in history.
The artist had an extraordinarily wide ranging knowledge of European artistic techniques having moved across the continent over the course of her life. She peaked in England, and helped to bring about the introduction of the Royal Academy which still exists today. She also demonstrated that female painters could rise to the summit of artistic life in Europe in the 18th century, and therefore would have encouraged others of the possibilities that lie ahead in their own careers.
Early Life
The artist was born on the 30th of October, 1741 in present day Graubünden, Switzerland but spent much of her life traveling around Europe. Angelica may not have come from a wealthy family but her upbringing was rich in culture. Joseph Johann, her father, was a professional artist who regularly traveled for work and would eventually take his daughter with him on his travels.
She served as his assistant which essentially served as her artistic apprenticeship. They took in the likes of Switzerland, Austria, and Italy as different commissions presented themselves to her father and over time she would build up a strong understanding of the artistic differences between these countries.
Her mother, Cleophea Lutz, was also a strong influence on Angelica and helped her daughter to become multilingual from an early age, something that proved of great benefit whilst she was traveling around with her father. Many regarded Angelica as an extraordinary talent from a young age, both highly intelligent but also gifted in an artistic sense and she progressed at a rapid rate with the encouragement and support of her loving parents.
Sadly, Angelica lost her mother whilst in her early teens and this tragedy persuaded the father and daughter partnership to relocate to Italy, first living in Milan before moving on to Florence and then Naples. She also spent time in Rome, Bologna and Venice.
Whilst traveling around Italy, the young artist would absorb all manner of different styles and ideas which would be to the benefit of her artistic evolution. Eventually she came across the Neo-classical approach which most closely aligned with her later work as a mature artist.
She could now speak openly in French, German, Italian and English, opening up all manner of opportunities for the artist in later life. Her reputation was now starting to spread right across the continent and she started to receive a number of invitations to work and exhibit in England.
Rise to Prominence in England
In the mid-1760s Angelica Kauffman finally took up an offer to relocate to England and would spend the next fifteen years based in the country. Countless opportunities came her way during this prolific period, most of which were in the portrait genre. Her connections spread quickly and she received considerable encouragement, despite her status as a female painter.
Though many in society were not used to such a thing, the high status of her supporters meant that Kauffman would be allowed to make the most of her undeniable talent. She also became close friends with a number of respected English artists, such as Joshua Reynolds, who respected her work as well as her artistic grounding in Italy. She would eventually use her support from the establishment to help bring about the introduction of the Royal Academy, whilst campaigning with a number of other high profile artists, and would then later exhibit there annually.
Style and Technique
The artist inevitably absorbed all manner of different artistic techniques over the period of her career, having traveled so extensively across the European continent. Even just her experiences in Italy alone would have brought a variety of art schools to her attention, whilst also studying the work of English, French, German and Swiss artists as well.
She would eventually mold herself into a Neoclassical painter, though with clear influence from English painters in the way she used soft multi-layered tones in her beautifully crafted portraits. Her excellent handling of color, as demonstrated in the draped clothing of her subjects may well have been influenced by her earlier time in Italy but it required considerable skill in order to marry these different ideas together into a seamless, consistent method.
Personal Life and Retirement to Rome
Kauffman had married in 1767, but separated just a year later after question marks were raised about her husband's true identity. Whilst they would never divorce, she was free to marry in 1781 after he had passed away. She chose Antonio Zucchi and this time the union was a successful one. He was Italian, but resident in England, giving them plenty in common and also the opportunity to move elsewhere in Europe if need be.
Indeed, they chose to relocate to Italy soon afterwards and whilst she continued to work, her output slowly declined. She never lost her ties to England, however, and continued to exhibit work there fairly regularly, keeping her profile fresh in the public's mind right up until her death in 1807 at the age of 66.
Legacy
Angelica Kauffman rose to become one of the most famous artists in Europe at the time of her death in the early 19th century. She had built up a following for her work in Italy, England, Switzerland and beyond, with little fuss made about her status as a female painter. Her greatest legacy may have been in encouraging the formation of the Royal Academy in England, which itself has helped large numbers of artists develop over the past few centuries.
She was a particularly skilled portrait painter whose legacy has returned to the limelight in recent years, thanks to the increased interest in female artists from more traditional times. Her impact and reputation was underlined by the grandeur of her funeral in Rome, which was directed by Antonio Canova, and attended by several high profile artists. Some of her work was hung up for all to see as she was taken away to her final resting place and the whole arrangement was based around the funeral of the great Italian Renaissance master, Raphael.