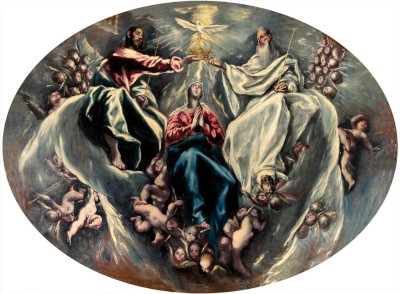 Buy Art Prints Now
from Amazon
* As an Amazon Associate, and partner with Google Adsense and Ezoic, I earn from qualifying purchases.
Coronation of the Virgin was one item from a series of paintings produced by El Greco for the altarpiece of the Santuario de Nuestra Señora de la Caridad in Illescas, Toledo, Spain. The artist himself settled in this part of Spain in 1577.
This circular piece was completed in 1603-1605 but there are some question marks over the order in which these various artworks were produced. It remains in the same church today, many centuries later, as also do Charity, Nativity and Annunciation which were a part of the same commission. The remaining piece, Marriage of the Virgin, is now housed in a museum in Romania. El Greco himself was often called upon to produce a number of works as part of large commissions, in order to ensure a consistent look across each painting. They would normally be displayed together and so it made sense to call upon the same artist, or studio for the whole set. El Greco himself, by the late 16th century, had also developed a fairly unique approach which would struggle to be matched by other artists. Earlier in his career, whilst in Crete and then Italy, some of his religious depictions were a little more traditional in style. He took influence from a number of Italian masters such as Titian and Michelangelo.
This dramatic painting features the coronation with God the Father, God the Son and also the Holy Spirit which is represented by the dove. The rest of the scene is then filled with putti who playfully intwine themselves into the other figure's clothing. It is a beautifully structured artwork, in which the artist adapts well to this unusual oval shape. Normally he worked within rectangular formats but some other items in this commission were also rounded. The decision to work in this manner would have been down to the nature of the altarpiece itself, perhaps requiring custom shaped canvases on which these paintings were made, to prepare them for the later installation. The overall tone is relatively dark, though the impact of time may have reduced some of the vividity of the colours in this piece. The clothing is predominantly in darker tones, with some draped angles allowed a little more light. There is also a burst of yellow right at the tip of the painting, where sun shines down on those below.
The Coronation of the Virgin was not El Greco's first use of this theme, for there was another at Talavera in 1591. He may have taken some reference from the earlier piece and aimed to further improve upon it with this version, just as he would do with other themes. Some scenes from the Life of Christ, for example, could feature as many as five times across his career. His studio also took on additional work, making copies of his work and producing their own, similar versions in order to cope with an increasing workload placed on the artist himself. This particular piece is likely to have included contributions from the artist's son too, who was a technically skilled painter who could be trusted to work alongside his father, though lacked the creativity to become a major name in his own right. The Coronation of the Virgin remains one of the few El Greco paintings to still reside in its intended location in the present day.