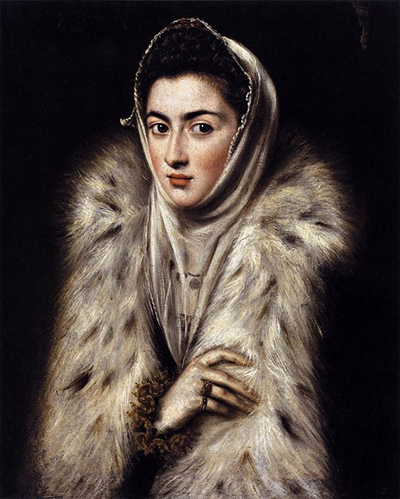 Buy Art Prints Now
from Amazon
* As an Amazon Associate, and partner with Google Adsense and Ezoic, I earn from qualifying purchases.
El Greco painted the portrait A Lady In A Fur Wrap during the years 1577 to 1580. It is an oil on canvas painting that measures 62 x 59 cm.
It was once owned by Louis Philippe, the last king of France, who hung it in the Louvre. It was acquired in 1853 by Sir William Sterling Maxwell, a Scottish art expert.
The painting currently hangs in his ancestral home, Pollack House, which was was gifted to the people of Glasgow in 1966 by Maxwell's ancestors and is now a museum.
The painting shows a beautiful young woman wearing a pale fur that is draped around her shoulders and covers most of her body. The markings on the fur indicate that it is from a lynx.
Her neck and head is covered with a scarf of the same creamy shade, with some of her black, curly hair piled on the top of her head and showing under the scarf. Her right hand, which is pale and the same shade as her clothes, grasps the fur and emerges from a dark brown ruffled cuff. Two dark brown rings are on her fingers. Only her face shows any sign of colour, with bright red lips and pink cheeks contrasting with her dark eyes and eyebrows.
The setting is informal, and the sitter looks radiant and healthy. The identity of the sitter is not known. It has generally been accepted that it is a portrait of El Greco's mistress, Jeronima de las Cuevas, although there is no evidence for this. The artist lived openly with Jeronima in Toledo, Spain, for many years, despite being already married to another woman.
Jeronima bore him a son, Jorge. El Greco included his son in one of his most famous paintings, The Burial of the Count of Orgaz. When A Lady in a Fur Wrap was exhibited in London in the early Victorian era, it was given the title The Daughter of El Greco. The artist did not have a daughter, however.
El Greco, whose real name was Domenikos Theotokopoulos, was born in Crete, but moved to Spain. He is known for his depiction of pale, elongated Catholic saints and martyrs, painted in a Mannerist style with harsh lighting. This portrait is quite unlike most of his work, showing as it does a beautiful woman with a seductive gaze and warm, rosy skin. Some art historians have questioned whether it may be by another artist, but others have pointed to the similarity in pose and execution between A Lady in a Fur Wrap and other El Greco works like The Virgin Mary and Lady With a Flower in Her Hair. Another key thing that points to El Greco as the creator of the portrait is the strangely elongated and pale hand that the sitter has, which is similar to the hands he painted in other works. In 16th century Spain, pale, long-fingered hands were highly prized as a sign of female beauty. Some ladies would even tie their hands above their heads at night to make the blood drain from their hands and leave them pale.
El Greco's paintings were criticized by many of his contemporaries for their use of garish colours and their twisted, stylised bodies, but in later years, many innovative artists of the 19th and 20th century were heavily influenced by El Greco. The French Impressionist, Paul Cezanne, painted a portrait in 1886 that was a direct homage to this painting, called La femme à l'hermine, apres El Greco, or Lady in a Fur Wrap, after El Greco. As well as El Greco's original colour palette of creams and browns, Cezanne used shades of blue and green. As in the original portrait, he highlights the female sitter's face by using red on her lips and cheeks.