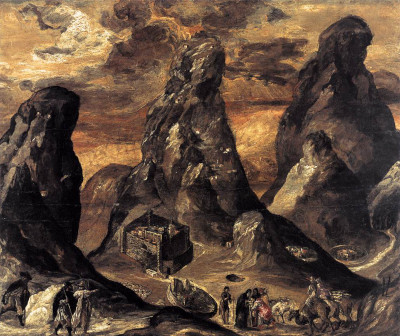 Buy Art Prints Now
from Amazon
* As an Amazon Associate, and partner with Google Adsense and Ezoic, I earn from qualifying purchases.
Mount Sinai is a famous mountain within modern day Egypt. It may also have been where Moses received the Ten Commandments, as detailed in both the Bible and the Quran. El Greco chose to produce a painting of this region in 1570-1572.
El Greco would use elements of tempera within this piece, alongside oils, which reminds us of the influence of Italian art upon the early part of his career. In later years he would work exclusively in oils alone. This painting can today be found at the Historical Museum of Crete, Iraklion, and is relatively small, at under half a metre tall or in width. The composition features three main peaks, with small ones dotted around close by. There is also a city surrounded by imposing walls, with a number of figures in the foreground. The use of perspective is peculiar with this painting, and the style seems slightly different to what we might expect from El Greco. In actual fact, this is merely an example of his earlier style, and is confidently attributed to his hand. There is a dark mood to this painting, with shadows covering the right hand sides of the mountains, and the sky also given a menacing air. El Greco's Mount Sinai offers us something a little different from his oeuvre, with the way in which he depicts the city being particularly memorable.
Fulvio Orsini is known to have requested this piece and he was known to the artist via his boss, Cardinal Alessandro Farnese. The fame around this region would mean that each mountain in this artwork has actually been given its own name, including Mount Horeb, Mount Epistene and St Catherine's Mount. Each one holds significant importance to various religions and so are well known in a large number of different cultures, albeit with adapted names. The city pictured here is believed to be a monastery today, and is named after the Christian Martyr Catherine. There is so much religious history within and around Mount Sinai that it is perhaps surprising that more European artists haven't covered it at some point, with them tending to be drawn to other iconic imagery such as the Crucifixion, for example. El Greco would not have travelled to this region himself for the purposes of this painting, and most likely would have studied existing engravings from the Renaissance era in order to gauge an idea for the environment of this region.
Landscape art was not a specialist genre at this time, and so it was unusual for an artist to give so much of the attention in a painting to the mountains found in this piece. Even with their strong religious connection, one would normally expect to see this content only in the background, with figurative art being used in front. In fact, the figures here are small by contrast, almost as an after thought, and so the landscape itself is allowed to dominate our attention. This piece can be found in Crete, making it one of the few artworks from his career to reside within his place of birth. Crete itself was under the rule of Venice at the time, which is partly why El Greco took influences from the Venetian school during his formative years as an artist.