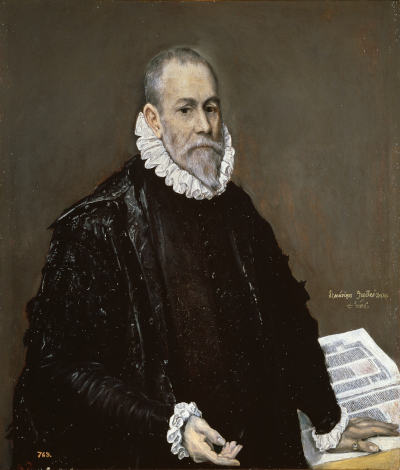 Buy Art Prints Now
from Amazon
* As an Amazon Associate, and partner with Google Adsense and Ezoic, I earn from qualifying purchases.
This painting from around 1582-1585 is entirely typical of the personal portraits completed by El Greco shortly after he arrived in Spain. It depicts a doctor, though his precise identity has never been determined.
Renaissance artists would always leave clues within their portraits to help us understand more about the subject. In this case we can determine his role as a doctor because of the ring worn on the thumb of his left hand. The painting would immediately been transferred to the Alcázar Palace of Madrid after being finished and so we can track its history right from 1686 up to the present day. Its location in the Prado Museum today is entirely unsurprising because of how many items owned by the monarchy and other noble figures would eventually make their way into public collections across Spain. The Prado Museum was one of the beneficiaries of this transition, and today it has helped the country to offer some of the finest art museums anywhere in the world. This simple portrait would have been completed relatively quickly by the artist, and potentially fitted in alongside other, larger projects.
The doctor himself stares directly at us whilst standing slight side on, with his right shoulder angled slightly towards us. His clothing is dark, typical of the age, and this makes detail hard to make out, other than for the ruff and cuffs which are delivered in bright white paint. The ruff found here is relatively modest in size compared to other portraits by El Greco, perhaps reflecting the figure's own character, or simply being a pragmatic choice for his role in society. His left hand is laid out on the table, upon an opened book. His right hand is open, with fingers in a style that can be seen in many of his other portraits. A small signature is left on the background tone of brown, just above the book. Several identities have been suggested for the man in front of us here, such as Luis Mercado, physician to Philip II, or Rodrigo de la Fuente, with the latter well known to the artist on a personal level. It would be difficult to prove either of these suggestions today, and any new evidence is unlikely to be uncovered now, all these years later.
The Prado Museum continues to offer one of the best selections of art from El Greco's career and it is certainly rare to see so much together under one roof. Some of his lesser known pieces are spread around private collections and smaller provincial galleries, making a visit to the Prado a must for big followers of this particular artist. It also helps to remind us of the significant impact that he made in Spain, though at the time that he completed this Portrait of a Doctor, his evolution was far from complete and much of his Italian influences were still dominating his approach. The breadth of work found in Madrid today can help us to see visually the transition over time that occurred during his spell living in Toledo. His studio would also help out in completing the large body of work which helped to decorate large numbers of religious buildings around this part of Spain.