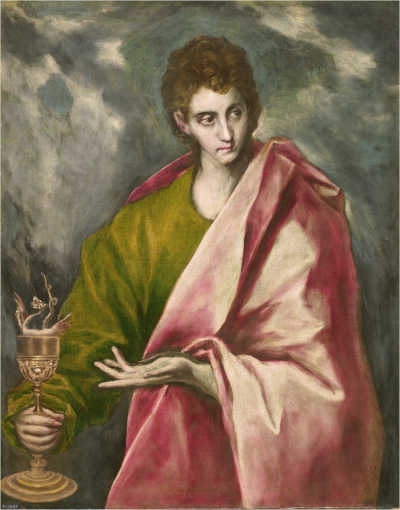 Buy Art Prints Now
from Amazon
* As an Amazon Associate, and partner with Google Adsense and Ezoic, I earn from qualifying purchases.
Saint John the Evangelist is a circa 1605 oil painting by El Greco which can today be found in the permanent collection of the Prado Museum in Spain. The artist received hundreds of commissions from monasteries, convents and cathedrals.
This relatively simple piece features several stylistic elements that make it immediately recognisable as from the hand of El Greco. Firstly, the swirling sky behind in which expression is used over precise detail would appear in the backgrounds of many of his portraits. Additionally, the tones used here, particularly the pinkish colours on his clothing, connect to the Venetian influences which impacted the earlier part of his career. See also the elongated hand of Saint John the Evangelist which was something found frequently in the latter part of this artist's oeuvre. He offered something different to the 16th and 17th century art scene, and helped to encourage some of the experimentation that would lead to some of the contemporary styles that we have today. Despite falling into obscurity for several centuries after his death, El Greco was still able to leave a large impact with his expressive manner which was even highly regarded within his own lifetime.
The artist would feature saints many times within his work, and portraiture was also a key genre for El Greco. Smaller pieces could be fitted in between some of his large commissions, allowing a great flexibility to the artist and his studio. Most portraits would have been of living individuals who he would meet in person, but sometimes he would take figures from the religious world and depict them in this intimate manner. Saint John the Evangelist holds some sort of trophy or drinking vessel in his right hand whilst staring off to our right hand side. His other hand directs our view towards this fine piece of silver. He is dressed in a lime green garment, with pink cloth hanging over the top. The artist allows white light to heighten the surface of his robe, bringing brightness and colour to an otherwise subdued piece. The saint looks young, with thick curly hair and a prominent nose. His face is narrow in shape, which was often the case with El Greco's portraits.
The Apostles were a popular choice for artists within the Spanish Golden Age, and although Greek, El Greco would become a major figure within Spanish art. He moved there whilst in his mid thirties and immediately started to incorporate new ideas into his already-impressive paintings. He somehow managed to fuse influences from Italy and Spain together, along with his own creativity to create a style that differed from anything else seen in Europe at that time. The nearest comparisons can be made with Expressionist artists from several centuries later, though in terms of content he was certainly in line with other artists of his time. Commissions continued to flood in and he would make use of a studio with other assistants in order to keep up with this growing demand. Religion was highly prominent at the time, and also held considerable wealth, meaning the finest artists could be sought in order to decorate their walls with stunning, relatable art.