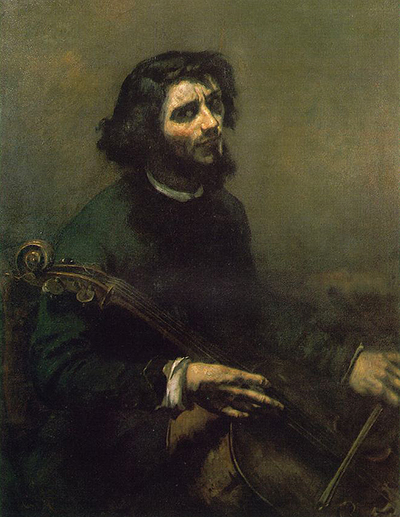 Buy Art Prints Now
from Amazon
* As an Amazon Associate, and partner with Google Adsense and Ezoic, I earn from qualifying purchases.
Between 1842 and 1855, Gustave Courbet, self-proclaimed "proudest and most arrogant man in France" created many self-portraits in a process he likened to writing his autobiography.
In them, Courbet portrays himself as various theatrical characters in an arresting Byronesque style, youthfully slender, with long hair and deep brown eyes. The Cellist – Self Portrait is one of the earlier works from this period and highlights Courbet's passionate interest in music; he could play the violin, composed songs and was interested in the research into folk song.
The Cellist represents Courbet's emphatic response to Romanticism. Individualism and self- exploration, two of the founding pillars of the Romantic movement, were advocated within the literary and artistic circles that Courbet was a part of in Paris. It was a time when self-portraits were becoming increasingly popular and proved an effective way for artists to define their self-image in an increasingly competitive art market. But not everyone was a fan of this form of 'self-promotion' and in 1855 when Courbet exhibited a group of these self-portraits in a retrospective of his own work, the critic Maxime du Camp complained, "Courbet waving, Courbet walking . . . Courbet everywhere, Courbet forever."
The stylistic representation and techniques in The Cellist highlight the inspiration Courbet drew from works by Renaissance and Baroque masters, especially Titian and Rembrandt. Indeed when The Cellist was shown at the 1848 Paris Salon, at the Louve, critics noted the resemblance between Courbet's use of chiaroscuro light and dark contrasts and Rembrand's self-portraits. The Cellist draws on the techniques, emotion and individualism of the Romantic movement however it is Courbet's revolutionary Realism style for which he is best known. Courbet changed the way that paint was handled and in his later works the smooth, refined finishes in The Cellist are replaced by visible brushstrokes and the use of a palette knife or even his thumb to create heavily impastoed surfaces.
This technique inspired and shaped the sensibilities of artists including Manet, Monet and Renoir a generation later. Cézanne viewed Courbet as his hero, praising the older artist for his "unlimited talent," and employed Courbet's techniques and contention that brushwork and paint texture should be emphasized, not concealed. Housed at The National Museum Stockholm, The Cellist – Self Portrait is a reminder of Courbet's early exploration of romantic inspired imagery during a period prior to his shift to the Realist aesthetic that ultimately defined his career.