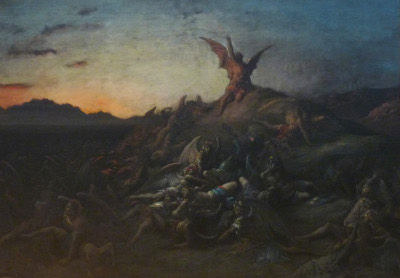 Buy Art Prints Now
from Amazon
* As an Amazon Associate, and partner with Google Adsense and Ezoic, I earn from qualifying purchases.
Gustave Doré would produce several depictions of The Fall of the Rebel Angels, with this impressive oil painting being completed in 1866.
This moody Romanticist piece features a dimly lit scene, with a winged figure sat aloft a rockface, whilst bodies lie strewn all around. The sun sets to the left hand side, leaving the foreground in near darkness whilst above there is still some light left from the day. The foreground receives most of the detail within The Fall of the Rebel Angels, as Doré focuses on the clothing and anatomy of the bodies which are contorted and intertwined with each other. It is an horrific image, but entirely typical of this artist's work, where emotion and drama would regularly be incorporated into the scene. He would release a number of illustrations of this theme too, reducing everything to monotone schemes. His paintings are lesser known, but still highly worthy of note and this art form is also sometimes more accessible to the wider public, helping to introduce new supporters to his career. He was an accomplished painter but would never quite achieve the same levels of academic respect that he enjoyed as a book illustrator, and that remains much the case today.
The Fall of the Rebel Angels refers to the first confrontation between Good and Evil, and this type of dramatic entry was ideal for the style used by Doré. This content would be tackled by a number of other artists too, including several in and around the Northern Renaissance. Perhaps the most famous version was Pieter Bruegel the Elder's The Fall of the Rebel Angels from 1562, and potentially the Frenchman would have already been aware of this version from many centuries earlier. Doré himself would influence many who followed afterwards, even in other disciplines. His illustrations, for example, would change how some saw certain topics, and how they might be featured in later theatrical productions, for example. His drawings for the Holy Bible were particularly influential in that regard and his impact would be felt most strongly within his native France, but also in the UK too, where he also had connected with various local publishing houses.
This painting can be found at the Strasbourg Museum of Modern and Contemporary Art. Incredibly, their permanent collection is believed to hold as many as 423 works by Gustave Doré alone, making it one of the largest selections of his art anywhere in the world. Alongside their excellent survey of his work, you will also be able to find many other notable names from 19th and 20th century art included here too, with other French artists particularly well served. Theo van Doesburg, Georges Braque and Edward Burne-Jones are just a few of the exciting names to look out for here, but for fans of Doré, there is already enough by him alone to occupy you for many hours. The museum remains one of the finest attractions within the city of Strasbourg and serves the local community particularly well, whilst also being impressive enough to attract visitors from further afield. It was founded as recently as the 1970s, which explains why most of its collection is from more recent art movements.