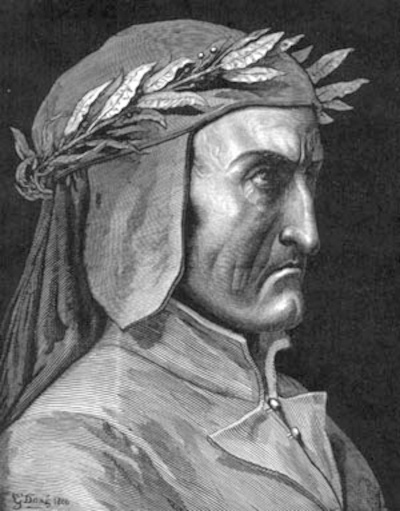 Buy Art Prints Now
from Amazon
* As an Amazon Associate, and partner with Google Adsense and Ezoic, I earn from qualifying purchases.
This portrait of Dante Alighieri appears in Gustave Doré's illustrations of Inferno, within The Divine Comedy. He completed the series over the period of 1866-1867.
Here we find the famous Italian poet in side profile. He is dressed in traditional clothing which is entirely suitable for a man of status during 13th and 14th century Italy. He was a Florentine and at that time the nation of Italy was a collection of ruling kingdoms, yet to form a unified country. His inclusion here was because it was he who produced the famous Divine Comedy, and so the artist decided to add an illustration of him into this new publication. In order to promote the piece, he presents the poet as strong in character, with a confident look as he stares off to the right hand side. The illustration was produced in tones of grey and black, before then being turned into an engraving for the purposes of book printing. A laurel wreath is pictured balanced on his head, and this was commonly used when depicting Dante Alighieri, as many other artists have also produced portraits of this famous and much loved Italian poet.
The illustrator would handle each of the three main sections of the poet's work separately. This portrait is believed to have appeared in the first of these three parts, and therefore would have been drawn and engraved in the year of 1866. The Vision of Hell was then released by London, Cassell, Petter, and Galpin, before the illustrator moved on to Il Purgatorio ed il Paradiso which were completed in the following year. Those passages were instead printed by Hachette and Co. who were based in Paris, and they would handle many more of his projects both before and after this one. Doré would establish himself as the foremost book illustrator during this period and developed a large income from his illustrations, even able to employ large numbers of engravers who could handle the next stages of each project themselves. Ultimately this method of production would allow him to focus much more on his drawings, whilst also taking in other mediums such as painting and sculpture.
This portrait was a rare addition within The Divine Comedy, with most artworks in this series capturing emotional and dramatic scenes from the original texts. They would then be printed alongside the relevant copy in order to bring the poetry to life in front of the reader's eyes. This proved a popular method of re-energising literature and enabled publishers in London and Paris to sell large amounts of books. They would call upon this illustrator's services many times over and would give him a variety of projects to work on from recent European literature to scenes from the Bible and even ancient fables. He responded with brilliance and an incredible output, establishing himself as one of the biggest names in the art world of the mid to late 19th century.