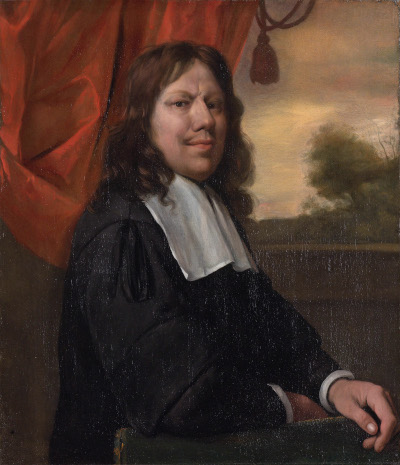 Buy Art Prints Now
from Amazon
* As an Amazon Associate, and partner with Google Adsense and Ezoic, I earn from qualifying purchases.
Jan Steen was an important contributor to the Dutch Golden Age and specialised within the genre style, in which normal people are depicted going about their daily lives. The artist regularly featured a strong sense of humour within his paintings.
The artist was a dominant force in the mid to late 17th century and was prolific within his native Leiden but did move elsewhere at various times in his life in order to best serve his developing career. Whilst the artist would truly master genre painting, he would make use of a wide range of technical skills in order to deliver some of these artworks. For instance, some of his depictions would be reliant on sprawling landscapes, whilst others made use of detailed domestic scenes. There would also be many multi-figured portraits too, and there seemed no end to the versatility of the artist. Few painters have managed to capture the essence of life within 17th century Netherlands as well as Jan Steen and he rightly remains regarded as one of the most famous Dutch painters of all time. Here we examine his career in detail, outline his best work and also touch on some of the related artists who were also around at that time.
During his developmental phase the artist would spend time in the company of a number of established artists, as well as with younger students like himself. Jan would therefore be exposed to different artistic styles and content, and over time he would take the best bits of all of those and incorporate them into his work, whilst adding a layer of his own innovations on top. Dutch art was booming right across the 17th century and there were several organised art groups, such as the Guild of Saint Luke, where ideas could be exchanged openly. Whilst many opportunities in Leiden existed, he soon realised the need to travel elsewhere in order to broaden his art education and also to attract yet more patrons. He would take in Haarlem and Delft, though returned to Leiden to live out his remaining years.
Research into the artist's work has revealed that some of his genre paintings were actually influenced by his interest in theatre. Some of the scenes that he produced were therefore exaggerated from reality, essentially an idealised form of life at that time, though with the fundamentals of each work being broadly accurate. This was typical of theatre and comedy and so was quite a reasonable method for painters to use too. There were others who would depict the harsh realities of life for the poor at this time, and so there was always room for variety within the Dutch Golden Age. One might remember the work of artists like Pieter Bruegel who produced upbeat images of peasant life from a century earlier and Jan Steen was essentially continuing this approach but with an evolved artistic style to match the later period. He was so gifted that some of his scenes could stand as landscape paintings in their own right, even without the arrangements of figures that adorned the foregrounds of most of them.
Table of Contents
Synopsis of his Life
The artist was born into a family of brewers and joined this profession himself. He would manage a brewery of his own from a young age on the instruction of his father but would also take in art studies at the same time. By his early twenties he would start to show some real promise as an artist and would receive tutoring from several different established artists who brought different influences upon him. He would marry the daughter of one of those tutors and they went on to have eight children, bringing them up in the Catholic religion which had been passed onto Jan from his parents. He tried his luck in Delft but returned soon after once his new brewery had failed. He continued to switch between brewing and painting throughout the rest of his life, constantly adapting to the changing market in both industries. His wife sadly passed away in the 1660s and he soon re-married, having one more offspring from that relationship. He settled back in Leiden after a spell in Haarlem, eventually living until his early fifties. Despite his brewing business interests, Jan Steen was still able to produce over eight hundred paintings across his career.
Artistic Style and Techniques
Jan Steen loved to create scenes of everyday life and the artist would normally instill an atmosphere of chaos within them. He would make use of Dutch proverbs as the basis for some of these paintings, and would even become a proverb himself over time. It would be wrong to say that he was encouraging any of the behaviour found in his genre paintings, but equally he would also not be too judgemental about the figures that he used. In many, they would appear happy and unaware of some of the downsides of their actions. There were also many other paintings which provided more wholesome content, perhaps where the middle classes were sat around listening to music. His work would be filled with detailed, following in the Dutch manner of this period of ensuring aesthetic interest in every corner of each painting. This allowed Jan Steen to display the full breadth of his abilities, with figurative art, landscapes and architecture all included together. He received early training in each of these genres, but also imparted his own flair whilst combining them together.
Jan Steen's Most Famous Paintings
Jan Steen was a highly prolific artist, leaving behind around 800 artworks by the end of his career. It would be fair to say that he does not have quite the single highlight that you might find with Frans Hals' Laughing Cavalier, and rather was just consistent throughout his lifetime. There are, however, certain artworks which particularly stand out, such as The Feast of Saint Nicholas which resides today in the Rijksmuseum in Amsterdam. The Dancing Couple and The Happy Family are another two good examples of his signature style, with a frenzy of activity across a detailed canvas. Rhetoricians at a Window provides an example of the role of theatre in the poses of some of his figures, as well as how a sense of humour would provide a lift to a number of his compositions. In the present day, the most exposure tends to be afforded to his artworks that reside within the most prominent art galleries and museums, rather than necessarily because they are the best artworks from his extensive career. This will also impact which paintings are used in exhibitions, with several galleries holding strong relationships with each other and able to loan in items more freely.
What was the Rampjaar and how did it affect Jan Steen?
In 1672 the Dutch Republic was attacked by a number of different forces who left the region in turmoil. The Year of Disaster, as it is also sometimes known, would lead to an inevitable collapse of the economy, and it would be several years before things returned to normal. Thankfully, the Dutch retained their independence with a brave defence of their land and so the recovery was easier than otherwise would have been the case. It was the French and English plus a number of other groups from elsewhere in Europe who attempted to invade the nation. The economic difficulties led to the likes of Jan Steen struggling to find buyers for their work, or having to drop their prices considerably in order to continue with this occupation. The Rampjaar came about when Steen was in his mid-forties and so he potentially missed out on the most lucrative part of his career, though things recovered enough for him to continue to work as he had done before for the remainder of his life.
Was Jan Steen successful as a Brewer?
The artist came from a Catholic family who ran a successful brewery and from an early age Jan would be expected to follow the same path. He would ultimately manage to do this whilst also building up a strong artistic career, and it still seems extraordinary that he was able to produce so many paintings whilst also having these other interests. Additionally, he also had a large family with his first wife, although it is likely that most of those challenges would have been handled by his wife as he concentrated on generating income for the family. Steen is known to have been a highly sociable individual who would drink with friends regularly within his own establishments and some have argued that his drinking went a little too far at times in his life. The wider family initially owned a bewery named The Red Halberd which was his father's major concern. Jan Steen would then set up one of his own in Delft, though it would struggle because of the wider economic downturn in the region. He was experienced in brewing from his time in the Leiden family business, but circumstances proved too much at that time.
Related Artists
There were several important cities within the Netherlands and surrounding regions which contributed to the Dutch Golden Age. This part of Northern Europe had very different national boundaries to what it does today, and so there would be some overlap with parts of modern day Belgium. Jan Steen himself was just one of many key names to be found within this overall movement, which also spread way beyond painting to impact literature, architecture and other aspects of cultural life. Rembrandt, of course, remains the most famous contributor of all but those who take the time to look past his achievements will discover a wealth of innovative and technically highly skilled art. Frans Hals, Pieter de Hooch and Vermeer would be some of the biggest names to rival the likes of Steen, and there was also a good variety across the board, with portraiture, genre painting and landscapes too. Steen himself was able to combine many of these together within his bright and fun artworks which helped him to build a strong reputation across several parts of the Netherlands, as it was then.