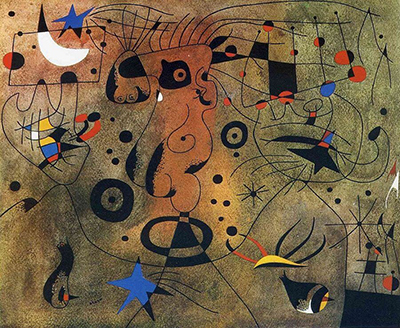 Buy Art Prints Now
from Amazon
* As an Amazon Associate, and partner with Google Adsense and Ezoic, I earn from qualifying purchases.
Joan Miro produced a series of paintings themed on constellations in a short period around the start of WWII. This collection of work would become one of his more memorable series and the content perfectly suits his abstract style of clear shapes in bold colour.
Much of this series of oil on paper was gifted to the Fundació Joan Miró, which remains an excellent way of learning more about this artist's extraordinary career. Due to the major conflict which started in 1939 the artist and his family were without electricity for an extended period and this would have the surprise benefit of drawing constellations to the attention of the artist at nightime. He could make exciting paintings out of the most mundane of items, so the beauty of these night skies would easily inspire a collection of around 23 works. He would later donate some of them to his wife. Their location at the time was on the Normandy coast with many Europeans moving around to avoid the oncoming German troops. They also faced issues within their native countries to deal with as well.
By this stage in his career the artist had already produced a visual language within his work which he could use across multiple artworks. He could also adapt it across different content, such was its versatility. He has explained in various correspondence about the meaning of different elements of this which helps us to decipher many of his creations. It was unusual that he produced these on paper, perhaps that was due to a lack of other resources at the time rather than a particular preference on this occasion. It can be argued that Miro was looking to escape Earth during these troubling times when lives were lost right across the continent, and later well beyond. His concentration on the sky at night and the planets and stars of the Universe helped him to avoid reflecting on the horrors of humanity.
Miro once explained this series to a friend in a letter, "I had always enjoyed looking out of the windows at night and seeing the sky and the stars and the moon, but now we weren't allowed to do this any more, so I painted the windows blue and I took my brushes and paint, and that was the beginning of the Constellations." The paintings were sent over to America soon after completion and were immediately seen as groundbreaking modern art within that country. That country was also attracting a number of European artists who were seeking a safe haven from the awful political and humanitarian state of Europe. They were to be put on display in New York in 1945 and America seemed to offer a more open minded view towards these new styles of modern art and were less historically connected to the earlier movements which had very different principles.