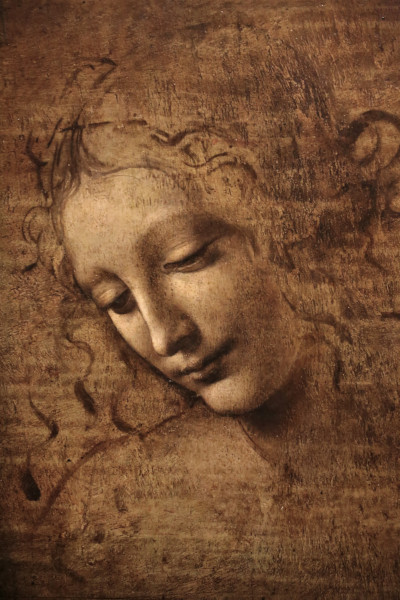 Buy Art Prints Now
from Amazon
* As an Amazon Associate, and partner with Google Adsense and Ezoic, I earn from qualifying purchases.
Leonardo da Vinci's La Scapigliata, or Head of a Woman, is one of the most beautiful portraits ever produced. This unfinished piece dates to around 1506–1508, which is towards the end of the great master's career.
Introduction
The artist spent decades perfecting his technical skills, combining his genius with endless practice. Hundreds of pages would be filled with elements of the human body, with facial features receiving the most attention. Eventually he would reach the pinnacle of his powers, at about the same time that he began work on La Scapigliata.
Many mysteries persist about this work, such as who commissioned it, and also its provenance in the early years. But there remains no doubt as to its attribution, in the eyes of most art historians at least, who confirm this to be an original Da Vinci painting which was abruptly cut off early in its development.
"..."Here Leonardo does not simply create an icon of female beauty but much more. With a unique experimentalism of its kind, it manages to summarize the divine complexity of reality..."

Pietro C. Marani
There would be many unfinished Da Vinci artworks, partly because of his tendancy to relocate around Italy every few years. There would also sometimes be political issues or interference from the donor which might cause projects to be delayed, and later abandoned. Quite why La Scapigliata (Head of a Woman) was never finished, though, is a mystery and hard to solve when we know little about the original commission.
This painting has been celebrated more than almost any other Da Vinci piece, thanks to the extraordinary beauty of the female face found within the centre of the composition. Whilst the rest of the work is loosely painted with minimal detail, the artist spent some time focusing his Sfumato techniques on the facial features of the young woman.
The Renaissance was full of gifted artists who excelled in a variety of genres and mediums, but no-one had yet seen portrait precision as delivered by Leonardo as he evolved across the late 15th century. By the turn of the century, just before completing La Scapigliata, he had moved away fromt he teachings that he received as an apprentice and incorporated all of his own innovations.
Another significant element to Leonardo da Vinci's La Scapigliata is that it allows us to see the early stages of his painting, without having to resort to modern research techniques. Whilst it is unfortunate that the artwork went unfinished, the positives of this outcome are clear - it somewhat bridges the gap between his portrait drawings and completed paintings.
Table of Contents
Description
Many have mis-interpreted La Scapigliata as a drawing, because Leonardo never fully completed the stages of over painting. Indeed, his skills as a draughtsman were critical in the early stages of his paintings, but even at this stage he was already applying oils, maing this undoubtably a painting.
At the stage that it was left, one might potentially term this an "oil study", but the precision with which the main focal point of the piece was completed means most believe that it was always intended to be developed into a fully fledged painting. Indeed, the stunning image of the woman's face means many do not even notice how the rest of the composition is left as a series of approximate lines.
The artist acquired a small piece of popular wood panel before applying a combination of oil, umber and white lead. He would have first drawn out the approximate shapes, before giving more attention to the female head. He calls upon his impressive handling of facial features in order to deliver this beautiful portrait.
Da Vinci's subtle blending of tone ensures a lifelike quality to his portraits, and this helped to mark him out within the Renaissance. He used transparent glazes to fuse subtle tones together, leaving little sign of his own interventions. Within La Scapigliata we see elements of this Sfumato around the nose, eyes and lips of the female model, delivering a beauty which is almost unimaginable.
Location
Leonardo da Vinci's La Scapigliata can be found in the permanent collection of the Galleria Nazionale in Parma, Italy. The artwork is also sometimes known as The Lady with Dishevelled Hair or Head of a Woman. Despite being unfinished, it remains one of the artist's most famous paintings, such is the beauty and precision of the sections of the portrait that were more developed.
The Galleria Nazionale specialise in Renaissance paintings, with this item being their highest profile piece. Some of the other highlights to look out for within their permanent collection include the likes of Suzanna and The Elders by Guercino, Madonna and Child by Anthony van Dyck, Lamentation over the Dead Christ with Saints by Annibale Carracci as well as a good number of paintings from the famous Italian painter Correggio.
Commission
There has been much speculation as to who commissioned this unfinished painting, but in truth, no documentation has survived to the present day to shed any light on this. Of the theories that have been put forward, the most likely ones are of Agostino Vespucci requesting a portrait of Venus, or Isabella d'Este requiring a small devotional portrait of the Madonna.
Both of these suggestions have merit, but other potential patrons can proabably be dismissed. Indeed, Isabella d'Este had several inventories made at around this time which included entries that could potentially have been the very same painting. Isabella was also well connected to Da Vinci, and regularly asked him to produce commissions, some of which he agreed to.
Attribution
Art historians are generally of the view that La Scapigliata (Head of a Woman) was indeed by Leonardo da Vinci. Even today, though, some refuse to accept this and prefer to omit the piece from their own publications. They believe that it is more likely to have been completed by a pupil of the artist.
Controversy over the attribution of Da Vinci's work is nothing new, and indeed most of the paintings linked to his name have been disputed at one point or another. Modern research techniques have enabled us to get nearer the truth in many cases, but few mysteries have ever been solved to a point where all historians reach agreement.
Size and Medium
This unfinished painting was produced using oil, umber, and white lead pigments on poplar wood panel. Its incomplete nature has made it easier for academics and art historians to see these lower layers of work, when normally they would have been painted over and only visible through x-ray technology.
Items such as this are crucial in teaching us about how the artist put together the early stages of his paintings, avoiding the guess work that is normally required by browsing finished artworks. La Scapigliata came relatively late in the artist's career, by which time oil was normally his dominant medium.
The piece is relatively small, at only 24.7 cm × 21 cm (9.7 in × 8.3 in), which is only around half the size of most of Da Vinci's completed portraits. This may therefore have been a study piece, practicing a single female head within a wider composition that would be produced elsewhere.
Date
Leonardo da Vinci's La Scapigliata was completed in circa 1506–1508. This places it in the last stage of the artist's lifetime, at which point he would start to become more experimental in the mediums that he used for his drawings. He had spent decades perfecting his technical skills as a draughtsman, and so this item represents the full evolution of Da Vinci.
The early 16th century was a busy period for the artist, and at around the same time that he was putting together this unfinished work, he would also have been occupied with the likes of Salvator Mundi, the two versions of Madonna of the Yarnwinder, the Mona Lisa and possibly also The Virgin and Child with Saint Anne. He was in the middle of his mature period, and at the height of his technical mastery.
Provenance
With little evidence of a commission, and the painting also left unfinished, it is perhaps inevitable that the early provenance of the painting is something of a mystery. There are many possible sightings up to the early 19th century, but it is only then in 1826 that we find the first clear appearance of the piece.
The Accademia di Belle Arti di Parma would acquire the piece from a respected local artist and it would soon enter what was to become known as the Galleria Nazionale di Parma. The painting may have spent part of the previous century in Milan, but this cannot be confirmed.
Large Images of La Scapigliata (Head of a Woman)
This delightfully delicate, intricate drawing is shown in greater detail below. First, there is a close-up of the female's facial features, and then below that is a larger, higher resolution image of the overall composition. These should help you to appreciate the qualities of the original painting, for those unable to view this piece in person.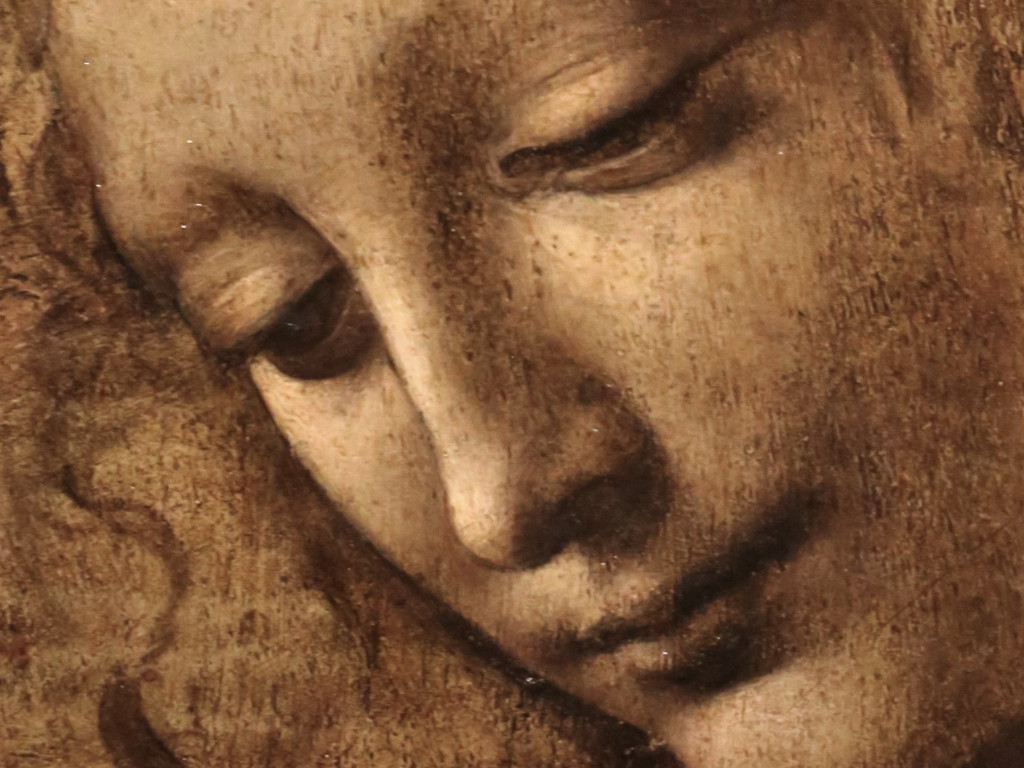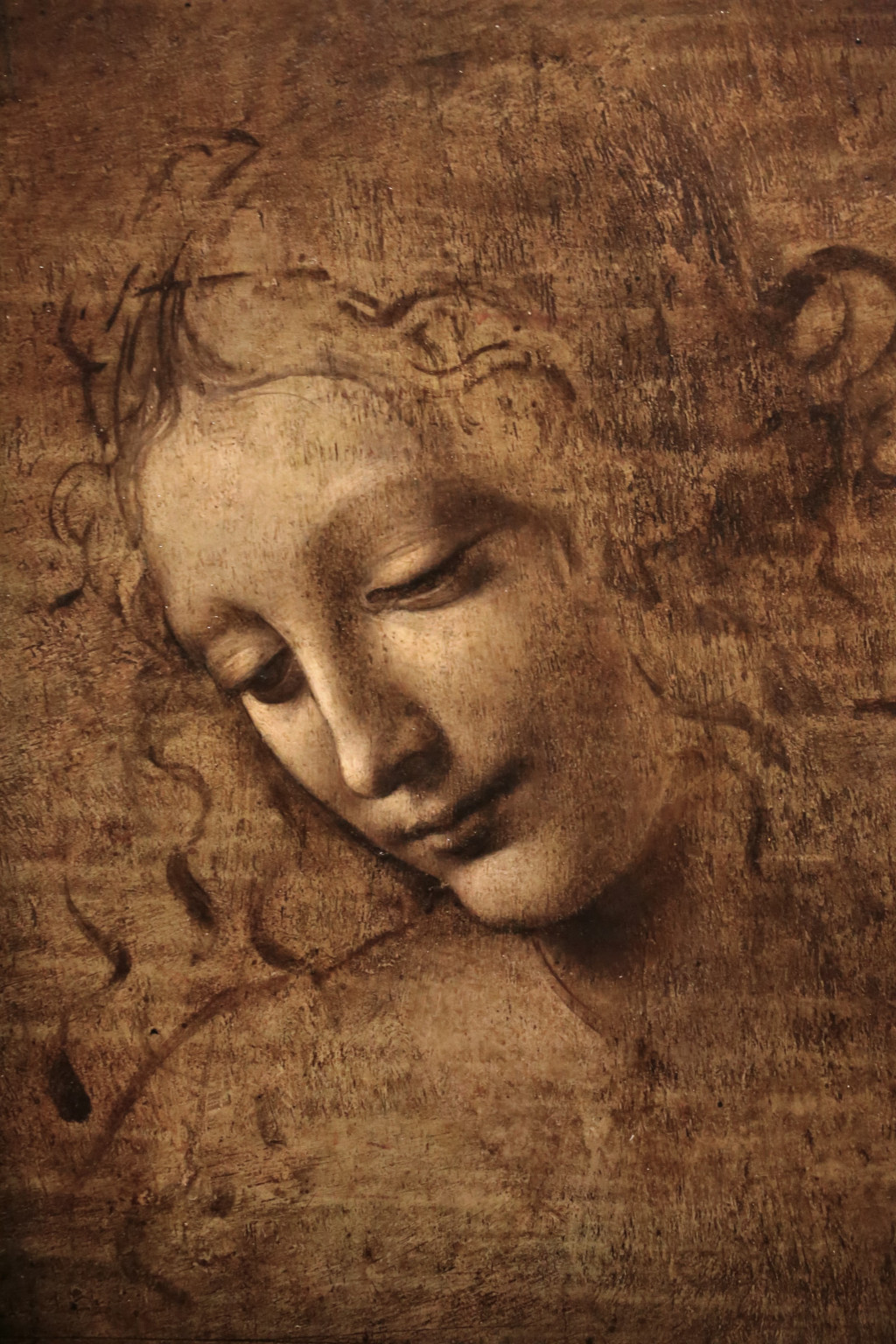 References