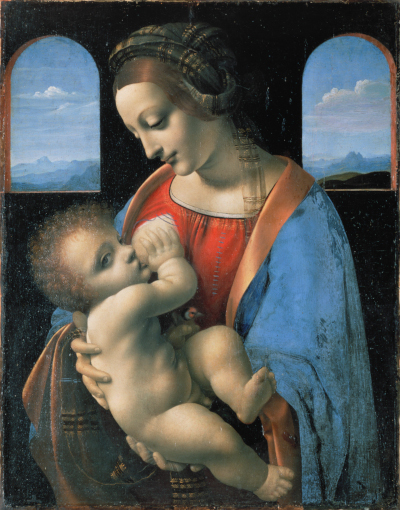 Buy Art Prints Now
from Amazon
* As an Amazon Associate, and partner with Google Adsense and Ezoic, I earn from qualifying purchases.
Madonna Litta is a Renaissance painting dated to around 1490 which is believed to have been completed either by Leonardo da Vinci or perhaps one of his studio assistants. It resides today within the Hermitage Museum in St Petersburg, Russia.
The artist would regularly feature the Madonna and Child within his paintings, trying out alternative layouts, tweaking details, as well as the postures of the two figures. Madonna Litta can be considered one of the simpler compositions, and was produced on a small wooden panel which perhaps forced the artist to remove any superfluous detail. What we are left with is a double portrait of Madonna and Child within a darkened room, with two open arches at the back which allow light in. The distance between the two windows almost makes them appear as two separate landscapes on either side of the painting, rather than two parts of the same sky location. There is also little connection between the foreground and background within this interpretation.
There remains a cloud over the attribution of this painting, with two main schools of thought having developed. Some claim the piece to have been entirely from the hand of Leonardo da Vinci, and this includes the item's present owners, the Hermitage. There are others, however, who believe that Da Vinci was very much involved in the planning and design of this piece, but that most of its execution was actually carried out by one of his assistants, most likely Giovanni Antonio Boltraffio. The latter theory seems to carry the most support currently, but both explanations seem entirely plausible, with both artists having completed study drawings which closely match elements of the final painting.
Whoever was responsible for its creation, it is clear that the Madonna Litta was well respected within Da Vinci's studio. Many artists would make copies of the painting soon after it had been completed, and a number of those exist today. Some might have considered it a Da Vinci, in order to give it so much attention, but its technical qualities were enough on their own to warrant periods of study for those looking to evolve their own work. Naturally, the Madonna and Child was a prominent theme during this period, with many artists commissioned to produce their own interpretations of it for local religious institutions.
"...There is a little picture, of a foot or a little more, of an Our Lady, half length, who gives milk to the little boy, coloured by the hand of Leonardo da Vinci, a work of great power and highly finished..."

Marcantonio Michiel, 1543
This article examines the Madonna Litta in detail, discussing the various attributions that have been given to the piece over the centuries, and examining which ones are most likely. We also track the artwork's provenance, with a combination of possible sightings of it in the early years, followed by more concrete documentation of its ownership from around the late 18th century onwards. Most importantly, we also dissect the artwork itself and compare it with Da Vinci's other depictions of the Madonna and Child. And finally, there is a larger image of the original piece which allows us to enjoy more of its detail as added by Da Vinci back in the late 15th century.
Table of Contents
Description
This carefully crafted depiction of the Madonna and Child features the Christ child being breastfed. She looks lovingly at her son, whilst the baby's eyes are focused towards us. She wears a blue robe which symbolises her identity, and was a common sight within Renaissance art. She carefully supports the child with both hands, and she seems entirely unaware of our presence. The artist incorporates some elaborate patterns and details on her headwear, as well as in patterns features on her robe. Her facial features are lifelike, and the style is entirely typical of Leonardo, as well as his many followers and studio assistants. The two figures are within a dark room, where no other detail is visible other than the outlines of some arched windows which show through to a background scene.
The light blue sky merges into the land below, which delivers a depth to the artwork and was commonly how Leonardo would style his landscapes. We see some mountainous areas, and several layers of tone which signify distance from the viewer. In the case of this landscape, detail is kept to a minimum and so our attention remains on the two figures in front. In other examples from his career, Da Vinci might added whole series of buildings that might connect to the theme of the work, but in this case the scene is entirely for aestetic value, to support the Madonna and Child whilst adding a little brightness to the painting.
Why is it called the Madonna Litta?
Artworks from the Renaissance and Baroque era are often re-named with the titles of their owners as a means to distinguish them from similar paintings. Leonardo produced a good number of Madonna depictions within his career, and many more would have come from members of his studio. Where individual elements existed, they might be used instead, such as a carnation or pomegranate, but in this case it was simply a depiction of the Madonna and Child in front of two arched windows (there is a goldfinch in the baby's hand, but perhaps this was not obvious enough to be used in the same way). The painting was within the collection of the House of Litta, throughout much of the 19th century and so it was decided at that point to name the piece after this wealthy family from the Italian city of Milan.
Provenance
We can reliably place the painting in the ownership of Giuseppe Ro in around the late 18th century, at which point he would sell the piece on to Prince Alberico XII di Belgioioso. It was then acquired by the Litta family in 1813, passing on to Russian Tsar Alexander II in 1865. He purchased the piece entirely for the purpose of hanging it in the Hermitage Museum and aside from the occasional loan, it has remained there ever since. The Madonna Litta has featured in conversations prior to the 18th century, where visitors to Da Vinci's studio may have mentioned it, but little clear evidence has been found to conclusively track its path in those early centuries. Its connection to possibly an assistant has also further clouded our knowledge of it, prior to being documented in the ownership of Giuseppe Ro.
Attribution
The current owners of the painting consider it to be from the hand of Leonardo da Vinci exclusively. There are scholars elsewhere, however, who believe it was completed by one of the artist's better known assistants, perhaps either Giovanni Antonio Boltraffio or Marco d'Oggiono. Indeed, both Da Vinci and Boltraffio produced study drawings that could have been used in the preparation for this painting, though that would not necessarily prove the painting's own attribution. Regularly within Italian art studios, drawings would be passed around as a means of teaching others, or directing an artist's style and therefore it cannot be assumed that whoever produced study drawings for this painting was necessarily the artist that executed the final piece. Another point to note is that many copies were made of the painting soon after it was completed, and that might strengthen the claim that it was by Da Vinci, with others looking to learn from his techniques.
Location
Madonna Litta can be found in the Hermitage Museum, Saint Petersburg, Russia. This prestigious venue hosts one of the finest collections of western art anywhere in the world, and also offers much of the best art that Russia and the Soviet era also has to offer. In terms of Leonardo, they also host Benois Madonna, making it a particularly rare achievement to own two items attributed to Da Vinci, within the same museum. They also host a number of other prominent members of the Italian Renaissance, such as Giorgione, Titian, Veronese, plus another of the great masters, Raphael. Russian Tsar Alexander II purchased the panel in 1865 and ordered it to be hung in the Hermitage Museum, where it has remained ever since.
Date and Timeline
The painting is dated to around circa  1490, which is a fairly precise estimation in comparison to other works from Leonardo's career. In some cases, his artworks may carry estimates that span as much as a decade, and so one must assume that a considerable amount of information has been uncovered around this piece. Several study drawings in the previous decade have been uncovered and a number have been connected with this painting, suggesting that the artist had planned the composition for a number of years before finally getting around to completing it. The artist also documented the inventory of his studio from time to time, which has helped historians to place items for his career more accurately.
Size and Medium
Leonardo da Vinci's Madonna Litta is sized at 42 cm × 33 cm (17 in × 13 in). It was produced using tempera on panel, before later being transferred to canvas in order to protect the artwork for future generations. There may also have been some use of oil paint in conjunction with the tempera, but this has yet to be confirmed. It remains amongst the artist's smallest painting, but many of his single figure portraits were of a similar size. You may notice that the overall composition uses reduced levels of detail, and everything is fairly squashed in together, perhaps forced by the smaller panel choice - there is very little space between the window arches and the figures in the foreground, for example, and the rest of the scene is left blank and darkened.
Large Images of the Madonna Litta
See below for a close-up of the Madonna's facial features, which have been beautifully done by the artist. Below that is a larger image of the painting as a whole, allowing you to see more of the work completed by the artist all those centuries ago. Although elements were re-painted afterwards, most of the original work is still visible today and the painting's present owners, the Hermitage, have taken great efforts to preserve and protect the item, just as they would with all of the famous artworks found in their collection. For those hoping to see even higher resolution images of this painting, there are a number of publications that can provide this, including the referenced item at the bottom of the page which provides much of the information included within this article.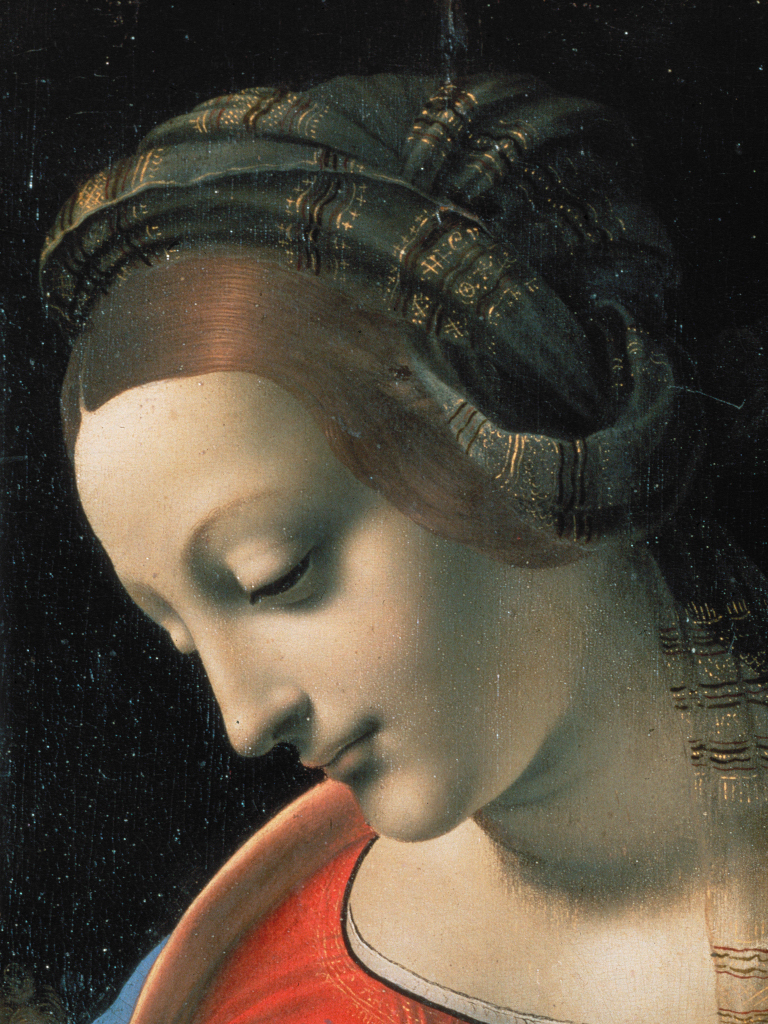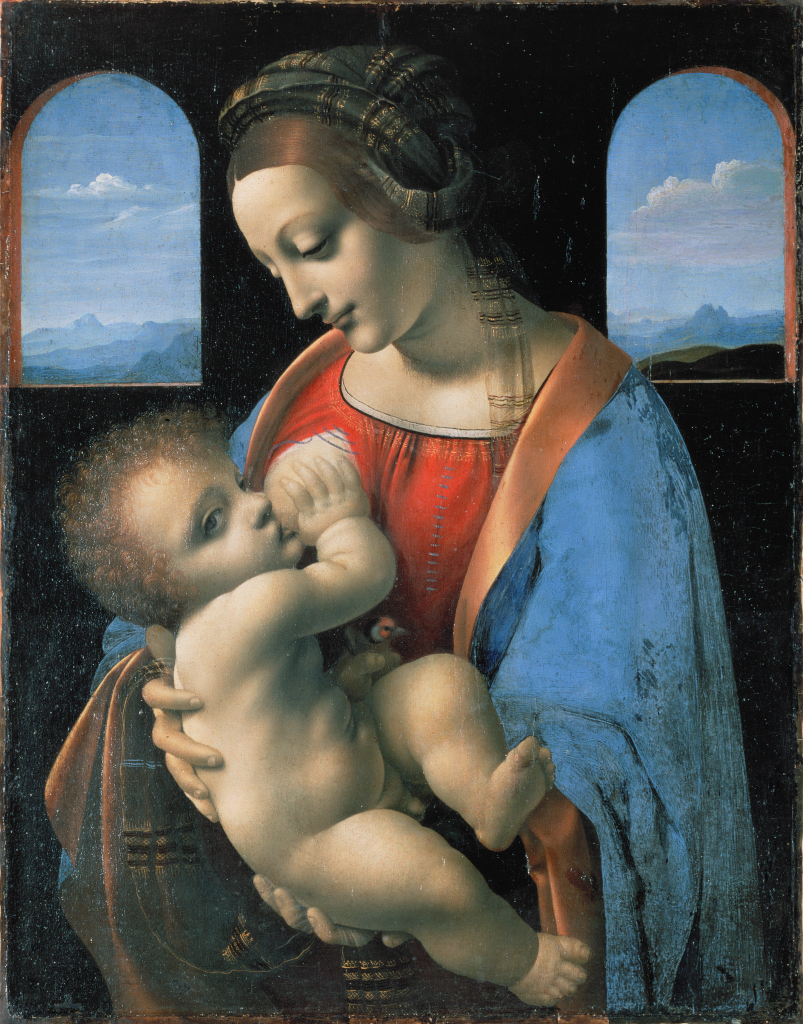 References