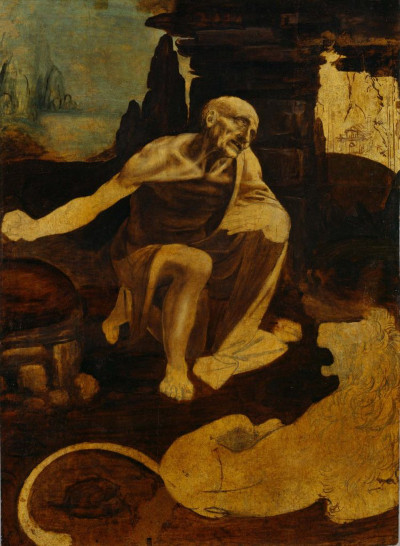 Buy Art Prints Now
from Amazon
* As an Amazon Associate, and partner with Google Adsense and Ezoic, I earn from qualifying purchases.
Saint Jerome in the Wilderness is an unfinished painting by Leonardo da Vinci which dates to around 1480–1490. It was worked on at around the same time as The Adoration of the Magi, which was also left unfinished.
The artist would relocate several times within his career and this led to a number of commissions going unfulfilled. This was not uncommon within the Renaissance era, and so would not negatively impact his reputation significantly. Filippo Lippi would take on some of these commissions, whilst in other cases, patrons might change their minds about what they needed and therefore switch artists as a result. Very little is known about Saint Jerome in the Wilderness until the early 19th century, and so many questionmarks still remain about what happened to it leading up to that point. It is not in particularly good condition either, and at one point was sliced up into separate panels.
Leonardo was highly skilled with landscape scenes and he would often include across the backgrounds of his religious and secular portraits. It would be many more years before artists specialised in landscape art as an independent genre, but many would in a similar manner to Da Vinci, providing aesthetic interest behind the main focal point. In this case we see the same, with a series of mountains loosely laid out in the top left corner, appearing from behind the rocky foreground. To the right is a number of buildings, though this was left at an early stage of design. Da Vinci was technically skilled in a number of genres and regularly combined them together in the same composition, just as found here.
Religious themes dominated the early career of Da Vinci, where he would be limited in the patrons that he could call upon for commissioned work. He would later broaden his reputation and this allowed him the opportunity to take on other requests, though he continued to return to religious themes from time to time for the rest of his career. In the meantime he would also be spreading his knowledge into many other disciplines, and some of his discoveries within them would eventually feed back into his later paintings.
This article collates as much information together as we could find on this painting, with discussion around the elements that were completed, and how it might have looked had it been finished. We discuss the influences which may have impacted Da Vinci's version, as well as touching on other artist's work on the life of St Jerome. We examine the painting's history, starting from around the 19th century, with little known about it up to that point. There is also technical information around its size, medium and attribution as well as detail on where the item resides today, for those looking to see it in person.
Table of Contents
Introduction
Saint Jerome in the Wilderness is one of several unfinished artworks from the career of Leonardo da Vinci. It came from an early point in his career, when he would have been in around his early thirties, although the date given to the piece is fairly wide at circa  1480–1490 (historians have provided variations on this, with most being between 1480-1482). We therefore cannot be sure as to whether he was in Florence at the time, or had by then already relocated to Milan. The painting itself has suffered somewhat over the years, having been left unfinished by the artist, before then being sliced up into several different pieces, and then re-attached at a later date. Its presence in the Vatican Museums today should ensure a greater protection from now on.
Story behind Saint Jerome in the Wilderness
Saint Jerome headed off into the wilderness in order to work alone in solace. He would study the bible in detail whilst here, and live within very humble conditions, which are reflected within Leonardo da Vinci's interpretation. He famously would tame a lion whilst staying here, and that creature is loosely drawn into the bottom right of the canvas, though was left unfinished. He served as a priest and a scholar, and it reported to have translated the Bible into Latin in order to spread its messages further afield. Many other artists, particularly within the Italian Renaissance, have also taken this theme into their oeuvres, and it provided an opportunity to combine several different genres together, such as landscapes scenes with religious themes and portraits of men and animals.
Description
Leonardo da Vinci depicts Saint Jerome on a rocky landscape, with a lion lying close by. He holds a rock in his right hand which would have been used to beat himself in the chest, as punishment for his errors of the past. The animal became his friend after Jerome had helped cure an injury, and he would now have a companion, having lived as a hermit by choice. The unfinished section on the right of the painting depicts a crucifix which Saint Jerome stares at. Da Vinci's use of landscaped background has been prepared for here, though only the left hand side features much development. The artist has completed considerable detail around the head and neck area of the saint, and here we find beautifully crafted muscles and bones in a manner that points to his impressive handling of the human anatomy.
Inspiration
Leonardo da Vinci would have taken inspiration for this painting from the great number of other interpretations of St Jerome that already existed within Italian art, and beyond. Sculptures exist of the saint in a similar pose to found here, and they may well have influenced some of his compositional decisions. Da Vinci is likely to have looked at interpretations that came before the Renaissance era for inspiration and he also would have studied Saint Jerome's own writings in order to better understand the man himself. He also wrote about his time in isolation, and the specific environment found within this painting, offering the sorts of small details that could have been inserted into this work, once it was completely finished.
Intended Location
With so many mysteries still existing from the earliy life of this painting, it has never been possible to conclusively determine just who, what or where this project was intended for. Many theories have been forward, with the most likely being that Leonardo da Vinci's Saint Jerome in the Wilderness had been intended to be hung in the Ferranti chapel in the Badia, Florence. Filippino Lippi would later decorate this establishment with a painting of his own, also based on the same subject, and so potentially the commission may have switched hands. This would entirely explain why Da Vinci's version was left unfinished. There are also examples elsewhere in which Leonardo passed commissions over to Lippi, and abandoned his own initial designs as a result. Additionally, Leonardo's father also had an existing connection with the Badia.
Interpretations of Saint Jerome in the Wilderness
The story of St Jerome has inspired many artists, particularly within the Italian Renaissance. In terms of his period of self-isolation in the wilderness, where he would live as a hermit whilst studying the Bible, Lucas Cranach the Elder produced a number of memorable artworks based on this. Francisco de Zurbarán, Jacopo Palma il Giovane and Giovanni Bellini would do the same, whilst Albrecht Durer contributed a copper engraving on the subject. Alternative depictions of his life have tended to focus on Jerome sat within his study, and some artists have covered both, with Italian and Flemish artists completing most of them. With Baroque artists also covering the life of Jerome, these stories from his life have been covered in a good variety of different styles from the 15th to 17th century.
Provenance
Whilst the attribution of this painting is clear, its provenance it shrouded in mystery and controversy. In truth, we cannot really be sure as to its path up to about the early 19th century. Cardinal Joseph Fesch owned the piece in the early 19th century, as reported in an art publication in Germany, and upon his death the painting was sold to Pope Pius IX. It was then transferred to the Vatican Museums, and has remained there ever since. In terms of its life before being identified by the German art historian Rumohr in 1827, many have pointed to the ambiguous writings of Da Vinci within his own studio which mentioned several depictions of Saint Jerome.
There have been further potential sightings in other major collections in the centuries that followed, but none of the evidence has ever felt entirely convincing, and most leave the painting's life during this period as an unkown. There have also been various stories around how the artwork was to become broken up and then re-attached. It may have been the unfinished nature of this painting which allowed it to go under the radar of he various inventories that might have shed some light on its path through that extended period.
Attribution
This remains one of the few artworks by Leonardo da Vinci to have been almost entirely accepted by art historians as from his hand. Most other paintings attributed to the artist have been questioned at one point or another, where new evidence or research methods have thrown up alternative opinions. Typically, members of his studio or even his master, Verrocchio, would be put forward as having potentially completed at least part of the composition but in this case, there seems little doubt that Da Vinci produced all of the initial work for a painting which would sadly never get beyond that early planning stage.
Size and Medium
Saint Jerome in the Wilderness is sized at 103 cm × 75 cm (41 in × 30 in), making it slightly larger than some of the artist's single figure portraits. The painting was produced using tempera and oil on walnut panel, with the artist using tempera more frequently in the earlier part of his career. Over time he started to prefer the vibrancy of oils, and would use them almost exclusively in the latter part of his career. He would use different types of wooden panels for most of his paintings, with this piece from walnut, but others coming from poplar, and much of this was down to which materials were available at the time. For larger artworks he would normally need to glue several panels together which sometimes ran into problems several centuries later.
References