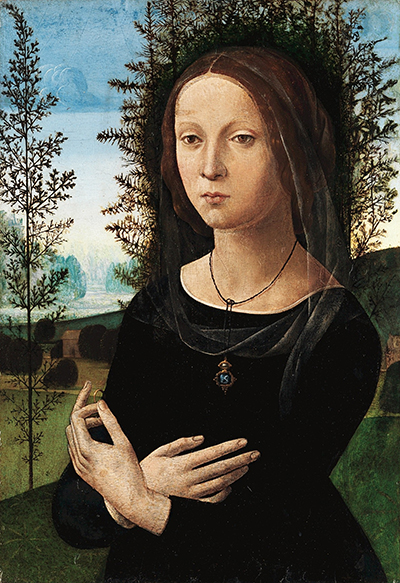 Buy Art Prints Now
from Amazon
* As an Amazon Associate, and partner with Google Adsense and Ezoic, I earn from qualifying purchases.
The artist became a leading contributor to the Florentine School, alongside the likes of Leonardo da Vinci and Sandro Botticelli. He would also collaborate on a number of paintings and sculptures during his lifetime, benefiting from the creative atmosphere found in and around the Italian city of Florence at the time.
Introduction
Lorenzo di Credi's oeuvre is filled with portraits completed for a variety of noble figures within Florence during the 15th and 16th century, as well as a large number of religious depictions. These were the two main avenues of income during this era, where artists would have to respond to their patron's wishes, without quite the same flexibility that some artists enjoy today.
The artist continues to receive considerable interest from academics because of his connection to some of the biggest names found within the Italian Renaissance, and a greater knowledge of his achievements can also uncover new information on the lives of masters such as Leonardo da Vinci and Andrea del Verrocchio.
Artistic Style and Works
Lorenzo di Credi is generally regarded as a technically sound artist who continued the stylistic methods of his teacher, Andrea del Verrocchio. He was therefore not regarded as overly creative or innovative, but was respected for his attention to detail which has ensured the long term survival of many of his paintings.
Some considered the artist to be something of a perfectionist, though he established himself as a key member of the group, and would eventually inherit the entire studio following the death of Andrea del Verrocchio. His conservative approach may have stunted his artistic legacy, but certainly ensured success within his own lifetime.
Di Credi was known to go to extraordinary lengths even in the production of his materials, such as the arduous task of preparing oils. He would demand the finest quality possible, aware of the fierce competition found within his studio. In lacking creativity, he would survive on precision which also made him a suitable teacher to the next generation.
This desire for perfection was most noticeable in the finishes given to his religious artworks, helping again to raise the bar within Florentine art and underline its lifelike qualities which helped the movement to stand out from what had gone before. Regular periods of collaboration ensured this compeition remained healthy, and encouraged artists to achieve continue to strive for more.
Video about the Florentine Art School
Lorenzo di Credi Artwork Gallery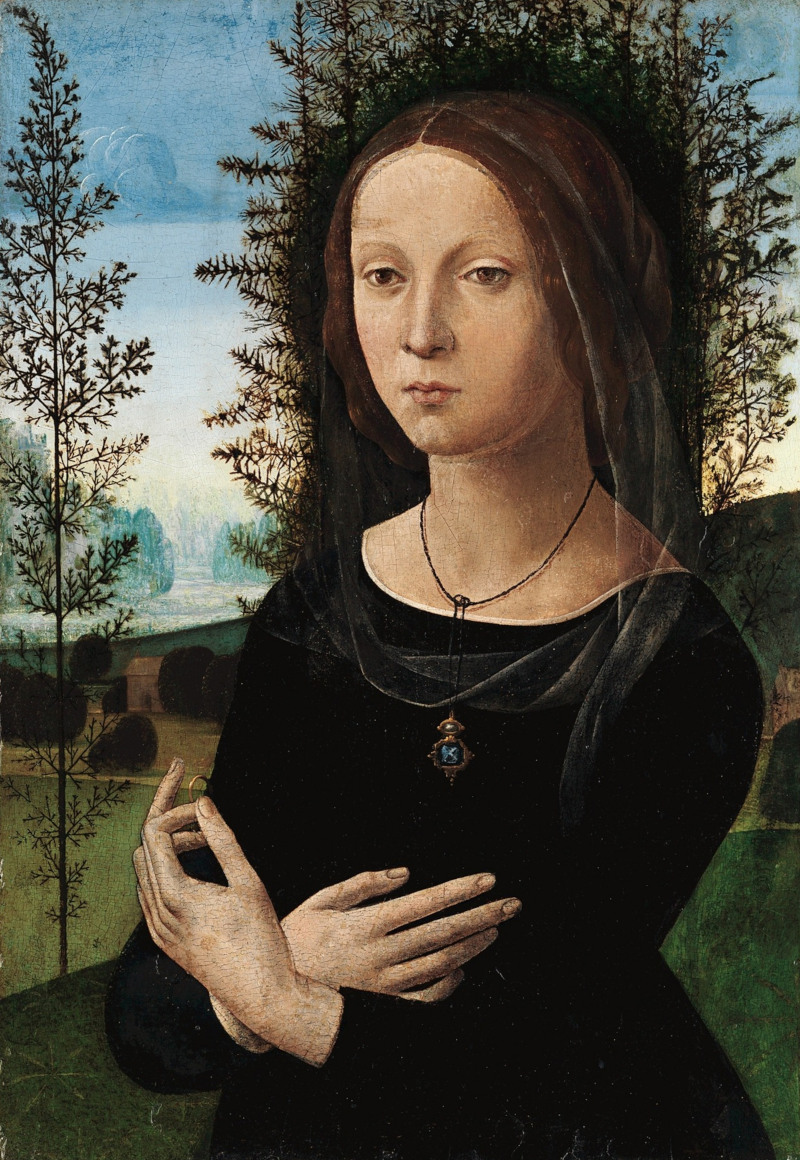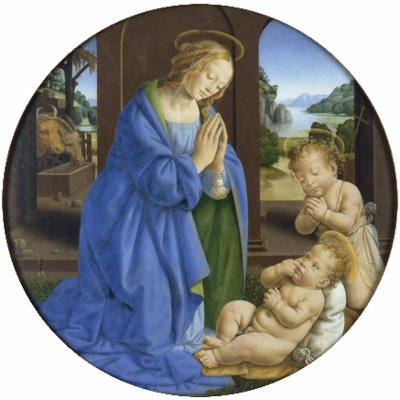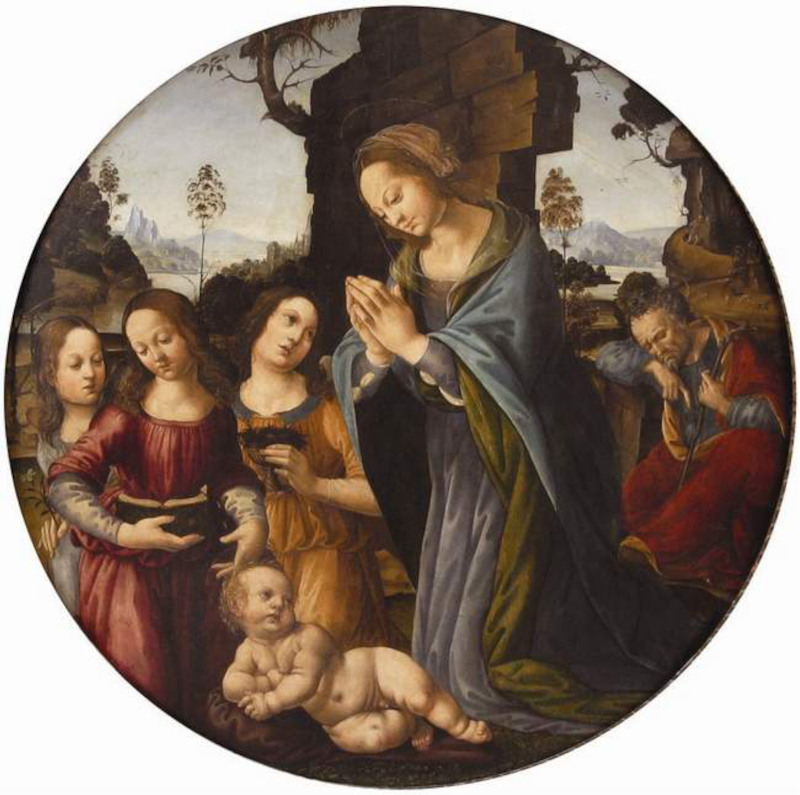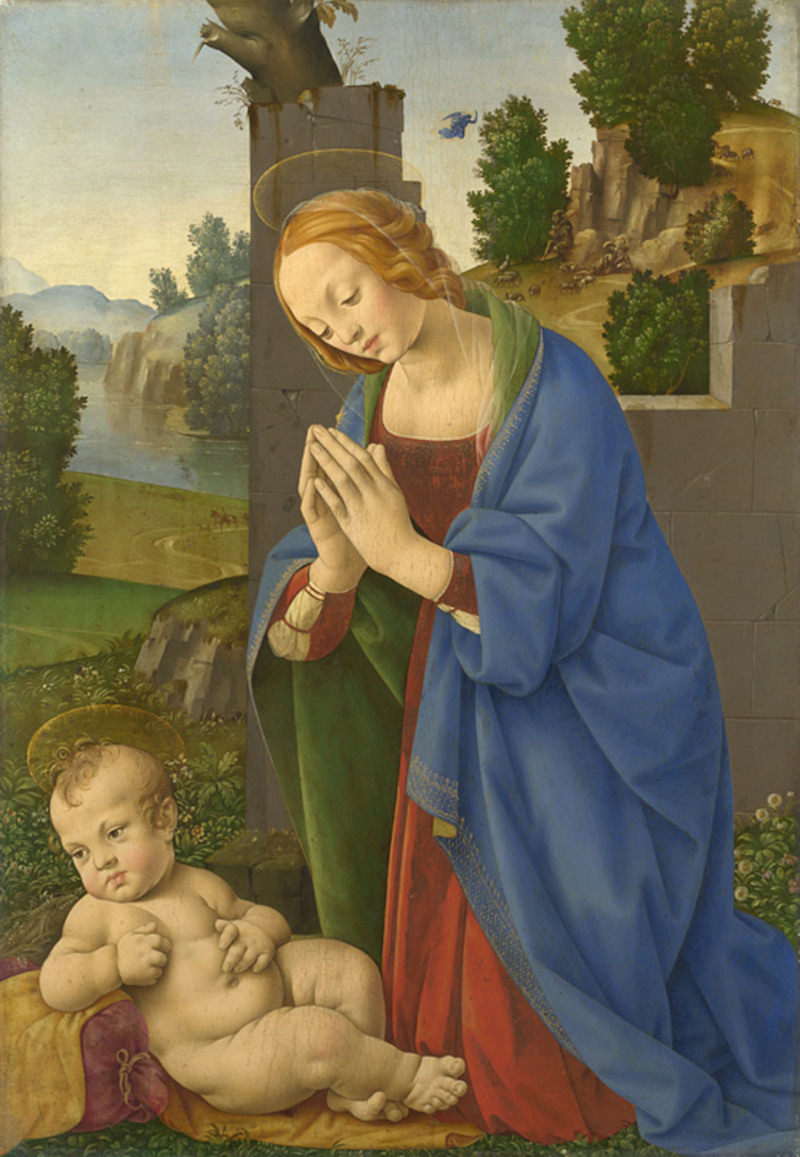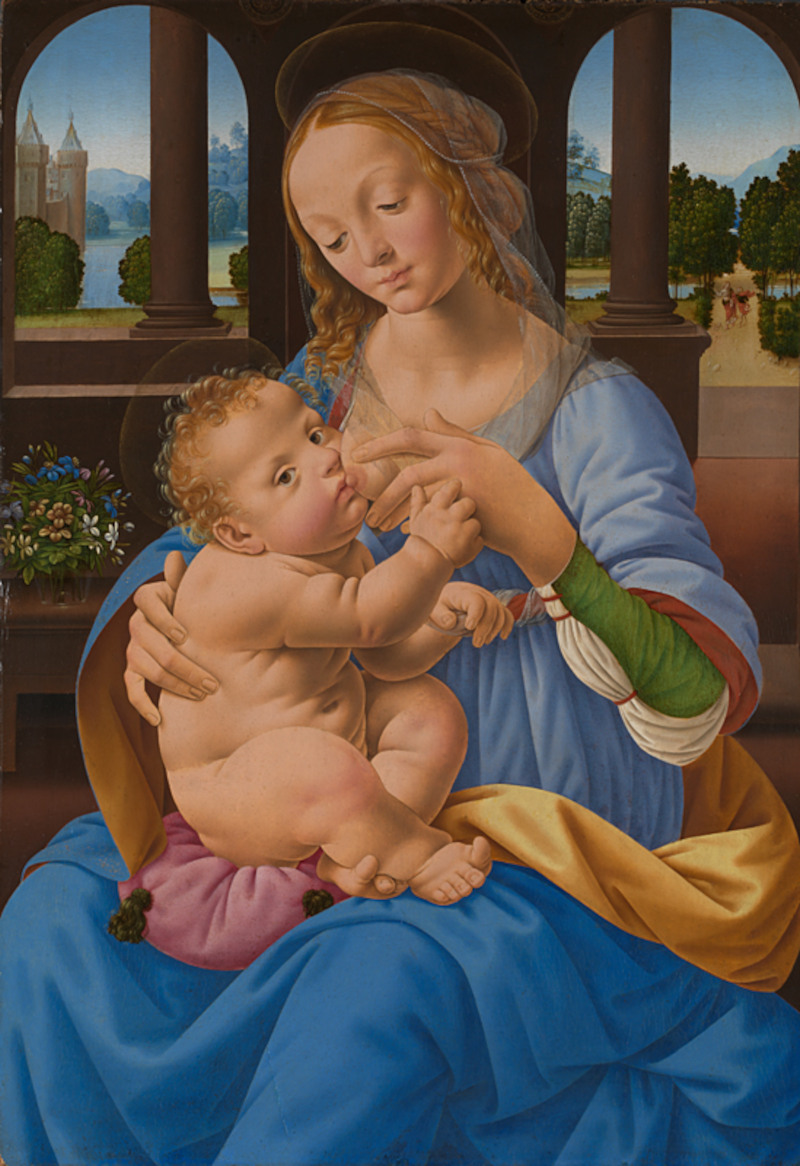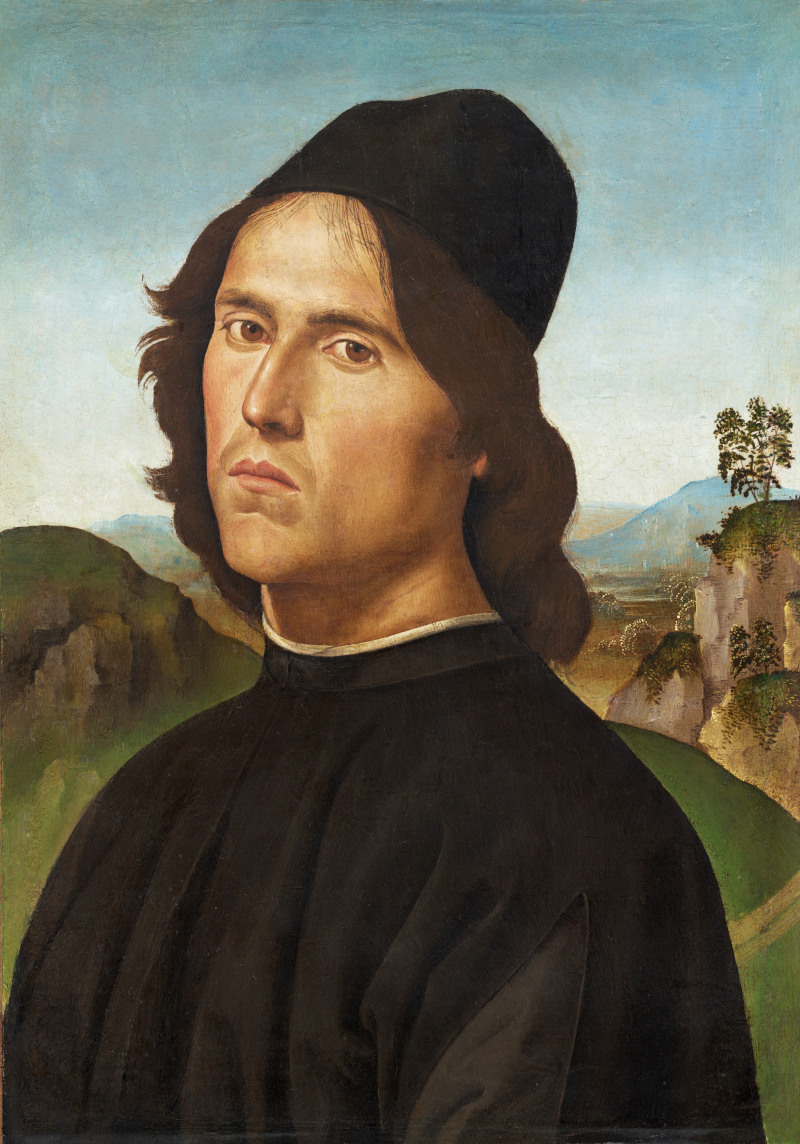 Early Life and Background
Lorenzo di Credi was born in Florence in the mid to late 1450s. He was introduced to arts and crafts through his father who worked as a goldsmith and he was accepted into the studio of Andrea del Verrocchio whilst in his late teens.
He quickly rose through the ranks in this competitive environment to become regarded as the primary assistant to the great master, and eventually started to take on commissions alone. At the same time, however, he would work alongside other members of the studio which enabled him to fuse different ideas together, whilst focusing most on developing his technical abilities.
"But of all his pupils, Andrea most loved Lorenzo di Credi"

Giorgio Vasari, The Lives of the Artists
Collaboration with Leonardo da Vinci
Although Leonardo da Vinci was just a few years older than Lorenzo di Credi, the latter would learn much from him. Leonardo boasted levels of innovation that his colleague could only dream of, but rather than become bitter, Lorenzo decided to learn what he could from his fellow artist.
It may have even been that his desire to match Leonardo's portraits led to him becoming somewhat obsessive in his use of detail - keen to match the same levels of genius. Vasari derided his time consuming methods, whilst acknowledging the impressive finishes that they produced. The studio of Andrea del Verrocchio encouraged collaboration, and this would occur in both formal and informal settings, raising the overall level of output right across the board.
Achievements as a Sculptor
In serving as an apprentice under Andrea del Verrocchio, it was perhaps inevitable that Lorenzo di Credi would also become involved in sculpture at various points in his career. The studio was a collaborative, fluid environment in which experimentation was encouraged, though relatively little is known about the Florentine's contributions to this medium.
His oeuvre tends to be summarised by a small number of paintings which have survived to the present day and which reside in several high profile European and American collections.
Patron to the Medici Family
Lorenzo di Credi's relationship with the Medici family enabled him to bring a little more freedom into his work, whilst ensuring the studio was fully financed. They were amongst the most significant donors at the time, anywhere in Italy, and allowed these creatives to work without too much interference.
One such commission was for Benedetto Portinari, the head of the Medici bank in Bruges, and this brought about some connection for the artist to north European art, helping to fuse different Renaissance developments together for the first time, in much the same way that the use of oils had spread from Flemish Europe across to Italy.
Role within the Florentine School
The artist helped to continue the work of Andrea del Verrocchio upon taking over the reins of his studio. This influential artist collective boasted a number of high profile figures who helped shape the overall school. Di Credi may not have shared the same levels of innovation which were a major hallmark of Florentine art, but he was instrumental in encouraging the exchanging of ideas, as well as passing on the artistic techniques which had honed to obsessive levels.
Legacy and Influence
Whilst being highly regarded within his own lifetime, Lorenzo di Credi's role in Italian Renaissance art tends today to be reduced to being a member of the supporting cast, who worked alongside the leading lights. He lacked the innovation of others, but was critical in leading the direction of this influential Florentine school after the passing of Andrea del Verrocchio.
Late Period
The artist's insistence on remaining true to the style of his master, partly forced by his own lack of innovation, led to some considering his work to be somewhat outdated towards the end of his career. This led to the studio losing several prominent commissions, as fresher ideas were sought elsewhere.
Lorenzo di Credi never lost respect for his technical qualities, however, and was able to pass these on to a number of assistants who supported him in his later years. Giovanni Antonio Sogliani,Tommaso di Stefano Lunetti and Antonio del Ceraiolo are three of the better known artists to have benefitted from his direct tutorage.
Conclusion
In conclusion, it can be said that Lorenzo di Credi was an important figure within the rise of Florentine art, partly due to his impressive technical skills but also in the close relationships that he held with the likes of his master, Andrea del Verrocchio, but also with younger members of the same studio, including Leonardo da Vinci.
References
The Lives of the Artists, Giorgio Vasari