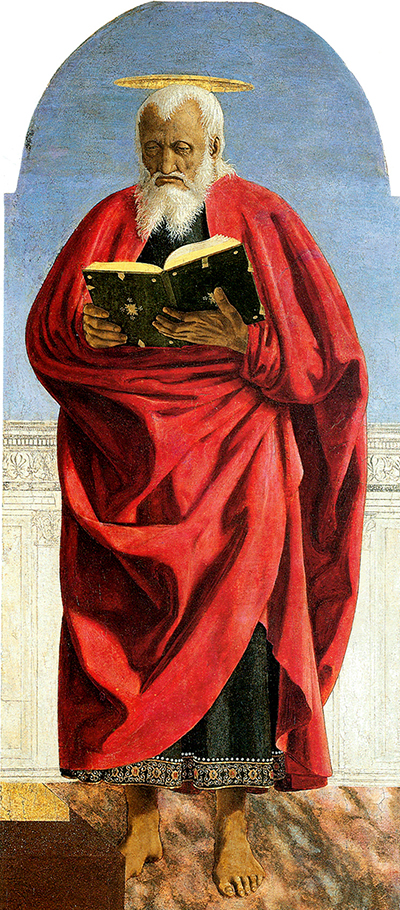 Buy Art Prints Now
from Amazon
* As an Amazon Associate, and partner with Google Adsense and Ezoic, I earn from qualifying purchases.
This mixed technique (oil and tempera) on wood, artwork is in the Enamels Room of the Frick Collection in New York. The painting of St John the Evangelist by Piero della Francesca has dimensions of 134.5 by 60 cm. The work was purchased by the Frick Collection in 1936.
Said to have been created around 1454 to 1469, the painting depicts St John the Evangelist, a close disciple of Jesus. Pictured with a halo above his head, and a dark-green well-bound book, presumably a Bible, in his hands as he reads or reflects, he is depicted as an solitary and striking elderly man with a flowing white beard and elegant features. St John the Evangelist is standing, barefoot, dressed in a red robe with green linen tunic underneath. He appears contemplative, deep in thought or concentration, and solemn. The background is blue like the sky behind his upper body and head, while lower down the background is silver-grey and depicts the wall of a building. At his feet are multiple colours.
The work wasn't originally freestanding, but was created as part of a screen, along with several other depictions of saints. Not all of the pieces survived, but those that did are in other galleries around the world, including London Lisbon and Milan. The piece was obviously originally intended as part of a story, along with the other pieces, those that perished and those that are dispersed, but as a stand-alone piece of artwork it is stunning and thought provoking nonetheless.
The history of the St John the Evangelist piece is that it was commissioned as part of an altar screen, along with other perished and preserved paintings. Commissioned by Angelo di Giovanni di Simone d'Angelo as a Church Altar screen for the Church of S. Agostino in Borgo Sansepolcro, Italy. He commissioned local-born artist, Piero della Francesca (1411-1492), for this work, which had been the wish of Angelo's late brother Simon, and his wife, Giovanna. It is thought that the painting/s took up to fifteen years to complete, as the artist was in high demand and his work highly prized, so he was working on other projects across Italy at the time, he specialised in theological and spiritual church artistry and artwork.