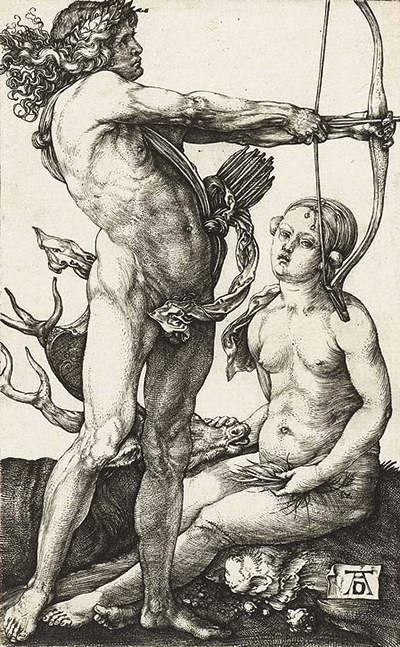 Buy Art Prints Now
from Amazon
* As an Amazon Associate, and partner with Google Adsense and Ezoic, I earn from qualifying purchases.
Apollo and Diana by Albrecht Durer was engraved in 1503. The engraving depicts an intimate moment between the twins Diana and Apollo, with Apollo standing over Diana, his bow and arrow in his hands, whilst Diana sits close to him and rests her hand on the nose of the stag who she is going to feed.
Apollo is often described as the most Hellenic of all the Greek Gods, as not only was he the God of the Sun, but also of healing, along with being a serpent slayer too. Diana on the other hand is closely aligned with childbirth and womanhood as part of the three maiden goddesses that also includes Vesta and Minerva. As the Goddess of the Moon, she is often depicted with stags as she was also the goddess of hunting and the countryside. Apollo and Diana by Albrecht Durer effortlessly captures the sibling relationship between the twins, with Apollo's arrow drawn ready to protect his family or send out a plague, whilst Diana sits completely relaxed behind him, the elegant stag subdued and docile beside her as she tends to him.
Both are shown almost completely nude, with Apollo's sinewy figure in keeping with the traditional marble sculptures and representations of the god, whilst Diana is shown as all feminine softness and curves, a realistic interpretation of a woman's body. The engraving captures both the speed and movement of Apollo and is framed by the stillness and calm of Diana, the perfect balance of the twins who are the God and Goddess of the Sun and Moon respectively. Albrecht Durer was a German painter and printmaker, who was working during the time of the German Renaissance. Durer was renowned throughout Europe during his lifetime for his expert print works, and his vast body of work went on to influence many other important artists, including Titian and Raphael.
As an artist, Durer was interested in the human form and human proportions, and used a technique called abbreviated construction in order to more realistically replicate the geometrical construction of the human physique. A similar technique was used by other notable artists of the time too, most famously by Leonardo Da Vinci. Durer's close observations of human physiognomy would later be explored by Durer in a series of books, and his interest and talent in accurately replicated the human physique is clear from his engraving of Apollo and Diana.