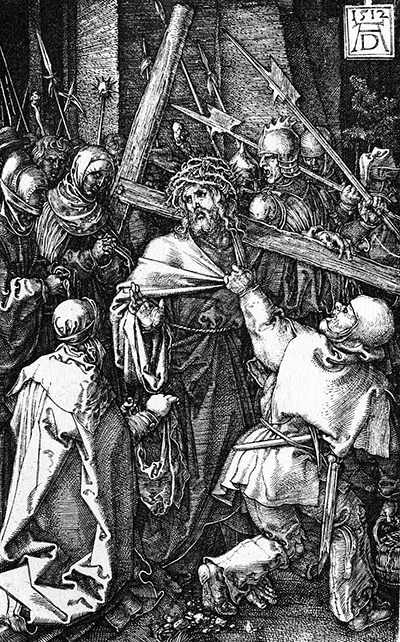 Buy Art Prints Now
from Amazon
* As an Amazon Associate, and partner with Google Adsense and Ezoic, I earn from qualifying purchases.
Created by Albrecht Dürer of Nuremberg between 1498 and 1499, this detailed work shows a scene from Christ's passion. Jesus Christ, wearing his crown of thorns and struggling under the weight of the cross, falls on the road to Calvary, surrounded by soldiers and a large crowd.
The crowd is dressed in the contemporary style of the Germany of Dürer's time, rather than the Jerusalem of Christ's time. No doubt, the environs seen in the picture are more 15th century Nuremberg than 1st century Jerusalem. The work is a woodcut in black, on ivory laid paper. The artist's attention to detail is truly an achievement. It is one of a series of drawings on the Passion of the Christ on which Albrecht Dürer worked over several years. It appears to bring home the depth of Christ's great and terrible passion for people from a different age. The dimensions of the work are 390 × 283 mm.
Such a minuscule canvas for a work of such dimension is hard to comprehend. Yet it brings home to the beholder the talent of the artist as well as his eye for particular detail. One cannot but stand in awe at the grim and resigned expression of the Christ, the harshness of his captors nor the mixture of emotions in the crowd. From helpless compassion to derision, it's all here. The work is now housed in the Art Insititute of Chicago in the USA where it receives due honour as part of the John H. Wren Memorial Collection. Albrecht Dürer was born in Nuremberg in 1471 and died in 1528. During his lifetime, he travelled to Italy and to the Netherlands. He was initially trained by his father as a goldsmith, but his artistic inclinations took over.
He was trained in the art of painting by Michael Wolgemut. It can be said that he excelled in drawing. But it was in woodcut and engraving that his true genius manifested itself. The artists of the Renaissance produced a plethora of religious images and Dürer's work is among the most enigmatic of these. Both for the artist's greatness as well as the astounding achievement of producing such detailed work in the form of woodcut and engraving on paper No discussion of Renaissance religious art could be complete without reference to Albrecht Dürer's body of work. He had a profound influence on the artists of his generation.