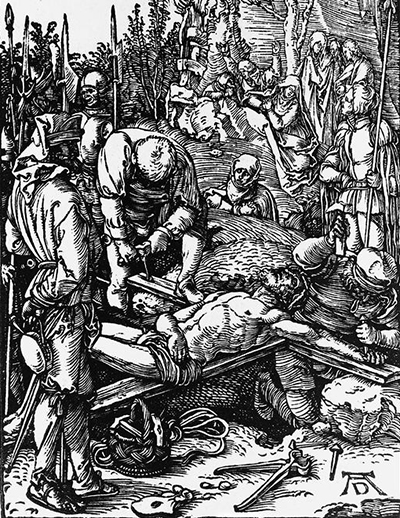 Buy Art Prints Now
from Amazon
* As an Amazon Associate, and partner with Google Adsense and Ezoic, I earn from qualifying purchases.
In Christianity and other faiths, there is always that one person who is considered as the cause for the salvation or ruler of humankind. It was an act of pure love and affection. Albrecht Durer captured this moment in his painting Christ Being Nailed on the Cross.
This particular moment even inspired a holiday celebrated all over the world, the Easter holidays. During this time, Christians all over the globe celebrate four days. Namely: Good Friday, Easter weekend and Easter Monday. It is an honour for a man like Albrecht to create a painting to honour the memory of Christ. This piece of art sets a very sad mood. The reason for this is pretty simple, the death of Christ. In the Bible, right after Christ died on the cross, a cloud of darkness hovered over the earth for three whole hours. This was symbolic to show the Son of God had met his fate. This is clearly depicted in the picture Durer drew. It sets a very disturbing mood, especially for the firm believers of Christianity.
This painting is on display at the Metropolitan Museum of Art. The museum is located in New York City, U.S.A. if you would love to view this masterpiece showing Christ being crucified by those whom he was sent to save. Kindly visit this museum for a once in a lifetime experience. Also on display, there is Albrecht's other masterpiece, Christ before Pilate. Both of these pieces depict the end times of Christ. Albrecht absolutely loved to engrave his art. But in this piece, he used woodcut to paint. The outcome was absolutely outstanding. And as a result, he gave us a masterpiece. Later he would paint on linen. This was an inspiration for many other painters who hopped on the linen wagon and thus, started painting on linen.
He painted this particular piece in 1511. It was a really nice painting in comparison to what other painters could do. This man had magic fingers, to say the least. Durer painted related pictures that spoke about Christ's end journey. He painted popular pieces like: Christ before Pilate, Christ on the Mount of Olives and Christ taken captive.
These paintings formed his renowned painting series called 'the large passion'. They all touch on the misery Christ went through on his journey to the cross. Durer during one time confessed that he had developed a liking for Giovanni from Italy. He felt nothing but admiration for Giovanni's artwork. Some may argue he drew his inspiration from here. Regardless, Albrecht was a man who commanded respect and adoration everywhere he went. He has since inspired so many painters across the globe. Art lovers fall in love with the detail that goes into paintings or related works. Albrecht became an icon because of his eye for detail. His paintings don't say a word, but they sure speak volumes.