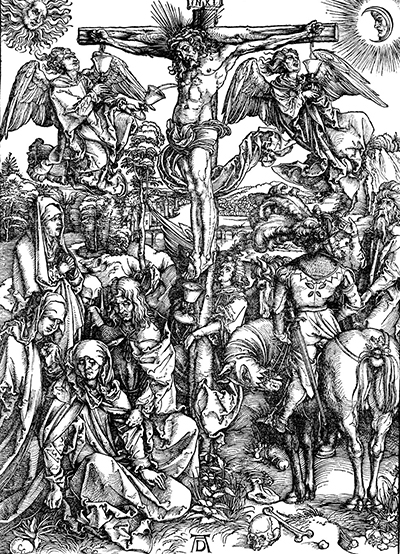 Buy Art Prints Now
from Amazon
* As an Amazon Associate, and partner with Google Adsense and Ezoic, I earn from qualifying purchases.
German artist Albert Dürer made The Crucifixion circa in 1498 as a black and white woodcut on paper. The piece is from the Large Passion series, which is a rendering of the gospel story. Dürer made 12 woodcuts for the series in the years between 1497 and 1500.
As was popular during the era, artists used their work to tell the suffering of Christ during his last days. The Crucifixion was among the pieces that the artist did during the first cycle of the series. He did this part of the series when he was also working on the Apocalypse. The Crucifixion depicts the last hours of Christ's death. It features Jesus on the cross with several key figures around him. First, there is a moon on the right and sun on the left. Dürer gave the two subjects human faces, so it looks like they are witnessing what Christ is going through. Three angels are in the artwork, their central role being to call attention to Christ's suffering. Each angel is holding a chalice to collect blood from the wounds of Jesus. One angel is at the feet, another on the left hand and the third on the right hand and side of the rib.
At the forefront of The Crucifixion is the Virgin Mary surrounded by Mary Magdalene, John and other disciples. A soldier rests on a horse in front of the cross, guarding the Messiah. On the ground, only a short distance from them is a human skull and some bones. The artist shows what this place is and what fate awaits those who end up there. Dürer's Large Passion series is famous for its attention to detail. Although the painter created an ambiguous picture space, it is easy to decipher the emotions of the subjects. The artist used thick black expressive lines that bring out the features in vivid detail.
Mary, the Mother of Jesus, sinks to her knees in grief, her face full of sorrow. The faces of the other subjects are just as sad. In contrast, the soldier to the right sits with his back straight, conveying indifference. It appears as if Dürer wanted to add an element of humour to the painful sombre scene. The mount this facing away from the cross and looks as if it is tired of the solder's indifference. The Crucifixion has a crowded composition that adds intensity to the scene. Dürer also retains certain Gothic elements. The German painter had another series called the Small Passion that also contains a piece that depicts the crucifixion of Christ.