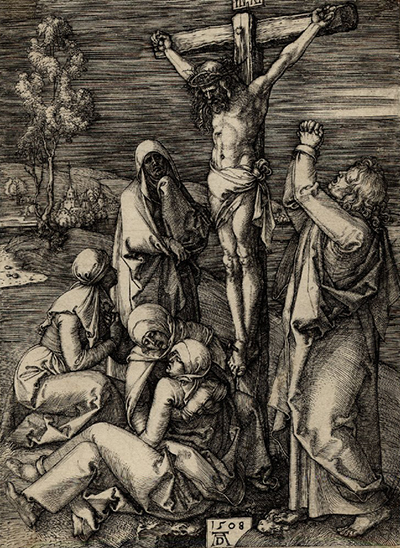 Buy Art Prints Now
from Amazon
* As an Amazon Associate, and partner with Google Adsense and Ezoic, I earn from qualifying purchases.
The Crucifixion is an artwork that was created by Albrecht Durer in 1498. The artwork can be used as a perfect narrative for Jesus's final days on earth. The picture covers the time between Jesus' entry into Jerusalem and his death.
Albrecht is recognized as one of the best masters of the woodcut technique. He used his skills to come up with elaborate and detailed scenes of what can be best described as a personal interpretation of the passion of Christ. Born in 1471 and died in 1528, Albrecht Durer was a German painter, theorist, and printmaker. He was born in Nuremberg, and as a young man, established his reputation as one of the best painters in Europe. At the age of 20, he was already regarded as a gifted painter, a talent he carried to adulthood. Albrecht Durer had a close relationship with many established Italian artists, and they communicated a lot.
It is not a very big image, but it speaks volumes. There is an image of a male on a cross, and it is believed to be Jesus. He is hanging dead, and around him are a bunch of individuals who are believed to be his followers. The image took a lot of time to create because he was long to make it as detailed as possible. Most of the time, he had to stop and change a few things in the print, and after hard work and dedication, the Crucifixion was ready for the audience. Albrecht spent most of his time creating pictures that depicted how he felt about certain things. This time around, he felt the need to share his passion for Christ with the audience; someone who gave up his life to save the world. And Albrecht did so by sharing the most emotional moments of Jesus' life in the image.
Albrecht's father wanted him to be known as a goldsmith, and he left behind very little information about his life beyond his twenties. It is believed that Albrecht spent many years in school. However, he had a lot of passion for drawing, and made it obvious when serving as Michael Wolgemut's apprentice. Albrecht Durer's work of art is still available to date. If you are his fan, you must have realized that most of his images are deep and, at times, hard to interpret. But Crucifixion is more detailed and clear to understand by anyone.