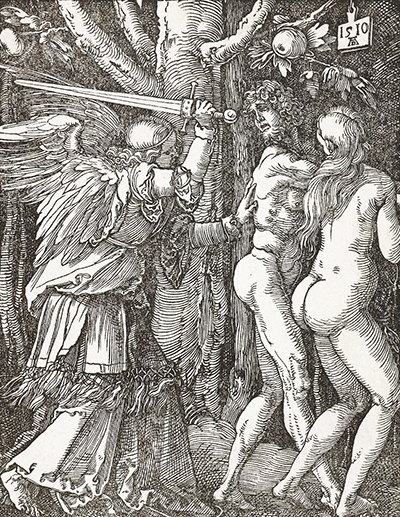 Buy Art Prints Now
from Amazon
* As an Amazon Associate, and partner with Google Adsense and Ezoic, I earn from qualifying purchases.
The Expulsion from Paradise by Albrecht Dürer is a 1510 woodcut. It shows the scene of Adam and Eve, the parents of humanity according to the Bible, being expelled from Paradise for disobedience to God. Three figures are shown.
A naked male and female are literally being driven out of the Garden of Eden at the point of a sword by an avenging angel. The couple cowers away in shame. The woman's face is not shown although it can be seen that she has a voluptuous body and luxuriant hair. Both the man and the woman are looking back towards the robed angel. The man's face can be seen and one can see an expression of utmost pleading and humility. But as we know, there will be no mercy. The disobedient couple will go to live in hardship on the earth struggling with many problems. The angel is relentless, with his hand on the back of the man, pushing him out of the Garden of Eden, the Paradise which had once been his home by right.
The woman walks a little ahead, but she leans into the man, seeking his protection now that she realises what she has done. Next to the couple, we see the tree bearing the forbidden fruit. This couple will no longer be able to eat from the fruit of the tree, nor indeed any of the fruit in the Garden of Eden, as they are being driven out for their disobedience. The detail in the woodcut is astonishing. It is housed in the National Gallery of Art, in Washington DC. Born in 1471 in Nuremberg, a great centre of commerce and learning, Albrecht Dürer grew up in an atmosphere that was both artistically and culturally stimulating. He was originally set to follow his father into the goldsmith trade.
Yet he wanted to explore art further and learned to paint from the artist Michael Volgemut. From painting pictures, his skills expanded and he explored various drawing techniques, from engraving to woodcutting and drypoint and etching. His body of work is truly meticulous in its depiction of various Biblical and religious scenes and images. Through engravings and woodcuts, he produced works of genius. His works generally shows religious scenes set in his own milieu and generation. He died at the aged of 57, leaving a body of work that has influenced and impressed subsequent generations until the present time.