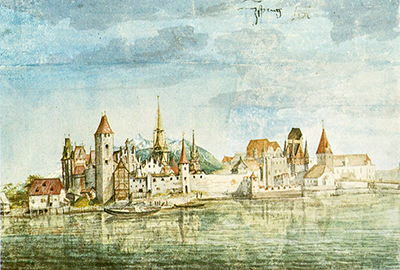 Buy Art Prints Now
from Amazon
* As an Amazon Associate, and partner with Google Adsense and Ezoic, I earn from qualifying purchases.
Durer continues his depictions of the charming city of Innsbruck in this watercolour painting
He very much appreciated the beauty of this location with its gothic architecture and running rivers. He would find many angles from which provided composition for his watercolours, both from within the city itself and, as seen here, from outside.
Durer makes use of the reflective nature of the water which surrounds this city, and also adding a brightness to the foot of the painting. There is a romantic nature to the architecture here, almost like a fairytale to use today.
Thankfully, much of this architecture still remains in the same location today and helps to keep Innsbruck was a popular tourist destination. The combination of traditional architecture and stunning scenery makes it antidote to modern life.
Much of this master's work remains in Northern Europe, particularly Vienna, Austria plus Nuremburg and Munich in Germany. Exhibitons of his work remain frequent and the amount of art that he produced ensures that many can get to see at least some of it without travelling too far.
You will find confirmation of this watercolour's attribution at the top of the artwork, where his signature can be found amidst the beautiful sky.