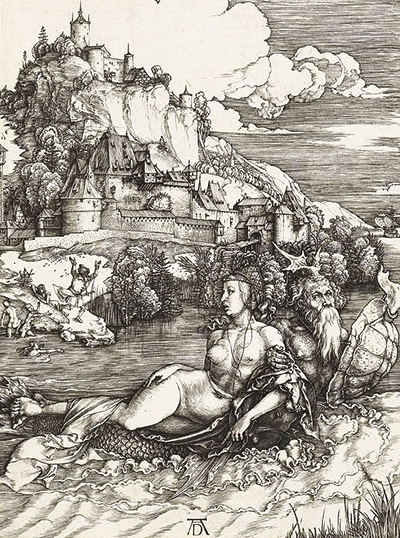 Buy Art Prints Now
from Amazon
* As an Amazon Associate, and partner with Google Adsense and Ezoic, I earn from qualifying purchases.
Often thought of as a key figure during the German Renaissance, Albrecht Durer showcased a wild imagination and sharp attention to detail in equal measure throughout his body of work. The Sea Monster is a fine example of this; a thoroughly detailed and mesmerising piece.
While the mysterious aquatic monster with human-like features and the woman he's abducting take centre stage, a vast landscape is also brought to life in the background, showing numerous buildings atop a cliffside and people in shock at unfolding events from the shore. Durer packs so much into this relatively small space that one might observe it closely for hours and still find new details they hadn't noticed before. Dated 1498, this piece was created 400 years before such fantastical scenes would become popular in cinemas, revealing Durer as an exceptionally gifted visual storyteller before his time. Indeed its dark visual style seems almost a prelude to German Expressionism, a unique horror-induced movement in early silent cinema that often featured menacing characters and twisted backgrounds, which has gone on to influence horror movies to this day.
While the scene is undoubtedly one of distress for bystanders at the water's edge, the woman being abducted shows only a slight hint of concern with her backwards glance and open mouth, her otherwise relaxed bodily demeanour seeming at odds with the situation. Is there a hint perhaps that being carried away from her previous life is not an entirely regrettable thing, even if her destination is unknown? This is for keen observers to decipher for themselves. Like all great works of art, The Sea Monster allows its audience to come to their own conclusions. Durer's work around this time was gothic and/or religious in nature, with both thematic elements arguably featured together in this piece. The image of a naked woman being taken by a monstrous male seemingly against her will, while distressed bystanders watch and a fortress dominates the horizon overhead, could easily have a religious theme read into it.
That the 'monster' bears a resemblance to the Greek god of the sea, Poseidon, is also a factor to consider. Bear in mind there may be a considerable difference in how a superstitious 1498 audience viewed it compared to one in the 21st Century - this of course makes it a timeless piece of work. The Sea Monster particularly stands out among Albrecht Durer's notable works as one that critics and observers alike still find to be an abstract mystery and, from the point of view of many, a masterpiece in its own right.