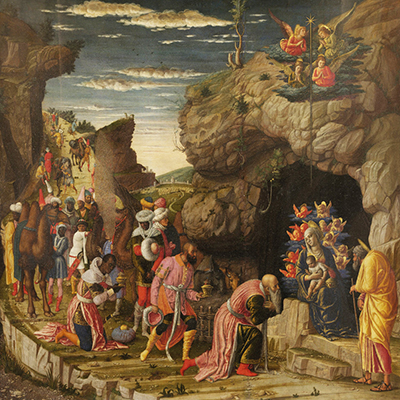 Buy Art Prints Now
from Amazon
* As an Amazon Associate, and partner with Google Adsense and Ezoic, I earn from qualifying purchases.
For the permanent admiration of the ancient art and culture of Andrea Mantegna, it is one of the most outstanding figures of the Italian Renaissance. Here we examine one of his most famous paintings, Adoration of the Magi.
As evidenced by the exact proportion of its painters. Mantegna's work had characteristics of his rare selection of compositions. They often include the perspectives and foreshortening to an exaggerated degree. The Italian artists Filippo Lippi, Paolo Uccello and, above all, Donatello, who worked in Padua for a while, influenced Mantegna. Mantegna could thus see the works of the master sculptor. Andrea Mantegna used an impartial background and outlined details to focus the viewer's attention on the kings' adoration of Christ. He used the Chiaroscuro technique on the Adoration of the Magi. The technique refers to how light and shadows are used on a painting to give a perception of depth on an object.
Characters and objects compressed in the shallow space of Andrea Mantegna's work is an inspiration from his work on the relief of ancient Rome. He drew public attention to the king's adoration of the Magi with a neutral background and clear details. Mantegna has attracted this event with its expressive richness and body zenith. Mantegna was the first to use a half-length format in the story's scene. There is a sacred family on one side. Mary holds the baby up for the Magi to see. Her husband Joseph was standing behind strangers. Mantegna's art is a major expression tool for people. The artist's style by his deep interest counterbalances in transmitting fundamental human qualities, involving both intellectuals and emotional audiences.
Mantegna may have noticed that he could use his close-up shape in specific stories to create new, more elaborate photos. It pays particular attention to the lightest wrinkles and flax folds and often contrasted them with harder materials. Most scholars believe Ludovico III Gonzaga's chapel commissioned the Adoration of the Magi, at the Castle of St. George in Mantua in the 1460s. The J. Paul Getty Museum in Malibu, California, bought the painting at the Christie's auction in London for $10.4 million. They have two venues within the same state, in which a wide selection of art is dispersed, attempting to allow as many of the public to see as much of their collection as possible. Some of the highlights to be found here include The Fountain of Love by Jean-Honoré Fragonard, Modern Rome - Campo Vaccino by Joseph Mallord William Turner, Irises by Vincent van Gogh and also Lot and His Daughters by Orazio Gentileschi.