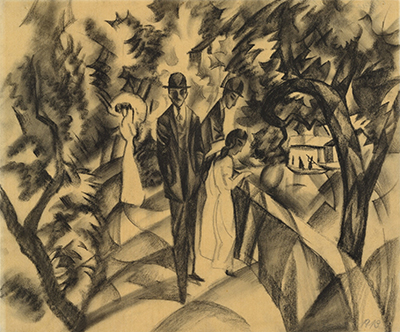 Buy Art Prints Now
from Amazon
* As an Amazon Associate, and partner with Google Adsense and Ezoic, I earn from qualifying purchases.
August Macke's drawings may not have received the same exposure as his watercolours or oil paintings but they remain a key cornerstone of his overall career.
There exist examples of his sketch work which can be traced back right to his early years. Sketchbooks offered a cheap and portable method of practice for Macke, just as it has done for thousands of other artists going back many centuries. JMW Turner is perhaps the most famous for this, completing huge numbers of study sketches over decades. He would later inspire Claude Monet to do similar. Aged 17 he filled sketchbooks with pen drawings of local landscapes. Later on he preferred pencil instead.
The early paintings in his career were all produced indoors, and it was only the impact of French Impressionism that persuaded him to go outside for work in that medium. Clearly, he was drawing outside from a much earlier age than that. On occasions, his drawings would provide a basis for more complex paintings, allowing him to produce landscapes and cityscapes from the comfort of his own studio. The city-based drawings by this artist would attempt to capture movement, just as he had seen in Paris from some of the Impressionists. Macke drew anything that interested him, covering leisure time and the fun around it. Cafe life, famously covered endlessly by Édouard Manet, features prominently, as does strolls in the park plus visits to the zoo or circus.
Many drawings completed by August Macke were studies of works by other artists. He was constantly studying the work of others, covering a wide range of modern art movements. His own style is said to have been a combination of Impressionism, Post-Impressionism, Fauvism and Expressionism. His sketchbooks could be taken to galleries and museums and allow him to consider the technical work as he sat in front of it. One example would be Henri Matisse, with Macke making studies of The Terrace, Saint Tropez several times over. Matisse's fauvist colours would also have influenced the artist's painting style.