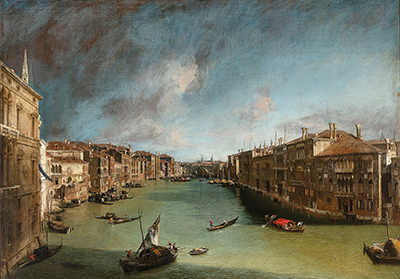 Buy Art Prints Now
from Amazon
* As an Amazon Associate, and partner with Google Adsense and Ezoic, I earn from qualifying purchases.
This Canaletto painting is based on an iconic view of Venice: the Grand Canal looking Northeast from the Palazzo Babli to the Rialto Bridge in Italy.
It is an oil canvas paint and the style used is Baroque, with a touch of etching technique. In the grand canal looking northeast from the palazzo babli to the rialto bridge painting, the viewer's eye is first caught by the great canal where several gondolas are seen floating. There is a beam of sunlight illuminating from the front right side of the canvas but casts a shadow at the extreme left depicting probably a tall building must have obstructed the light from the right side.
The colors in the grand canal looking northeast from the palazzo babli to the rialto bridge painting are compatible, bright where the sun beams fall and dark where the sunlight is blocked by probably tall building especially on the right side of the paint stretching to the background. The elements in the paint have been properly arranged with a series of building between the great canal on both side of the paint start at the middle ground all the way to the background of the paint.
The mood of the paint is dull and calm. Its generally thought provoking staring into the paint and many questions can arise subconsciously looking into the art. The buildings lie lifeless but the boats on the great canal can be seen to be full of life. The lighting in the paint: the grand canal looking northeast from the palazzo balbi to the railto bridge is natural,front-lit and casts several shadows in the paint. The subject of the grand canal was Canaletto's favorite and many of his great work has revolved around it. The blending of the sunlight, shadows and the cloud has been brought forth with great mastery in this paint. Canaletto's art work was greatly inspired by his father, Bernardo Canal, and by the Roman vedutista Giovanni Paolo Panini. His other inspiration was Luca Carlevarjis, who was a cityscape painter. His other paint work includes:
Veduta Ideta with Roman ruins 1721
Architectural Capriccio 1723
The Rialto bridge from the North
Warwick Castle: the front end
Canaletto is also attributed to inspire many artists including his duplicitous nephew Bernardo Bellotto, Giovanni Battista Cimaroli, Antonio Diziani, Francesco Guardi, Francesco Zuccarelli and the english painter Paul Sandby.