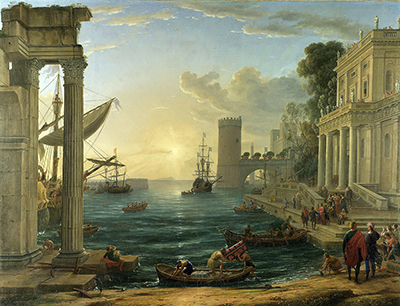 Buy Art Prints Now
from Amazon
* As an Amazon Associate, and partner with Google Adsense and Ezoic, I earn from qualifying purchases.
Seaport with the Embarkation of the Queen of Sheba is regarded by many as the most famous painting by French landscape artist, Claude Lorrain. It can be viewed in person at the National Gallery in London, UK.
Introduction
Seaport with the Embarkation of the Queen of Sheba was completed in 1648, by which time the artist had been working as a professional landscape painter for several decades. All of the elements within this painting can be found in many other works that he produced across his highly consistent career, but this particular piece was memorable for the quality of this overall scene. The use of light, architecture and flickering waves are all present within this piece and the level of detail is highly impressive. The artwork is just under two metres in height, and 149.1cm wide. As Claude's career progressed he started to use large canvases such as this, eventually expanding as wide as three metres for his biggest paintings. Such an expanse of canvas allowed the artist to incorporate precise detail across his landscapes, and to achieve an impressive study of light impacting the various elements of his cityscape. Seaport with the Embarkation of the Queen of Sheba offers endless interest to the eye, providing a visual treat which continues to surprise the viewer.
Description
Embarkation of the Queen of Sheba is truly a visual feast, with a wealth of detail included right across the large canvas. The piece is nearly two metres in width and one and a half metres tall, giving Claude Lorrain a large area in which to expand upon the theme chosen for this piece. Invariably he would allow the sky to cover half of the canvas, and would not fill it with too much detail. We have a few clouds to the right hand side, but generally the sky is clear. A bright beam of light strikes down the vertical centre of the piece from the sun which hovers just above the horizon. Claude regularly included sunsets and sunrises within his paintings and loved the impact of this dramatic lighting upon other parts of each scene. The waters around the harbour appear decidely calm, with a gentle rocking against the steps which lead up to the architecture which surrounds this setting. The figures dotted about similarly seem relaxed, with some going about their daily duties whilst others appear to be enjoying a little leisure time. Claude adds vessels of differing sizes, allowing perspective to develop within the scene as well as providing a lifelike harbour.
A tall pillar reaches up to the sky just to our side on the left, signifying our own position. There is then a great selection of architecture which runs across the opposing side, with a round tower, bridge and also a grand palace-type building all included. We are clearly set within a thriving and wealthy city, with the tall ships perhaps suggesting success from trade. By 1648, the year that Claude created Seaport with the Embarkation of the Queen of Sheba, the artist had perfected most of the elements found within this scene, from the use of architecture to the ways in which he combined light and water. It was only his figurative work that remained very much a work in progress, and so it was relatively rare for him to include quite as many figures as we find within this painting. Sadly, he would never quite reach the heights in that genre as he did as a landscape painter, as hard as he tried. Most of the boats within this painting may look like simple rowing boats or perhaps for fishing, but they were instead being used to load the larger ships which lay closer to the perimeter of the harbour.
Inspiration from the Old Testament
The Book of Kings is a book from both the Hebrew Bible and two books in the Old Testament, as used by Christians. Queen of Sheba heads off to visit King Solomon in Jerusalem within the tenth chapter of the book, and this topic has been captured by a number of other artists, both before and after Claude. The Frenchman regularly chose to capture these scenes in different ways to the others and does so again here. We see within his version the loading of goods, prior to her departure. This composition offers the artist an opportunity to display his finest qualities as an artist, and that is perhaps why he designed the layout just as he did. The classical architecture, for example, keeps this piece very much within the consistent style used by the artist. He also developed a formula which proved successful and so was unlikely to diverge too far from what had worked before. In terms of his depiction of the Queen of Sheba, she stands to the right hand side amongst a large crowd. She wears pink and blue, and stands patiently, awaiting her transport to the main vessel.
Commissioned Series
Frédéric Maurice de La Tour d'Auvergne, Duc de Bouillon was the general of the Papal army when commissioning Seaport with the Embarkation of the Queen of Sheba. He also requested Landscape with the Marriage of Isaac and Rebecca, at the same time as part of a series of two. Claude Lorrain had already produced several series on demand and so this was nothing new. Both paintings were completed in 1648 and documented by the artist within his Liber Veritatis. Frédéric Maurice de La Tour d'Auvergne lived from 1605 to 1652 and served under King Louis XIII of France. He commissioned several artworks during his lifetime besides these Claude paintings, and also oversaw some portraits and sculptures of his family members as well. Besides this important patron, Claude also worked with Kings and Popes during his career and enjoyed a high status as a result of his artistic reputation and the company that he kept once his career had taken off. His location in Rome was particularly helpful in attracting such prestigious donors, but over time he was able to attract customers from further afield who wanted to be associated with an artist who was highly regarded across Italy at that time.
Large Image of the Embarkation of the Queen of Sheba